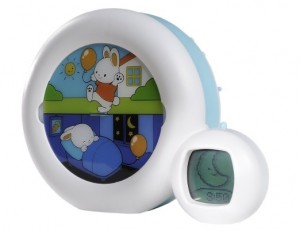 So it's that time. Time to transition from the crib to the toddler bed. Its a big step in any child's life. A chance to start living life as a "big kid" instead of a baby. Most children are petty excited about their new beds and new bedding that comes with those beds. They are eager to show how they can do things on there own.
Most parents are pretty excited to transition into the toddler bed too. That is until their sweet little toddler has gotten up for the dozenth time. Asking for water or snacks or whatever they need at that moment. You can only put them back into their own bed so many times before you begin to lose your mind. Just as you think you've won and you got them to sleep in their own bed, its 5am and they are ready to start the day. Today is a two pot of coffee kind of day.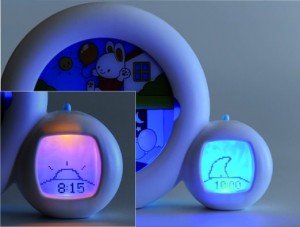 This is where the Kid'Sleep Moon comes in. This is a nightlight/sleep trainer all at the same time. Like I said before, most toddlers are eager to learn and show how they can be big kids all on their own. The Claessens' Kids Kid'Sleep Moon allows the child to do just that. It was developed to help them lean when they should stay in bed and when it is time to get up.
The night light has a cute picture of a bunny. On one side the bunny is sleeping. On the there its a bright sunny day. Depending on what side is lit up, they know what time of day it is. You've also got the option to set lullabies for helping your toddler fall asleep and bed time and nap time.
After a few weeks of using this product your child should be able to fall into a nice routine. Everyone is will be sleeping better in no time!
The Kid'Sleep Moon helps kids stay in bed until it is time to get up

The Kid'Sleep Moon offers the smart sunset "go to sleep" function and the smart moonset "wake up process", which gives kids a 10 minute warning for sleep time and get up time

The Kid'Sleep Moon has 3 settings for nighttime, nap and weekend, 4 choices of alarm sounds (or the choice of no alarm), and 4 levels of brightness to choose from

The Kid'Sleep Moon helps children fall asleep with 4 different choices of lullabies

Color recognition is not required
Disclaimer: This product was received from the Company for review purposes only. All thoughts and words in this post is my own and I was not paid to endorse it. I am only voicing my opinion about this product.