Pamper your Pooch with John Paul Pet


Most of us who have dogs, consider them to be family members. As such, we want them to healthy and happy….and to be clean and smell great! John Paul now has a pet line for our 4 legged friends. I'm no exception, so I was thrilled to received an assortment of John Paul Pet goodies for my boys, Gabe ( a Lab / Weimaraner Mix ) and Gung Poe Wigglebutt (a Black Pug).
Gabe is my Service Dog, so he goes everywhere with me. As the handler of a Service Dog, it is my responsibility to keep him well groomed at all times. This means that he probably gets bathed more often than most pets. With the Oatmeal Shampoo (For Sensitive Skin – Dogs and Cats) and Oatmeal Conditioning Rinse (Moisturize and Revitalize), from John Paul Pet, I feel that he is getting clean without drying out his skin and coat.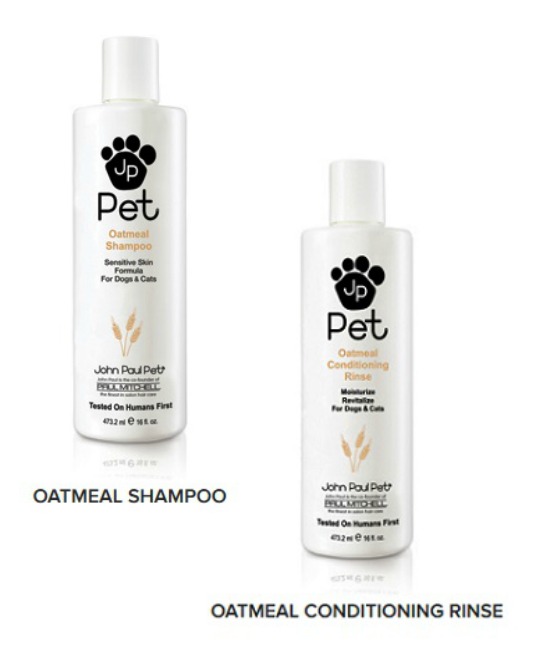 In between bathing, Waterless Foam Shampoo can help keep Gabe looking good and smelling fresh.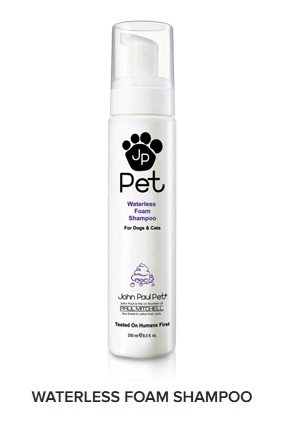 Poe's little scrunched up face requires constant cleaning. The mild Clean Face Ear & Eys Wipes are great for getting into all those wrinkles.

John Paul DeJoria is a first-generation American turned entrepreneur, philanthropist and pillar of the business community. He has struggled against the odds not only to achieve success, but to share his success with others, always living his motto: "Success unshared is failure."

In 2011, John Paul signed Bill Gates and Warren Buffet's "The Giving Pledge" as a formal promise to continue giving back. The same year, he established JP's Peace, Love & Happiness Foundation as a hub for his charitable investments, which support the core values of his companies: sustainability, social responsibility and animal-friendliness.
Product Lineup
Veterinarian Formula
Clean Face Ear & Eye Wipes
Clean Mouth Tooth & Gum Wipes
Healthy Paws Body & Paw Wipes
Waterless Foam Shampoo
Oatmeal
Oatmeal Shampoo
Oatmeal Conditioning Spray
Oatmeal Conditioning Rinse
Awapoochi
Smooth Detangling Shampoo
Instant Detanling Spray
Awapoochi Conditioning Rinse
Super Moist Shampoo
Awapoochi Shampoo
Cleanse and Moisturize System
Waterless Foam Shampoo
Ultra Moist Shampoo
Tearless Shampoo
Super Bight Shampoo
Tea Tree
Tea Tree Shampoo
Tea Tree Conditioning Rinse
Although my dogs have short hair, and don't need detangling spray, I could not resist checking in out. It smells so good, I'm tempted to keep it and use it on my grand daughters, long thick hair (no no no, just kidding), oh but it does smell fantastic.
John Paul, of John Paul Pet, is the co-founder of Paul Mitchell, world renowned hair care system and salons. John Paul Pet Salons are located in Laguna Niguel and Lake Forest, CA.
If you have pets, head on over to John Paul Pet, to find out where you can purchase their products on your furbabies!
Connect with John Paul Pet: Website | Facebook | Twitter
Disclaimer: This product was received from the Company for review purposes only. All thoughts and words in this post is my own and I was not paid to endorse it. I am only voicing my opinion about this product.