Spill-proof any store-bought drink with the SipSmart Cap
How many times have you been there, moms? Your kid is thirsty, so you shell out $5.00 for a smoothie or $2.00 for a water bottle. One sip later, the drink flies out of her hands and lands on the ground, spills in your car, or stains her clothes. You've lost money, time AND your patience—and it's only nine a.m.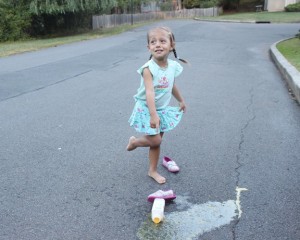 Or, you hand over the iPad or your smartphone to your little one, hoping to catch a few minutes of Zen. Boom—he knocks over a drink, destroying the device.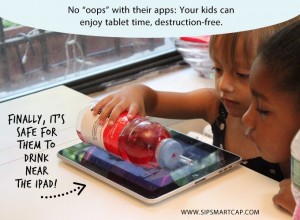 Save your stuff—and your sanity:
Ophira Edut and her husband Jeffrey Sleebos came up with a brilliant invention to prevent all of that. It's called the SipSmart Cap, and it's a bottle cap with an extendable straw attachment that converts almost any store-bought water, juice or smoothie bottle into a spill-proof sipping drink.
Ophira and Jeffrey, a New York couple and the parents of an active toddler, created the SipSmart Cap save your technology, your clothes, your furniture, your car…and let's face it, your sanity.
Comes in two sizes, fits all bottle heights:
The SipSmart comes in two sizes (water and juice) that fit standard brands including Nestle, Poland Springs, Bolthouse Farms, Tropicana, Naked, Vitamin Water, Odwalla, Nesquick, Starbucks brands (Ethos & Evolution) and many more. The telescopic straw extends to fit varying bottle heights.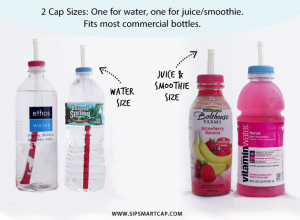 No more time wasted cleaning spills:
Think about the amount of time you waste preventing spills, catching spills, cleaning spills. It really adds up! Then, you lose your temper with your kids over it, which can kind of ruin your whole day. You're upset, they're upset—and it's all over a stupid drink!
What if we told you that all of that could be avoided? Well, it can. Simply twist off the bottle cap and put on a SipSmart Cap. Your child can drink without spilling—and you can put your attention elsewhere!
Moms sip in style, too:
The SipSmart Cap is perfect for stylish moms, too. You can keep looking fly as you sip without messing up your lipstick or spilling on your clothes. And hey, how many times have YOU nearly destroyed a laptop by knocking over a drink?
Commute safely:
The SipSmart is also awesome for drivers and bikers. You can keep your eyes on the road because there's no need to tilt your head back to drink, or to take your hands off the wheel to fumble with a cap.
Hydration: Benefits to kids' health, weight, school performance
Did you know that dehydration is linked to poor academic performance, obesity, and trouble concentrating? Yet, research shows that most children don't drink enough water, and that schools don't provide adequate access to it.
With the SipSmart Cap, it's so much easier to give your children the water their bodies need. And you don't need to lug around drinks, especially ones that could spill in your bag. Just pack a SipSmart Cap and buy a fresh, cool drink on the go.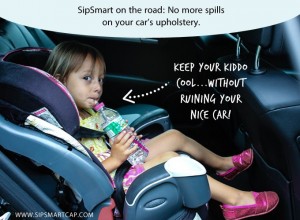 Comes with a carrying case for on-the-go moms:
The SipSmart Cap comes with a Ziploc-style portable pouch, so you can keep it in your car, your purse or a child's backpack. Take it anywhere!
Cleans easily:
The SipSmart Cap comes packaged with a small fiber brush that makes it easy to clean. The bottom straw also removes for simple cleanup. (Dishwasher isn't recommended, as it can cause the cap to lose its shape.)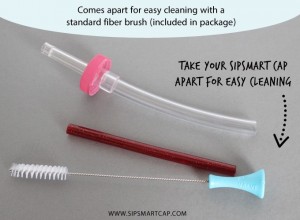 BPA-Free & Anti-Choking:
The SipSmart is designed with a special anti-choking valve that controls the flow of the drink through the straw, so you get just the right amount. Your kid doesn't need to strain to pull a thick smoothie through the straw—which also extends to fit varying bottle heights.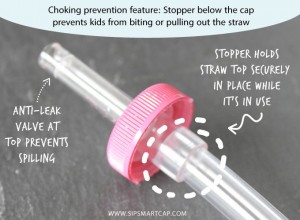 Beyond that, how many times has your child taken the cap off a bottle and put it straight in her mouth? The SipSmart Cap eliminates this common choking hazard.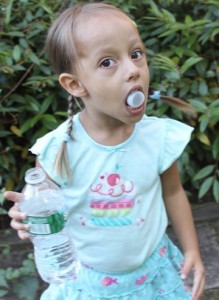 **** GET YOUR SIPSMART CAP BY OCTOBER 25, 2014! ***
The SipSmart Cap is available for a limited-time only pre-order on Kickstarter. You must purchase yours by October 25 to take advantage of the special rate and bonuses:
Follow on Twitter at @sipsmartcap and Facebook at www.facebook.com/SipSmartCap