Santa is making his list, checking it twice – and sending a personal shout-out to kids of all ages. With the assistance of Santa Sent Me a Letter, St. Nick himself is taking orders for 100% personalized letters from the North Pole to children and adults everywhere. Now though December 15th, loved ones can send the gift of magic to their children, significant others, friends, family and more.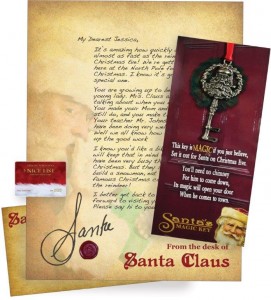 Each personalized letter – which you customize yourself! – is addressed to the recipient and includes unique personal details, like specific toys on a wish list or references to special friends and relatives. Then it is printed on Santa's personal stationary and signed by Santa himself before it is postmarked from the North Pole and closed with a gorgeous wax seal!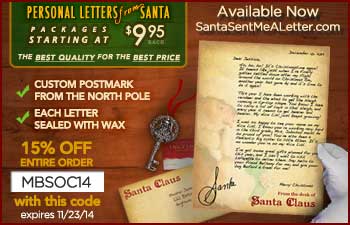 You can boost the magic of your letter from Santa by including an Official Nice List ID Card or Santa's Magic Key, an oversized key that ensures Santa will be able to open your door to leave presents under your tree on Christmas Eve – no chimney needed! (The key also makes a lovely keepsake ornament for the tree.) Packages from www.SantaSentMeaLetter.com start at $9.95. Shipping is free to the US and Canada, with additional shipping options available worldwide. Get 15% your entire order at www.SantaSentMeALetter.com with the code MBSOC14. (Additional shipping options not included.) Discount offer expires November 23, 2014.
Connect with: Site