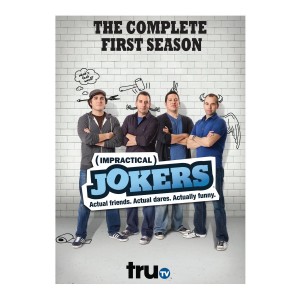 Impractical Jokers, that's making its DVD debut withIMPRACTICAL JOKERS: THE COMPLETE FIRST SEASONon DVD November 26th! Ranked among cable's Top 5 programs in the timeslot with key adults and male demos (Q1 2013), the show centers around four longtime friends who dare each other to do outrageous things in public on hidden camera capturing priceless reactions from innocent bystanders. IMPRACTICAL JOKERS: THE COMPLETE FIRST SEASON on DVD November 26th, 2013!
This is by far hilarious! I thought hubby and I were going to cry from laughing. My face hurt, my belly hurt and it was all in good fun. I love to laugh till I cry! This is now my new favorite program. I do suggest you watch it when the kiddos are asleep or away. I know we all love our adult time! This is one of those times.
I plan to give this to a few family member this year for Christmas. I always do stocking stuffers for our extended family and I have several family members that would thoroughly enjoy watching this series. If you're looking for some great stocking stuffers for the adults in your life, I would strongly recommend Impractical Jokers!
Impractical Jokers – truTV's hit series starring four longtime friends who dare each other to do outrageous things all while being filmed – will make its DVD debut this fall with the release of Impractical Jokers: The Complete First Season. The DVD will include all 17 episodes from the series' first season as well as commentary tracks from Q, Sal, Joe and Murr, behind-the-scenes features and deleted scenes. The Impractical Jokers: The Complete First Season DVD will be available on Nov. 26, 2013 for the suggested retail price of $19.98, with a retailer pre-order date of Oct. 22, 2013.
Impractical Jokers centers on four real-life best friends – Q, Sal, Joe and Murr – who dare one another to do ridiculous things in public. They then capture their extreme dares on hidden camera, complete with the unsuspecting public's amused, confused, or flabbergasted reactions. After completing each dare, the guys are given a thumbs-up or a thumbs-down to determine who succeeded under pressure and who collapsed in defeat. At the end of each episode, the guy with the most fails must face a mortifying punishment with truly humiliating consequences.
Impractical Jokers premiered on truTV to critical acclaim in December 2011 and quickly became one of the network's biggest hits, especially among young adults. The show averaged 2.8 million viewers in Q1 2013 and ranked among basic cable's Top 5 programs in the timeslot with key adult and male demos. Impractical Jokers is also one of truTV's youngest-skewing series, scoring a median age of only 32. In addition, the show's Facebook page has garnered more than 825,000 fans and its YouTube videos have been viewed more than 1.2 million times.
The third season of Impractical Jokers will debut on truTV later this year, along with the six episodes of Jokers After Party, a brand new post-show series featuring Q, Sal, Joe and Murr chatting about their favorite moments from various episodes. Additionally, fans of the series can catch the jokers in the truTV Impractical Jokers Tour featuring The Tenderloins, which will include appearances in cities across the nation this fall and winter. The jokers also have a fan-favorite app available now in the App Store and Google Play, which features clips from the show, a soundboard smorgasbord, doodle pad and a chance to call the jokers directly and speak with them live.
Connect with Impractical Jokers: Facebook
Disclosure: I received a free product from the sponsor to review. I received no monetary compensation and my opinions are my own and were not influenced by the sponsor.