Summer is around the corner, and what better way to start preparing for the sunshine than by heating things up with hubby in the meantime?
We all know what it's like when life takes over and couples slip into routines, some of them rote and monotonous. While you may have the most intimate and trusting relationship with your partner, in the demanding working world of today, we could all use a few extra hints on how to have more fun.
In this article, we'll give you some suggestions on how to spice things up with hubby building up to the summer holidays. While the summer season will offer plenty of opportunities for things to do together, here are some fun things to do that will strengthen your bond while you're building up to your annual vacation in the sun.
5 Ways to Spice Things Up with Hubby Ahead of Summer
1. Cook a meal together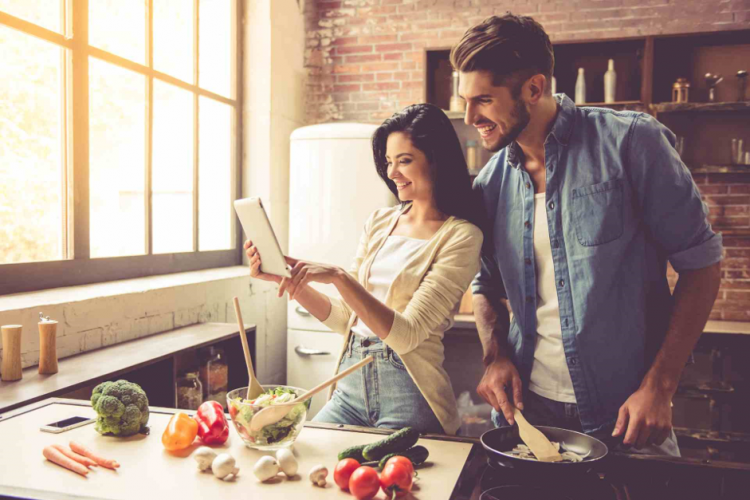 Cooking is a sensual experience, so what better way to spend some quality time together than preparing a delicious meal to enjoy with each other? In this case, you could spice things up quite literally and try your hand at those recipes you've always wanted to give a go. Pair this with some wine, or non-alcoholic beverage of choice, and you're sure to have a wonderful time learning a new skill with your hubby.
If you're not really the cooking type, perhaps you could both go and try some new restaurants together, or even visit an outdoor market, weather permitting, to try out an array of new dishes? You might be surprised at the new dishes that you both enjoy. In fact, the globalized world that we live in today means you can often try pretty much any kind of global cuisine, even in your own town or city.
2. Plan an indoor staycation
If the dreary winter weather has gotten you down, and all you're doing is bundling up and braving the cold, this could be your last chance for a while to turn those winter blues upside down and plan a fun indoor staycation instead.
While we all might be blissfully happy with the snuggle-on-the-couch and Netflix routine, why not add to this and add some other enjoyable activities to your list of things to do on colder weekends.
For example, instead of the usual crime thriller, why not watch a highly rated classic film to remind you of old school romance? Or, you could play some VR games that might bring out the competitive streak in both of you, and fire things up between the sheets later on.
3. Focus on his passions
We might know our partner inside out, but how often do we really take the time to really engage with activities that they're passionate about? For a lot of men around the world, this certainly revolves around sport. While you might already watch games together, why not take it a step further and do some sports betting together?
Even if you're not a sports fan at all there's no doubt that when you've got a stake in the game it will all get a lot more exciting (which is a good thing when you're aim is to spice things up).
4. Focus on her passions
Of course, it's not all about him now, is it? While you take time to engage in his hobbies, he can do the same for you. This doesn't mean he necessarily needs to join you and the girls for a cocktail or a mani/pedi, but him taking the time to do something that you really enjoy is a sure way to create a bit of renewed interest in your passions.
Perhaps you've always wanted to dress up and go to the opera or a musical, and never really get the chance to. Or maybe you have a secret fantasy that involves a night away in a special location? Let your imagination go wild and bring him in on the fun.
Failing that, you can always indulge in me-time with your man, and go to a spa or nature retreat, where you can be wined, dined and massaged to the extent of bliss, together. Walking outside in beautiful surroundings is also a great opportunity to connect and talk about things that you might not have had the chance to for a while.
Do partner yoga together
If summertime involves anything, it's often unfounded anxiety about how we're all going to look in our bathing suits. While being comfortable in your own glorious body is the most beautiful and attractive quality of (and there's nobody shaming going on here), if you do feel like you would like to feel a bit more slinky in your summer gear, why not start doing some yoga now before the summer rush for a bikini bod?
In fact, doing yoga together could get even steamier if you try your hand at partner yoga, which involves having to communicate very clearly with your partner to get into a variety of poses that you never thought you would be able to.
Apart from an exercise in teamwork, getting to hold and work with each others bodies in a different way than cuddling or having sex is a sure way to fire up both of your passions, and perhaps have an excuse to play around, laugh and just be ridiculous while being the flyer together with your most trusted man- your hubby.