Cupid Intimates

I admit that after giving birth to four of the greatest gifts in the world. My body does not look the way it did before having them. Don't get me wrong, I love my body and every stretch mark that I have due to nurturing them and providing for them while they grew in my tummy. However, My favorite dresses aren't as understanding or forgiving. They show every bump and bulge. My favorite dresses that used to flatter my figure and boost my confidence now brings it down.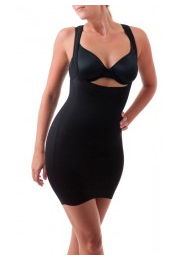 I recently had the opportunity to work with Cupid Intimates and review one of their amazing products. We were sent a TC Even More Full Slip Torsette free or charge. I could not wait for the slip to come in and try it out. I have tried form fitting products several times in the past and unfortunately was extremely let down with the amount of money that I wasted on products that did not work. So I have to admit that I was a little skeptical when I was approached to review one. Boy was I ever surprised! I absolutely love the TC Even More Full Slip Torsette!! It actually stays in place while I have it on. There is no tugging, pulling or readjusting like with products I have tried in the past. The Torsette does exactly what it is supposed to do. Makes me look and feel great without anyone know that I am wearing it. I wanted to make sure that the Torsette would stay put not matter what I did so I put it through the ultimate tests. I put on my favorite dress and took the kids out for the day! Yes chasing four kids around the torette stayed in place with no need to readjust. I even forgot that I was wearing it. It is extremely comfortable and I love how it fits. Most importantly is I love how it looks under my favorite dresses and gives me my self confidence back. The torsette slip provides Even More control to shape and smooth your tummy, waist, thighs, and back. The TC Even More Full Slip Torsette is available in two different colors black and nude. You can also purchase the torsette in five different sizes, small, medium, large, extra large and 2 extra large.
If you would like more information or if you would like to purchase a TC Even More Full Slip Torsette, please visit the Cupid Intimates Website. Be sure to stay up to date on all of the latest news and products from Cupid Intimates by following their social media pages on Facebook, Pinterest and Twitter. You can also sign up for newsletter by signing up here. While you are there, be sure to follow Mom Blog Society on Facebook.
Disclaimer: Mom Blog Society received product free of charge to write our review. All opinions stated in our review are our own truthfully opinion and were not influenced by the sponsor or from getting the review product free of charge. We were in no way compensated for our review or opinion.