When you're packing for a one-bag travel trip, the last thing you want to do is waste space on clothes that you won't wear. It would help if you were strategic about what you choose to bring with you since your luggage will be limited. Some tips for choosing your wardrobe for a one-bag travel trip and recommendations for versatile and functional clothing items that will help make your packing process a little easier will be given!
1) Choose a color scheme:
Picking a cohesive color scheme will help you mix and match items quickly, which is key when trying to pack light. Choose two or three colors that go well together and stick to those throughout your trip.
Neutrals like black, navy, and gray are always a good choice, but feel free to experiment with some brighter colors if that's more your style. The important thing is that everything coordinates so you can create different looks with the same few pieces.
Pro tip: patterns can also help create a versatile wardrobe. A simple striped shirt or pair of pants can add interest to your outfits without taking up too much space in your bag.
2) Pick versatile pieces:
When you're trying to pack light, it's important to choose clothing items that can be worn in multiple ways. So bring along a few key pieces that can be dressed up or down depending on the occasion.
A black blazer is an excellent example of a versatile piece that can take you from day to night. Pair it with jeans and a tee for a casual look, or dress it up with slacks and a button-down shirt for something more formal.
Other versatile items to consider packing include:
– A denim jacket
– A cardigan or sweater
– A little black dress
– Khaki pants or chinos
– A white button-down shirt
3) Don't forget the basics:
In addition to versatile pieces, there are a few basic items that you'll want to make sure you pack. These staples will help you put together complete outfits and come in handy no matter where your travels take you.
Some essential clothing items to pack include:
– the best bras, panties and socks (obviously!)
– T-shirts or tank tops
– A long-sleeved shirt or blouse
– A sweater or jacket for layering
– A dress or skirt (if you're packing for a woman)
4) Consider the climate:
When choosing your wardrobe, it's important to consider the climate of your destination. If you're traveling somewhere warm, you'll want to pack light and airy clothing made from natural fabrics like cotton or linen.
On the other hand, if you're going somewhere cold, you'll need to pack heavier items like sweaters and jackets. It's also a good idea to bring along a scarf or shawl since they can be used as an extra layer of warmth or as a blanket on chilly evenings. Finally, no matter where you're headed, it's always a good idea to pack at least one pair of long pants and one long-sleeved shirt for cooler days.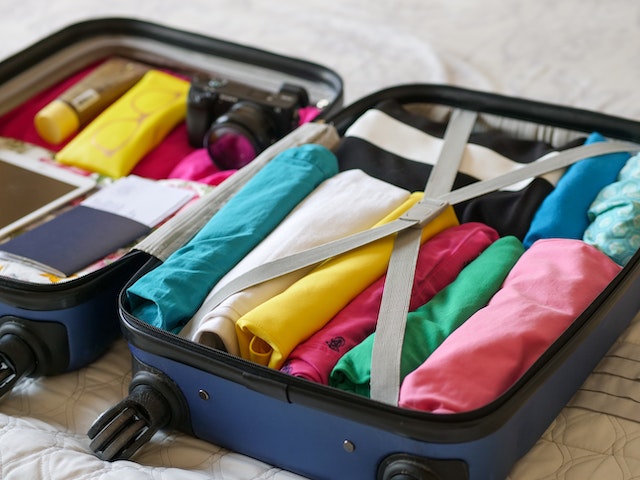 5) Don't forget about accessories:
Your wardrobe isn't complete without a few key accessories. These are the pieces that can help to tie your outfits together and make you look polished and put together, even when you're traveling.
Some essential accessories to pack include:
– A scarf or shawl
– A belt
– A pair of sunglasses
– Jewelry (keep it minimal, though!)
– A hat or beanie (if you're going somewhere cold)
– A pair of comfortable shoes that can be dressed up or down
In conclusion, following these simple tips for choosing your wardrobe will help to make packing for your next trip a breeze. With some planning, you can have a capsule wardrobe that will take you anywhere you want to go!