The big secret behind Heat Rescue is a powerful combination of 180PRO's signature Pro-Peptide ComplexTM, this targets hair's worst breaking points to help repair up to 2 years of hair abuse, and new heat-activated Thermal Barrier ComplexTM, which surrounds each strand to shield it against high temperatures. The breakthrough shampoo-to-style system includes four color-safe products:
Over processed hair is a very popular condition people run into. Between the blow dryer, curling iron and especially a flat iron it isn't surprising our hair is damaged. 180Pro Heat Rescue is just one of the great products from Zotos Professionals. I would love to tell you a bit about each product in the Rescue line.

The first product is the Rescue shampoo, this shampoo repairs up to 2 years of damage. I think this is just amazing. I had my hair taken back to being blonde a year or so ago and I still swear my hair is still suffering. I will never do that again! This heat rescue will gently cleanse heat damaged hair and helps lock out heat to prevent damage before it starts which is especially great if your hair has no damage as of yet.

To go along with the rescue shampoo, you will want to use the Heat Rescue conditioner by 180Pro. It does the same things as the shampoo except of course it conditions your hair after being thoroughly cleansed. You will definitely enjoy the deep conditioning it brings to your hair.

What I really like about the Heat Rescue Polish Protector is that it helps detangle your hair and get it ready for your heat styling. One of my issues for some reason is that my hair still has tangles after shampooing and conditioning.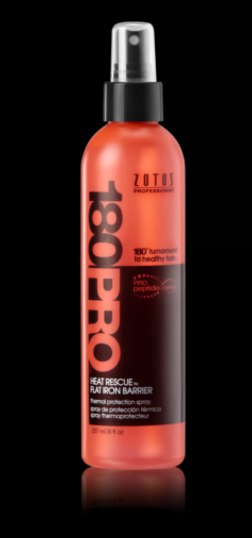 The last product in this Heat Rescue line is the Heat Rescue Flat Iron Barrier Thermal Protection Spray. The flat iron barrier surrounds each strand with a protective layer preventing dangerous heat exposure to your hot tools. The ultra-reparative Pro-Peptide Complex to target hair's worst breaking points which what makes this new product series different.
The Heat Rescue line is new to the company as of January 2017, you can purchase this line at any Sally's Beauty store near you.
So why not "Give Your Hair Some Love this Valentine's Day with 180Pro Heat Rescue"?
Visit them on their Social Media below:
Facebook | Twitter |Instagram | Pinterest | Website