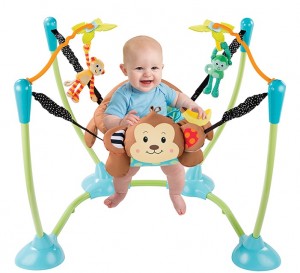 My children have all loved their bouncers. From about 6 months to well beyond when they "should" still be in the bouncer. It's one of my life savers. I think every baby should have one. It allows them to be apart of everything yet contained and safe. I love to watch their smiles as they gain strength in their legs while having fun bouncing around.
The soft, padded monkey seat and fun toys make this activity seat the perfect spot for baby to bounce, rock, and giggle! The high-contrast colors, bold patterns and fun textures will inspire baby's senses. The Rock & Hop Activity Center features two silly monkeys that squeak and rattle and a crinkle banana to entertain baby! The activity center is easy to assemble, has a 3 position height adjustment and legs are removable for storage or travel. The padded seat is easy to remove and machine washable. A perfect spot for baby to explore, be inspired and have fun!
The Sassy Monkey Rock & Hop Activity Center is very sturdy and can really take a lot while baby jumps around. The colors are very engaging and really draw baby's eyes. I love the fun money character that can be great for either gender. It is very easy to assembled. Not bulky at all. The spring are very heavy duty and wont break from normal baby jumping. Height is adjustable. I love the soft toys and softness for the sitting area. There wont be any bumps or owies in this amazing activity center.
The birth of Sassy, Inc. took place in 1982 with the purchase of the Sassy Seat Company of Fort Lauderdale, FL. Sassy initially had headquarters in Northbrook, IL and a manufacturing facility in Grand Rapids, MI.

During the 1980's, Sassy expanded through acquisitions that enhanced the image and sales of the company as a viable force in the juvenile products industry. The product line expanded to include an infant bouncer seat, feeding and nursing items.

In 1996, Sassy launched a line of unique toys created in partnership with developmental experts. Sassy's unique approach focused on stimulating four specific developmental areas during baby's first year of life. This approach, along with insightful designs, bright colors, and superior quality stood out in the infant toy category and the toys became a fast favorite with parents and babies.
Connect with them
Shop//Facebook//Twitter