Everyone tells me that tea is a wonderful substitute for coffee. It's low in acidity and less caffeine, but with a natural energy boost that can keep you going longer than coffee and without a crash. I've never been a big tea drinker but I do enjoy a nice warm cup of Chamomile tea or trying new exotic blends. There is so much more to tea than meets the eye, and I believe that Mighty Leaf Tea has proved this.
They offer green teas, white teas, herbal teas, teas for caffeine lovers, gift sets, loose teas, tea pouches, tea pots, brew mugs, and so much more!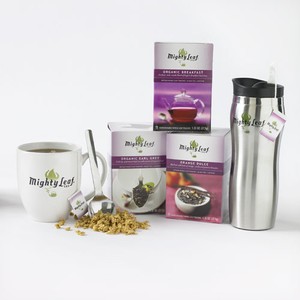 Pictured above is the Caffeine Lover's Starter Set:
The Caffeine Lovers Starter Set is perfect for those looking for a robust, caffeinated and delicious pick me up. You can say goodbye to your coffee with this starter set as we've paired customer favorites Organic Breakfast, Organic Earl Grey, and Orange Dulce Tea Pouches with signature teaware: our Ceramic Tea Mug for tea at home or the office and the patented TeaTop Brew Mug for brewing Tea Pouches on the go.
It includes:
Organic Breakfast: A robust wide-awake blend of English Breakfast black teas (15 pouches)
Organic Earl Grey: Gold tips of premium black tea with a twist of bergamot fruit (15 pouches)
Orange Dulce: Black tea with hints of orange, vanilla and jasmine blossoms (15 pouches)
TeaTop Brew Mug: A 12 oz. stainless steel traveling teapot designed specially for brewing tea pouches
Mighty Leaf Ceramic Mug: A 12 oz. glazed ceramic mug perfect for your favorite tea.
As you can see it can definitely replace coffee in the morning, or it can serve as an afternoon pick me up.
I love that offer loose teas. This way you can make your cup lighter or stronger according to your taste preferences. They have so many different types from black teas, to limited edition teas, to herbal teas, and so much more. The flavor profiles are absolutely amazing!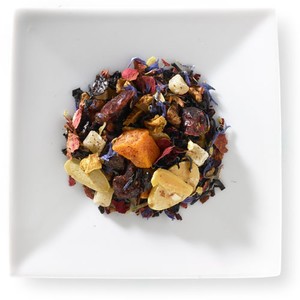 So go on over buy yourself some teas along with a brew mug and try out some of these exotic flavors! I'm sure that you'll fall in love with them just as much as I did!
I do have a confession though I'm loving the brew mug!n It's so easy to use! Check it out!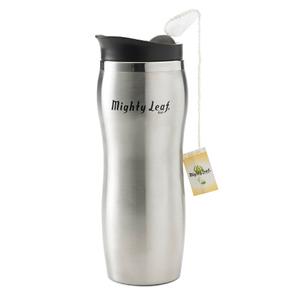 Our TeaTop Brew Travel Mug is good to go. You no longer have to drink over-brewed tea. Featuring the patented TeaTop lid, this brew mug is a "traveling teapot" perfect for enjoying whole leaf Tea Pouches.

The brewing system is simple: Fold the tea tag in half and thread through the underside of the slit on the lid. Once the brew time indicated on the tea tag is reached, just pull up on the string. This squeezes the oils of the Tea Pouch into the infused beverage below and pulls the spent Tea Pouch up to rest in a domed area. You never have to drink over-infused tea again. The body is crafted of double-walled stainless steel keeping your tea hot, while staying cool to the touch.
Stay Connected with Mighty Leaf