To me, fall and Halloween fall into the same category. I've always been one to decorate in more of a rustic fall setting than a scary Halloween setting. I was recently giving a challenge to decorate for the season using a cute Bethlehem Lights 10″ Illuminated Jack-O-Lantern Pumpkin available on QVC. Which was perfect. Every year my husband and I set up an bomb-fire area where we sit and play music. It's beautiful this time of year and the pumpkin really added that extra special touch to our fall tradition.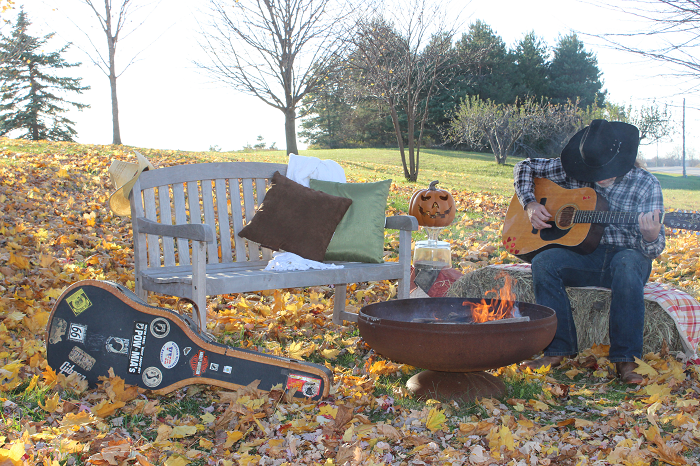 While the traditional carved pumpkin is always welcome, I much prefer the Bethlehem Lights pumpkin because it adds a touch of elegance I can't seem to achieve when carving my own pumpkin. It glows so beautiful too. The inside is lined with a sparkle material which adds elegance when lite.
I love all of Jill Bauers DIY tips and tricks. She always seems to come up with unique ideas in a variety of categories, including cooking, fashion, home, and jewelry. Her popular show, You're Home with Jill, welcomes viewers into the QVC home to explore the latest in decorating, crafting, and entertaining. Jill's home and garden expertise even landed her a story in Nesting: It's a Chick Thing, a book about throwing fabulous parties and whipping up fantastic food.
"Enjoy that real jack-o'-lantern look–without the mess! Bethlehem Lights wants to brighten your porch this fall with a burnt-orange pumpkin that's prelit with two warm white LEDs. Glitter on the inside adds a sparking glow to the happy face. From Bethlehem Lights".
Interior lined with glitter
Prelit with 2 LEDs
Six-hour on/18-hour off timer function
For indoor use only
Requires 3 AAA batteries, not included
Measures 10″ x 10″
Imported
If you're looking for a way to spruce up your home decor this holiday day season, be sure to check out QVC and Jill Bauer, they are filled with never-ending DIY ideas and amazing products to help you along the way.
Connect with: Shop QVC | Facebook | Twitter | Jill Bauer