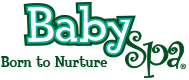 In my home stocking stuffers are one of our holiday rituals. Every year on Christmas Eve we go stocking stuffer shopping. We seek out unique and fun gifts and stuff those stocking jammed pack with fun! And on Christmas morning we can't wait to dig into those stockings.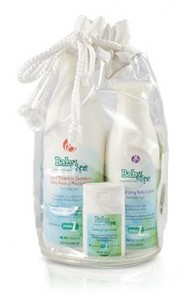 This year, I found some stocking stuffers early! My family loves bath and body products. And yes we love to use baby bath and body product for the whole family. The reason is very simply, if it's gentle enough for a baby, image how wonderful it is on abused adult skin!
KThe Baby Spa Stage 1 helps keep yours and your baby's skin beautiful and healthy. With the dry harsh Midwest winters we need all the skin nourishment we can get. It's also perfect for pampering! And we all love to be pampered! Baby Spa products are made with safe and delicate ingredients with contains organic enthnobotanicals to soothe, hydrate, and comfort skin. And it's infused with thier signature Fresh Baby scent (stage 1) and Uplifting Citrus scent (stage 2)
"Nourish your baby's physical and emotional growth through the magical power of touch. Infant massage is a valuable skin-to skin connection that will allow you to bond and reconnect with your baby through touching, talking and singing."
Before beginning your special massage session, make sure of the following:
Room temperature is comfortably warm, lit softly and quiet (you may play some relaxing music)
Baby is not fussy. Best time usually after morning nap, before naptime or in the evening before bedtime.
Make sure to have a comfy blanket or mat for the baby to lie on.
Make sure your hands are nice and warm.
The Baby Spa Stage 1 Gift Set Includes:
3 in 1 Tearless Shampoo, Body Wash & Moisturizer
Moisturizing Body Lotion
Travel size Soothing Face Cream
Travel Size Ultra Soft Baby Wipes
Connect with Baby Spa: Facebook | Shop
Disclosure: I received a free product from the sponsor to review. I received no monetary compensation and my opinions are my own and were not influenced by the sponsor.