April showers bring…muddy puddles!
As you'll recall from last year, April 1st is National Jump in Muddy Puddles Day, an oinktastic day that kicks off a whole season of special events for Peppa Pig's chosen charity "The Muddy Puddles Project",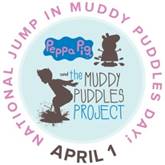 The Muddy Puddles Project is a fundraising platform for the Ty Louis Campbell (TLC) Foundation, a certified 501(c)(3) that funds pediatric cancer research. The project was inspired by Ty, a little boy who loved Peppa Pig and dreamed of jumping in muddy puddles when his cancer was cured. Since his passing, The Muddy Puddles Project has grown by leaps and bounds with families all across the country joining the mission. To bring more awareness to the cause, kids and families as well as schools nationwide host their own "Welly Walks" and take part in the charity's Mess Fest events to honor all children who are battling cancer and unable to enjoy such simple pleasures of childhood.
In addition to celebrating National Jump in Muddy Puddles Day on April 1, you can get in on some "fun"-draising by hosting your own Welly Walk. Here's the Peppa Pig Welly Walk Kit that includes everything parents, kids and community leaders need to host a successful and memorable walk of their own! What is a Welly Walk? It's as simple as it sounds: an organized stroll outside – rain or shine! – in your favorite pair of wellies (rain boots). As Peppa Pig's Mummy Pig wisely says, "If you jump in muddy puddles, you must wear your boots."
You can also take part in the special "Muddy Puddle Jump Challenge" on social media by sharing photos of yourself jumping in a "muddy puddle" – just like Peppa and her family love to do! – with the hashtag #PeppaMuddyPuddleChallenge.
You can download the Peppa Pig Welly Walk here.