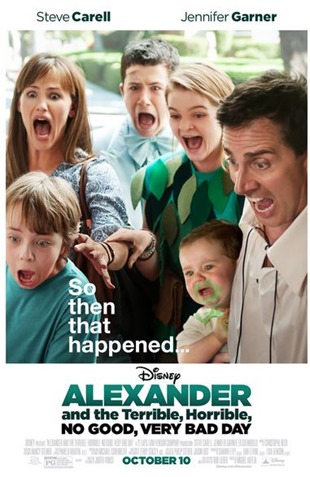 To say that I've never had a terrible or horrible day would be an understatement. It would also be a terrible, horrible lie. Being a wife, parent and blogger, there are many times that I find myself way behind rather than "right on schedule". So what is the problem? I have a very BUSY schedule and time just escapes me. Is that a valid excuse? Maybe. haha! But that is also my life.
As you probably saw on my social media channels, I had the opportunity to head to L.A. to preview a screening of Disney's Alexander and the Terrible, Horrible, NO GOOD, VERY BAD DAY. To be honest I can relate. Some days it seems absolutely NOTHING goes right. But then I take a look at my family and realize things aren't so bad!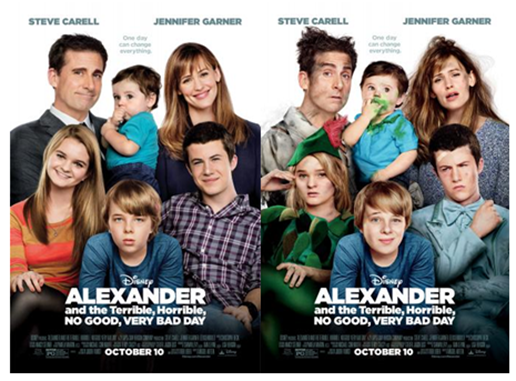 Which family can YOU relate to?
This film, starring Steve Carroll, and Jennifer Garner, is absolutely hilarious— turning a bad moment into something you just have to stop and laugh about. Obviously when you're in the moment you don't see it as being funny but in reality, this too shall pass and what better way to get over something bad than to have a good laugh?
Steve and Jennifer do a fantastic job playing parents of four children; Alexander, Dylan, Kerry and baby Trevor. Jennifer, a working mom has experiences that I can absolutely relate to in so many aspects. Everyone in the family becomes the victim of misadventures creating a disastrous day yet 11 year old Alexander thinks his experiences are the most terrible. What he doesn't know is that his family's day isn't as perfect as he thinks it is.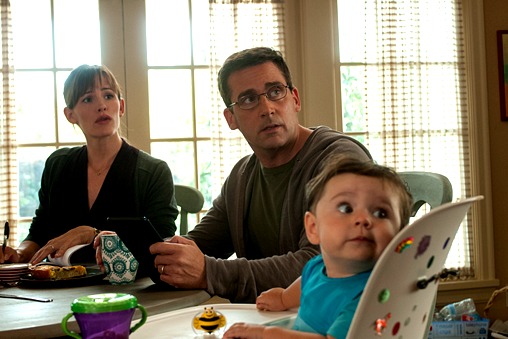 HIS day starts off with finding gum stuck in his hair (been there!), followed by one thing after another. Everything from there begins to fall apart— it's like watching dominoes one right after the other, go tumbling down. When will it end?!
In theaters Oct. 10, 2014, Disney's "Alexander and the Terrible, Horrible, No Good, Very Bad Day" follows 11-year-old Alexander (Ed Oxenbould) as he experiences the most terrible and horrible day of his young life-and soon learns that he's not alone when his mom (Jennifer Garner), dad (Steve Carell), brother (Dylan Minnette) and sister (Kerris Dorsey) all find themselves living through their own terrible, horrible, no good, very bad day.
"Alexander and the Terrible, Horrible, No Good, Very Bad Day," published in 1972, was written by Judith Viorst, illustrated by Ray Cruz and inspired by Viorst's sons Alexander, Anthony and Nicholas. With more than 2 million copies in print, it became an ALA Notable Children's Book and won a George G. Stone Center Recognition of Merit, a Georgia Children's Book Award, and distinction as a Reading Rainbow book. The book's success spawned three sequels: "Alexander, Who Used to Be Rich Last Sunday" (1978), "Alexander, Who's Not (Do You Hear Me? I Mean It!) Going to Move" (1995), and the brand-new "Alexander, Who's Trying His Best to Be the Best Boy Ever" (2014).
This PG movie is adventurous, thought provoking, and hilarious to say the least. It's perfect for the whole family and I truly hope you can make time to go see it— it starts in theaters today, October 10th. Be sure and make a family night of it!
Take a peek at this movie trailer…
And finally, here's an image of me and my #VeryBadDay pose.
#VERYBADDAYLOOK #EvilLaugh#LookCrazy #VeryBadDayEvent #VeryBadDay#DisneyInHomeEvent I'm a star now! hehehehe
— Steve Carell and Jennifer Garner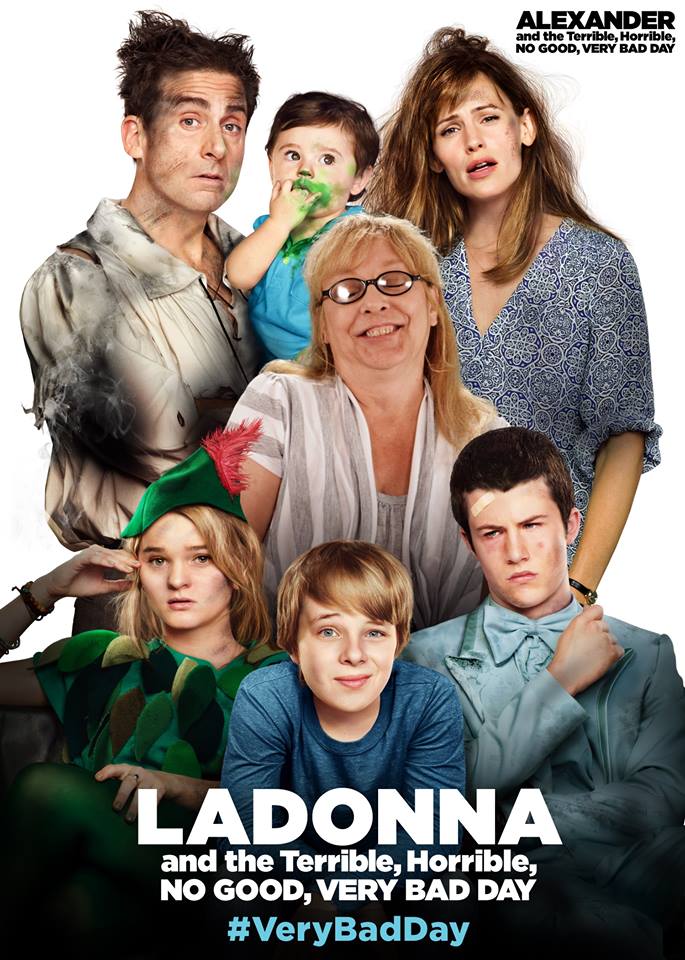 You can learn more about this film by visiting the official website. Also, follow along via social media; Like ALEXANDER on Facebook and by useing the hashtags #VeryBadDay & #VeryBadDayEvent.
~ I was invited for an expenses paid trip to LA by Disney to cover the #VeryBadDayEvent and #DisneyInHomeEvent in exchange for my reviews posts of the trip experiences. All opinions are my own. ~