Leather laptop bag from Vonbaer.com
For busy moms, the little things that make life better matter the most. Every day is a rush to get out the door after already going through a fast-paced morning. On top of the work they have to do, they have chores, kids to care for, and all other household demands throughout the day.
One of the little things that busy working moms can appreciate the most is having a go-to work bag that can hold everything they need to bring with them for the day. It's the one bag they can use as their daily bag. If you're about to shop for one, go through this list for five excellent ideas.
Women who bring a laptop to work will need one more bag on top of the usual purse or shoulder bag: a laptop bag. While you can place your laptop in your main bag, this might not be the safest thing to do. On the other hand, laptop bags are designed to keep your laptop safe.
Invest in a good one, so it can last you for years. Moreover, choose one with extra pockets. That way, you can also use the laptop bag to hold important documents that you wouldn't want to risk losing or damaging.
If you really want to upgrade your laptop bag Von Baer advises buying one made from full grain leather. This is because the bag will age nicely over time, developing leather patina, whereas other materials tend to look tatty the more you use them. This makes a leather laptop bag much better for a work environment.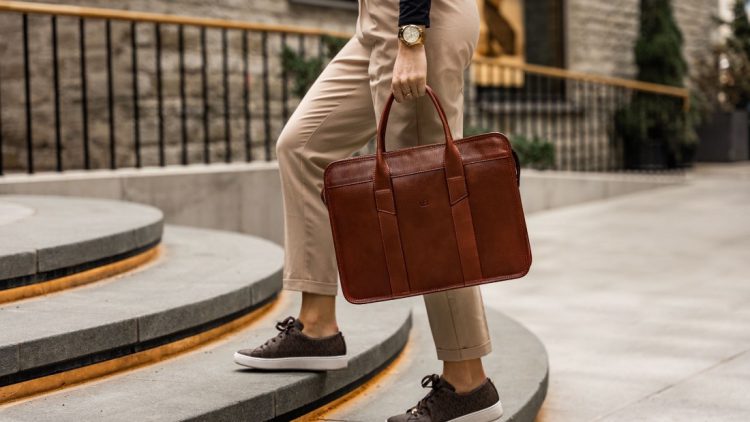 Leather laptop bag from Vonbaer.com
As its name suggests, a carryall bag is meant to carry all your items. Leather is a stylish option, but you might want to opt for something lighter for your carryall bag. Neoprene, for instance, is a great material for a carryall bag.
Whether you're off to the gym, a short trip, your daily commute, or your errands, a carryall has got you covered. Choose one in black or neutral colors so you won't have difficulty mixing and matching with your outfits.
Unlike a regular tote bag, a carryall usually has a long sling as an extra. This makes it easier for moms to transition to a sling bag when they want to free their hands.
Is there ever a busy mom without a tote bag? It's the perfect bag to throw everything in while still keeping its shape. Say you were one of those who enjoyed canvas tote bags while in school. Now that you're a working mom, you can look more sophisticated with a leather tote bag.
You'll never face a shortage of options with tote bags, as it's a staple for every working mom and household. You can have a budget-friendly option straight from the department store. And if your budget permits it, you can even go for higher-end designer tote bags designed to last a lifetime.
So you wouldn't want to bring a frumpy backpack to work. You can do better than that. But if you prefer backpacks over any other type, there are different options to choose from that are much more elegant than your usual rucksack.
Moms who have young children, in particular, love a good backpack. Having one enables them to have a bag for work that can double as a diaper bag. Pick a backpack with multiple compartments. That way, you can organize your items, even when you have a lot to put in your backpack.
For moms who love a crossbody bag, a messenger bag is one you should have in your closet. Design-wise, it's the usual bag you see many messengers carry. It's slim or thin, with a big front flap and lots of pockets perfect for everything a messenger needs to deliver. However, the messenger bag has evolved into a well-loved bag for its convenience and style.
The Bottomline
No matter what an average workday looks like to you, every working mom still needs a trusty work bag. Unlike bags for other purposes, work bags must be stylish enough while still functional and durable for daily use.
The best work bag makes a big difference in how your day goes with everything you need right within your reach in your bag. After all, your work bag is your daily wardrobe's workhorse. With these tips, you should have a few options to choose from the next time you're buying one.