Sometimes, having the skills to do your job properly just isn't enough to build your business. At times you have to get a little bit creative and learn how to do some marketing. And sometimes the simplest efforts, such as sending out construction christmas cards, (like these from Ziti Cards) can make a huge impact on your business.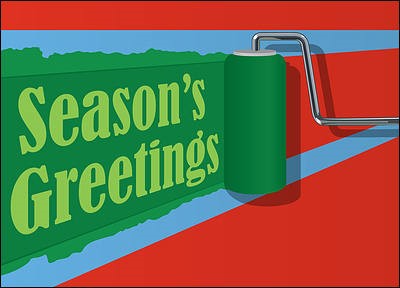 If you work in construction, you know how competitive the industry can be. Plumbers, painters, drywall installers, carpenters, asphalt pavers, restoration experts…it doesn't matter what you do. We all know how hard it can be to carve out your own niche, contract a steady flow of work, and keep your clients and customers coming back for more.
Residential construction experts often rely on word of mouth to get new clients and do more business. Commercial construction professionals have to do excellent work on time and on schedule with every job – otherwise, you could lose that important client that gives you steady business. Regardless of what niche you're in and you who serve, construction is one tough business to be in.
So how can something as simple as sending out holiday cards have such an impact on your business? Keep reading to learn the 5 biggest ways construction business holiday cards can help you increase your bottom line.
#1 Make Your Business Look More Professional
Whether you're a one-man show or run a team of hundreds of contractors, it's important to present your business in a professional light. And professional companies – big companies – have multiple people on staff. The skilled men and women that work on your job sites are only one aspect of the business. Most clients assume expect that you also have an administrative staff and a marketing and advertising team. But even if you don't, with customized construction business cards, you can make it appear as if you do.
Regardless of how small or large your company may be, by sending holiday cards to clients, you can create the illusion that you're much bigger than you are. Bigger often has the connotation that you're a serious entity. And that causes clients to think that bigger is better.
But it's not enough to send out generic, boring Christmas cards. With so many industry-specific cards to choose from, it's worth the time to shop online for cards that serve as a true reflection of the type of business you have. And it's best to go a step further and personalize those cards with the name of your company.
Plumbers can find cards that feature pipes wrapped in holiday ribbons or Christmas stockings filled with plungers, wrenches, and other essential tools. Electricians can find cards with linemen wearing Santa hats or energy efficient bulbs in the shape of Christmas trees. If roofing is your niche, there are cards that feature Santa Claus installing shingles or chimney stacks wrapped in pretty red bows.
Cards like these make it clear to clients that you pay attention to the little details – and that is exactly what they want when they hire a plumber, a roofer, a carpenter, or any other type of construction professional.
#2 Eliminate the Competition
It's easy to do consistent business if you're the only game in town, but in most cities and counties, that's simply not the case. So you have to do whatever you can to eliminate the competition. And that means going a step beyond what's expected to forge strong relationships with clients who might be able to give you their business.
Sending construction business cards to clients during the holidays is an easy way to show your customers that you care. Greeting cards are simple and effective – and they allow you to strengthen relationships with existing customers as well as strike up new relationships with prospective clients that you have never worked with before.
Mailing a greeting card takes minimal effort on your part, but the rewards and benefits of sending one can be immense. With just a few minutes of your time, you can connect with every client and contact on your list. They'll appreciate the fact that you took the time to think about them during the busy holiday season. And having your clients feel like you respect and value them is a great way to get a leg up on the competition.
#3 Thank Your Clients
It goes without saying that as a construction expert, you need to do excellent work, charge your clients a fair price, and stick to the schedule and timeline of the project the best you can. But even if you've already accomplished all of that, you're not done. There's one more thing that you need to do, and it's a simple thing that many contractors and construction professionals overlook. You need to thank them for their business.
It's ideal to thank your customers a few days or a few weeks after the completion of a project, but for some construction professionals, that's not feasible. And this is one more reason why it's so important to send construction business cards to your clients during the holidays.
A holiday card can be more than just a way to say Merry Christmas or season's greetings. It can also be used as a way to say thank you and show appreciation for any business your clients have given you throughout the year.
When it comes to showing gratitude and showing respect, a simple thank you goes a long way. Your clients will appreciate the sentiment, and a respectful "thank you" is likely to make your clients want to do business with you again (or at least refer you to family and friends that may need your services).
#4 Connect With Old Clients
We all have those clients we haven't spoken to in a while. When we're busy with current jobs, it's easy to let those old customers fall by the wayside. But as soon as business slows down, those old clients that we let go are often the first people that come to mind. A holiday card is a perfect way to reconnect with those old clients and start to rebuild relationships that you haven't cultivated in the proper way.
Sure, you can reach out to old clients via email or with a discount or promotion that might win them back. But to a client, that can seem like a hard sell – and many clients are not receptive to those techniques.
Whether or not you've already tried to reach out to them through email, take a moment this holiday season to send them a thoughtful holiday card. Wish them a Merry Christmas. Wish them a happy holiday season and a prosperous new year. Thank them for their previous business and let them know you're available for new business when they need you. With the right greeting card, you just might receive a call for a quote from an old client in the New Year.
#5 Build Relationships With New Clients
Do you have a few leads you've been working on to no avail? Stop with the hard sell and try a softer marketing tactic by sending those potential new customers a festive holiday card.
Most customers' daily postal deliveries consist of junk mail and bills. So it's no secret that people love receiving cards, especially during the holidays. Be the one to bring a smile to a potential client's face by sending them a festive greeting card that reflects the nature of your business and shows your holiday spirit.
It doesn't have to be over the top. It doesn't have to include a call to action like those required in emails and cold calls. It can be a simple season's greetings message that serves one purpose only – to put the name of your company in their mind. With the right card and the right message, you just might be able to turn prospective leads into loyal, paying customers.
Conclusion
Customized construction business cards can help you build your business and increase profits. It takes very little effort to do, yet it can produce excellent results.
With an industry-specific card and a customized message, you can make your business look more professional. You can get a leg up on the competition by showing your clients that you pay attention to the little details. It's a nice gesture to wish them well – even when there is no current project or guarantee of future business.
You can also thank your clients for their business, connect with old clients you haven't worked for in a while, strengthen existing relationships, and build relationships with prospective new customers. This holiday season, take a few moments to send construction business cards to clients. It's an inexpensive marketing tool and an easy way to drum up new business for your company in the New Year.