If you've been looking for ways to spruce up your tiny bathroom or plan to transform a little space into an extra one, then you've come to the right place. A lot of people seem to shun the idea of practical but space-efficient bathrooms but it can be done. In fact, there are design techniques and ideas you can use to make a small space look bigger.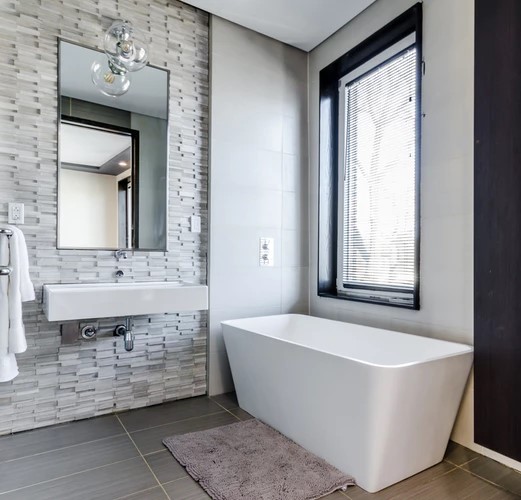 Photo Source: https://unsplash.com/photos/6TY_WrJTwSI
Before going to the ideas, it is imperative that you understand that a bathroom can look bigger when it is exposed to natural light. Consider opening a window or adjust it to a bigger one when designing your new bathroom. If it is not possible, then you need to invest in good lighting and mirrors as another option.
If you are on a budget, you don't have to splurge a lot to execute your small bathroom idea. You just need a bit of preparation and clever designing. Here are some practical ideas that you need to know when drawing up plans for your comfort room:
Monochromatic Color Theme
The goal of monochromatic coloring is to open up space as much as possible using light shades and colors. This is especially useful if you have natural lighting as the light can bounce off the white tiles and make it look more sunny and spacious. Consider sticking to simple coloring and design to prevent your bathroom from looking cluttered.
Use Multifunctional Furniture/Decors
Your space is limited that is why you cannot afford to stuff it with just any furniture or decor as you like. Instead of going for fitted furniture and accents, save money and some space by using freestanding ones that you can move around. For example, you can use a wooden stool as a stylish holder for fresh towels but you can also use it to prop yourself up when you want to reach for something above you.
You don't even have to buy new stuff for your new bathroom because you can use and or re-purpose stuff around your house. Cake stands are normally found in the kitchen but these pretty organizers can act as a stylish bathroom storage item for your toiletries and other knick-knacks. If you have extra stuff around the house, you can probably use them for something in the bathroom; you just need a bit of creative thinking.
Utilize Height
This only works if your bathroom has a high ceiling but small floor space. Instead of adding more things to the floor, consider hanging storage and other units like the sink instead? There are floating sinks with cabinets and hanging storage baskets or bins for your towels and toiletries available out there.
Consider an Upflush Toilet
Upgrading, adding or replacing bathroom fixtures like the toilet is one of the most expensive things you can buy for a bathroom. Upflush or macerating toilets are not known to be cheap especially when you can buy the standard ones. However, they are more favorable in special situations like if you are unable to redo the whole toilet system due to budget constraints or if it is physically impossible to add more pipes to accommodate the new standard toilet.
The beauty of an upflush toilet is that you only a small pipe to connect it to the existing system. They're easy to install and you can start using it right away. You don't have to worry about anything when using it because it chops up the waste into fine bits and can pass the sewage line with ease and helps save flushing water.
Don't Put a Shower Door
If you plan to install a shower in your bathroom, skip putting a shower door because it will only further make the room look and feel smaller. You can either use a tasteful shower curtain or a paneling made out of glass to make some divisions. Both can contain the water from the shower and give you some extra wiggle room.
Make It Your Own
There are many ways you can design your bathroom practically even if it has limited space. There's no need to spend a lot when you don't have to; you can utilize the things you already have. Add a pop of color or some personality to it to make it truly your own.
What design ideas do you have when it comes to making a small bathroom look big? Share your thoughts below.