Let Dad Camp in Style with a VW Camper Van Tent

Are looking for a special gift for a VW fan this Father's Day? Does your family love camping? How would you like to camp in a unique tent? What if it was the size of a real VW Van? HECK YEA! Right? Then you are going to LOVE our next review. It is a tent that will have all your friends and family talking about.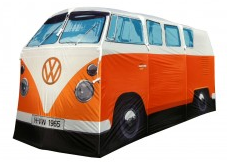 We recently had the opportunity to work with a company called The Monster Factory and review one of their amazing products. We were sent a VW Camper Van Tent to review in our home free of charge. This is no regular tent. It is unique in every way possible! The tent isn't just a replica of a VW Camper Van but it the exact same size as one! Talk about a huge tent! Putting the tent together was a piece of cake. Even easier than cutting a piece of cake. The tent comes with free standing poles which are bungee corded with quality click connectors. This makes assembly of the tent easy without having to keep track of where the poles are or complicated instructions. You can see how easy assembling the tent is in the quick video below.
The VW Camper Van Tents from Monster Factory are incredibly roomy. They are large enough to comfortably sleeping four adult people within the two inner rooms. Just imagine how much fun the kids would have camping with their friends! The height of the tent not only makes it easy to stand up inside but move around in. If you have ever tried getting dressed or dressing kids in a regular tent, you will love this feature. All Monster Factory Tents are extremely waterproof. That is right no worrying about waking up in the middle of the night due to a wet bed from that rain shower the weatherman warned you about.
I know what you are thinking if assembling the tent was easy, then taking the tent apart is going to be a nightmare. That is not the case at all! Putting the tent away is just as easy. In just a matter of minutes you can breakdown the tent and be on your way! You can see how easy taking the tent apart really is in the video below.
This weekend we had friends and family over for a bbq and thought it would be the perfect opportunity to show off our Monster Factory VW Camper Van Tent. Everyone loved how unique it was and wanted to know where they could purchase one of their own.
If you would like more information or if you would like to purchase a VW Camper Van Tent, please visit The Monster Factory Website. Be sure to stay up to date on all of the latest news and products from The Monster Factory by following their social media pages on Facebook, Instagram and Twitter. While you are there, be sure to follow Mom Blog Society on Facebook.
Disclaimer: Mom Blog Society received product free of charge to write our review. All opinions stated in our review are our own truthfully opinion and were not influenced by the sponsor or from getting the review product free of charge. We were in no way compensated for our review or opinion.