If you have accidentally deleted photos on your Mac, you are probably wondering how you can go about recovering those deleted files. The issue, or rather the benefit, with many deletion methods, is that it is extremely easy to find your files once they have been deleted.
Luckily, there are some photo recovery software tools that you can use to recover lost photos on your Mac computer. Compared to the default recovery options, these tools go far beyond to help you ensure most, if not, lost photos can be recovered.
Here we take a look at each of these data recovery tools that we think you should be using in 2021.
EaseUS Data Recovery Wizard Free
When it comes to recovering files on a Mac or on any other device for that matter, the main issue is that most recovery methods are complex to use. Unless you know the technology very well, it is hard to find and recover the files you want to get back on your devices.
Fortunately, that is not the case with EaseUS Data Recovery Wizard Free. This is an extremely easy to use tool that you can utilize to scan your Mac for lost files and recover those files. In this tool, all you need to do is choose the source to scan, find the files you want to get back, and click them to have them recovered.
Key Features
Works with all Mac storage devices

Recover many types of files

Preview your photos before recovering them

Selectively recover files on your Mac

Import and export your scan results

Search your recoverable photos and other files

Quick, easy, and efficient

Safe and secure
Compatibility: macOS 10.15 or later
How to Recover Photos on a Mac Using EaseUS Data Recovery Wizard Free
Like said earlier, it is pretty easy to use this tool to recover your deleted photos on your Mac. If you are new to the whole data recovery scene, the following instructions will help you.
Step 1. Scan Your Photos Drive
Download and launch the tool on your Mac. On the main screen, choose the drive where your photos were located before they got deleted, and click the "Scan" button next to the drive.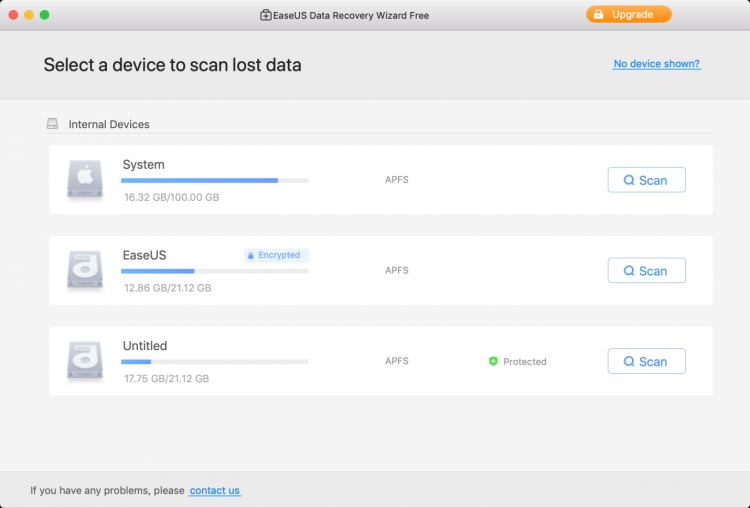 https://www.easeus.com/images_2016/drw_mac/guide_spec/screentshot/recover-data-step1.png
Step 2. Find Your Recoverable Photos
Wait while the free recovery software scans your drive to find lost photos. Depending on the size of your drive, this can take anywhere from a few minutes to about half an hour.
You can actually track the progress of the scan using the indicator at the bottom of the tool.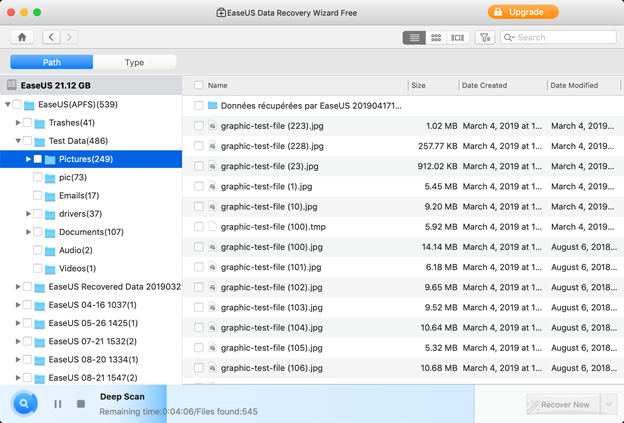 https://www.easeus.com/images_2016/drw_mac/guide_spec/screentshot/recover-data-step2.png
Step 3. Recover Lost Photos
Once the scanning is done, you will see all the files you can recover on your Mac. Choose the photos that you would like to get back, and click "Recover Now" in the lower-right corner.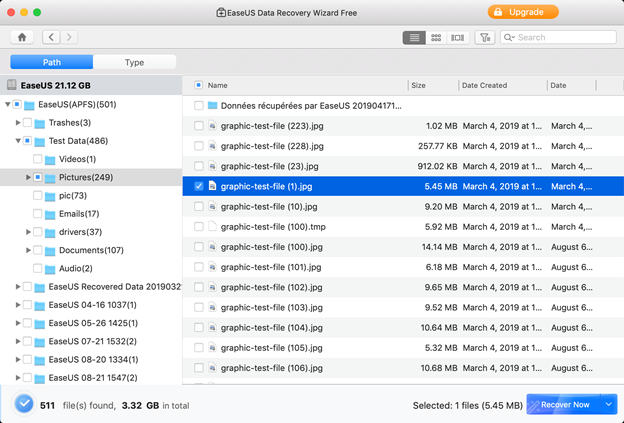 https://www.easeus.com/images_2016/drw_mac/guide_spec/screentshot/recover-data-step3.png
Your selected photos will be recovered to your Mac.
Pros
Easy to use and no prior tech experience required

Deeply scan drives to find nearly all recoverable photos

Recover many other types of files as well
Cons
2. Mac Photos Library Repair Tool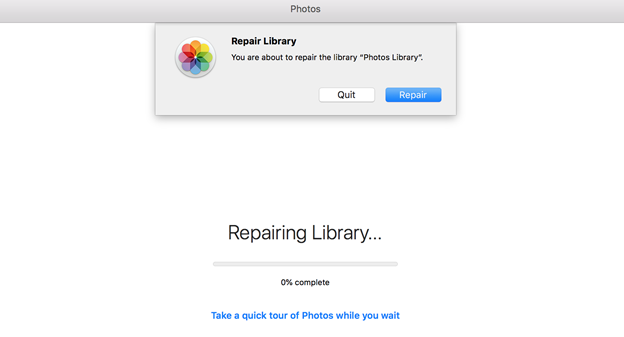 If you have an issue with the photos that are saved in the Photos app, you can actually use the app's very own repair tool. This is built into the software and you can use this tool to scan your photo libraries for any inconsistencies and fix them. This procedure works offline and you do not have to be connected to the Internet to use it.
Basically, this tool scans all your libraries available in the Photos app. Then, it looks for incorrect entries in the database and gets those entries fixed. If you sync your photos with iCloud, iCloud will sync these updated settings right after the tool has finished its job.
Pros
No need to download anything

Fix library inconsistencies in a few clicks

Works with all libraries in Photos
Cons
This does not necessarily help recover photos

Only works with the photos saved in the Photos app

Not very effective
OneSafe JPEG Repair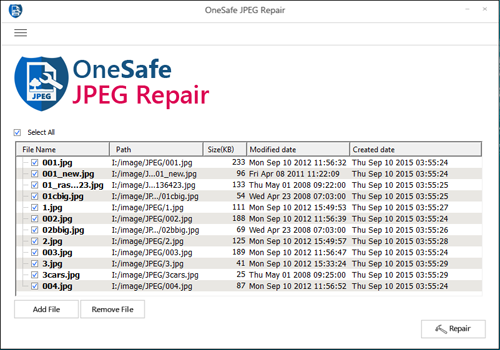 https://cdn2.avanquest.com/jimages/UK/products/Jpeg_repair/Onesafe/file%20add%20windows.png
Data loss is not the only scenario where you cannot access your photos. It might be that your photos are corrupted and so you are unable to view them on your Mac. In this case, you need something like OneSafe JPEG Repair that helps repair your JPEG photos.
Using this tool, you can find all the corrupt or otherwise broken photos on your Mac. Then, with a few easy clicks, you can restore the original versions of your photos. In case the tool cannot recover your photos, it helps recover the thumbnails of your photos so at least you can see some parts of the photo if not full.
Pros
Repair JPEG photos on your Mac

A fast photo search feature

Preview your JPEG photos
Cons
Cannot help with the photo recovery

Only works with the JPEG phototype

Too expensive
Rescue Digital Media – Photo Repair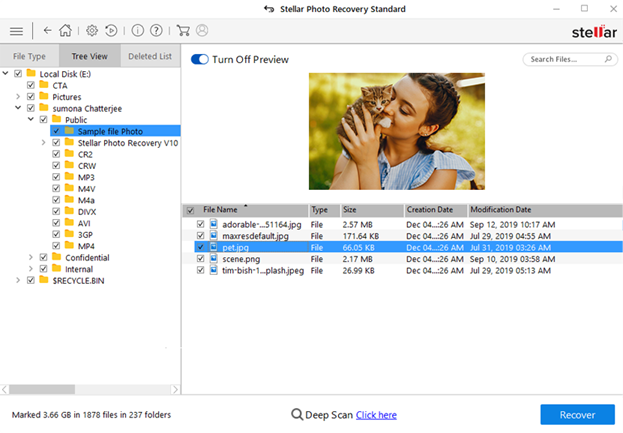 Rescue Digital Media is actually a suite of tools that helps you recover many types of files on your Mac computer. It has a feature dedicated to photo recovery and that is what you can use to get access to the lost photos on your Mac. The tool can search for inaccessible photos, and once it finds them, it can then restore those photos for you.
You can recover many types of photos and you are not just restricted to a single phototype. Also, you can recover RAW photos if that is what you want to do on your Mac.
Pros
Preview photos before recovering them

RAW photos recovery

Support for several phototypes
Cons
Involves a learning curve

Takes too long to find recoverable photos

Low success rate
SysInfoTools Image Repair Tool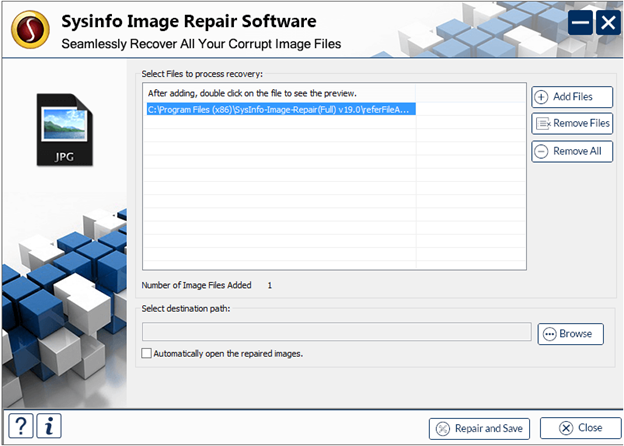 https://www.sysinfotools.com/sysinfo-img/screenshot/image-recovery/step-1.png
If your photos are damaged, SysInfo Image Repair Tool is a nice way to fix your corrupt or broken photos on your Mac. This tool supports many image formats, and it even has support for RAW photos. This should cover pretty much any kind of photo that is currently inaccessible and you want to get it fixed on your Mac.
The tool works on both FAT and NTFS file systems. You can even fix images that are stored on a pen drive or a USB drive.
Pros
Support for multiple file systems

Fix corrupt photos in a few clicks

Easy to use interface
Cons
Not much helpful to recover photos

Slow fix process

The free version is limited in terms of features
Conclusion
If you ever find yourself in need of photo recovery software, the options above should help you pick the right tool for your task. The EaseUS tool is good enough for most data recovery needs, and it is easy to use as well.