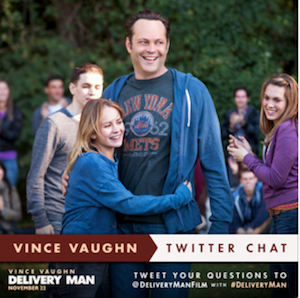 Today, the cast of Delivery Man is taking over Twitter to answer your questions for Delivery Night!
Tweet your movie questions to @DeliveryManFilm for Vince Vaughn, @prattprattpratt for Chris Pratt,  @CobieSmulders for Cobie Smulders, with  #DeliveryMan.  Task Rabbit is also surprising select participants in the @DeliveryManFilm Twitter Chat with a Delivery Man gift box. Tweet your questions and join the convo now!
For a chance to instantly win a Delivery Man gift box tag @TaskRabbit in your tweet to @DeliveryManFilm with the hashtag #DeliveryMan.
More info at :
Watch the official Delivery Man trailer at: