Although it's an unproven phenomenon, many women experience that time slows down during pregnancy. The first trimester is excruciatingly sluggish, only to be followed by a frenzied second trimester in which you appear to be running out of time to prepare for the baby's arrival.
Then, all of a sudden, the last month arrives, and you realize that the first trimester was nothing compared to the crawl you'll be forced to suffer for the following four or more weeks. Chances are, the nursery is finished, the baby clothes have been washed and folded, and all you have to do now is wait.
While waiting for the big day to come, here are three solitaire games you can play to stave off boredom in your last month of pregnancy:
This is the most popular version of solitaire, enjoyed by millions of people worldwide. It is so ubiquitous that it is sometimes referred to simply as Solitaire. It is known by several names in different countries; for example, in the United Kingdom, it is known as "patience" and in the Microsoft Solitaire collection it is known as "Klondike Solitaire".
After the gold rush where roughly 30,000 people traveled to the Canadian province of Klondike in the late nineteenth century, this game piqued the interest of players. According to legend, the prospectors played the game on their trip to Klondike. Furthermore, Klondike's popularity has skyrocketed with its incorporation into Microsoft Windows in the 1990s.
If you're looking for that solitaire game you used to play on your old PC, this is probably it! It's a relatively challenging game and can keep you occupied for hours on end.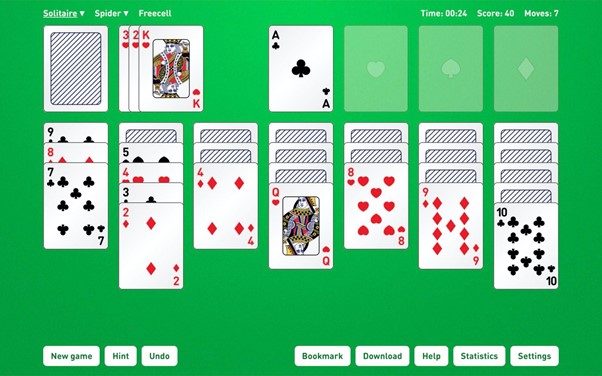 Image source: Online Solitaire
Spider solitaire gets its name from the fact that eight foundation piles must be filled in order to win the game, alluding to the spider's eight legs. It is one of the most popular two-deck patience games, and there is also a Microsoft version of the game, which has been available on Windows as early as 1991.
Due to the game being one of the most popular versions of solitaire, people have invented various variations of it:
Spider Solitaire 1 suit: Identical to Spider Solitaire 2 suits, except that just one suit, Spades, is utilized instead of four.

Spider Solitaire 2 suits: Here only two decks are used instead of four. The game is harder than Spider Solitaire 1 suit but easier than playing with 4 suits.

Spider Solitaire 4 suits or Gigantic Spider: Here 4 decks are used and all four suits are used. This is one of the hardest solitaire games out there.
Spider Solitaire is in general considered to be one of the harder types of solitaire games out there. We recommend to start playing with 1 suit and once you feel comfortable with that, then you can upgrade to playing with 2 and 4 suits.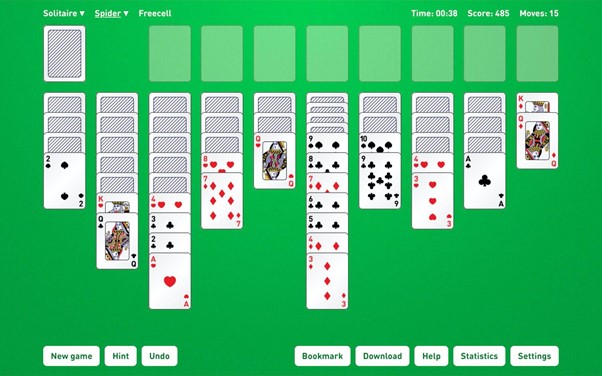 Image source: Online Solitaire
This is another popular form of solitaire game. It differs from 'Klondike' in various ways and is considered to be one of the easier types of solitaire. It is thought that Napoleon passed time playing FreeCell Solitaire while trapped on St. Helena, though no one has been able to verify this.
The game is played with open cards, which means there are no cards hidden at any point in the game and therefore no nasty surprises that'll stop you from winning. It is therefore one of the few games where chance has been taken out of the equations and it is 100% up to the player's skill whether they're going to win.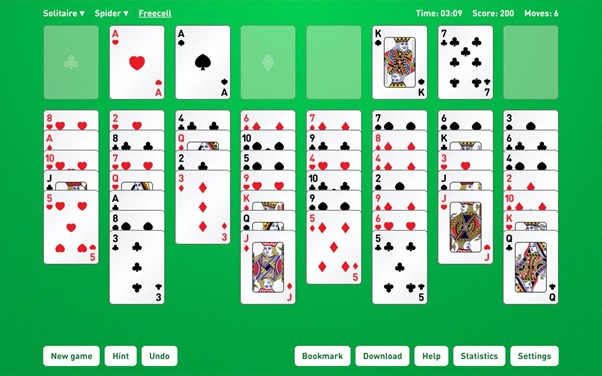 Image source: Online Solitaire