Surprise Dad with Stylish Clothes and Accessories from Territory Ahead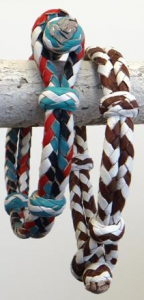 If you are looking for a stylish gift that dad will love then check out Territory Ahead! Territory Ahead is dedicated to bringing their customers colorful, comfortable and casual clothing designed for the active man. Best of all, the prices are quite affordable. These are exclusive clothing and accessories that you won't find anywhere else. The merchandise is all about unique fabrics, patterns and textures and comfort.
Territory Ahead sent us two of their wonderful products to review in our home free of charge. The first item we were sent was a Double Round Leather Bracelet. The bracelet is inspired by the hand-woven lead ropes of "charros," traditional Mexican cowboys… this authentic bracelet is hand woven by indigenous craftspeople using soft, supple, vegetable-tanned leather. The Double Round Leather Bracelet is available for purchase in two different color combinations, Brown and White and Red, White and Blue. It is also available in two different sizes. The medium bracelet measures 8.3 inches and the large bracelet measures 8.8 inches. We received our bracelet in brown and white. I was hoping to keep the bracelet for myself but my hubby loved it so much and it paired perfectly with a pair of jeans and his Peruvian Pima T Crew Neck Short Sleeve Shirt.
The second item Territory Ahead sent us to review was a Peruvian Pima T Crew Neck Short Sleeve Shirt. This is the softest shirt you will ever touch! My husband wore it to our twin's birthday party and everyone was commenting about how it looks like a dress T-Shirt! This is a huge win for me since all he ever wants to wear is t-shirts. The Peruvian Pima T Crew Neck Short Sleeve Shirt is available in 19 different colors. Territory Ahead offers a discount when you purchase more than one shirt. When you purchase two shirts you will save $3.00 on each shirt. If you purchase 3 or more shirts you will save $5.00 on each shirt. Time to update Dad's wardrobe.
Most of Territory Ahead's items are available in small to XXXL, regular and tall sizes. The Territory Ahead merchandise features unique fabrics, patterns, and texture. All designed with comfort and functionality in mind.
If you would like more information or to purchase a Peruvian Pima T Crew Neck Short Sleeve Shirt or a Double Round Leather Bracelet, please visit the Territory Ahead Website. Be sure to stay up to date on all of the latest news and products from Territory Ahead by following their social media pages on Facebook, Pinterest and Twitter. While you are there be sure to follow Mom Blog Society on Facebook and Twitter.
Disclaimer: Mom Blog Society received product free of charge to write our review. All opinions stated in our review are our own truthfully opinion and were not influenced by the sponsor or from getting the review product free of charge. We were in no way compensated for our review or opinion.