Tarriss Jetsetter Digital Luggage Scale
Disclosure: I got this product as part of an advertorial.
Traveling is extremely stressful for me and my family. Especially when we are traveling by plane. With four kids eight years old and younger, packing is a nightmare. While my husband and I travel light, the kids on the other hand are not. They each have their own items that they want to take and need. Our first trip that we took by plane was a complete nightmare when it came to fees because our luggage was over the weight limit. I didn't even think of the luggage being over weight to be completely honest. I just wanted to get to our destination. Our next trip I had purchased a handheld scale. It was a complete piece of garbage! It was such a disappointment and never gave the correct weight. I could measure the same luggage three times and every time got a different weight. Luckily, I under packed the luggage and left items that the kids wanted to bring but didn't want to be over the weight limits.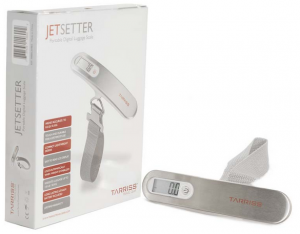 I was extremely grateful that Tarriss Travel Gear is in the progress of launching a live of travel gear. The first product they released was their Jetsetter Digital Luggage Scale. I was lucky enough to have the opportunity to review one of the luggage scales free of charge in our home. The Highly Accurate and Extremely Dependable Jetsetter Digital Luggage Scale ensures you'll never pay overweight bagge fees again.
The Tarriss Jetsetter Digital Luggage Scale is a modern fashionable stainless steal design that is extremely lightweight, accurate and dependable! Of course with my past experience with the old scale I wanted to but the Jetsetter Luggage Scale through the same tests and even some more. I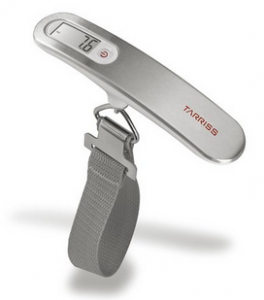 measure the same piece of luggage 5 times! Every time I got the same exact weight. There was no having to get out the calculator and estimate the weight. The Tarriss Jetsetter Digital Luggage Scale has a lifetime warranty. With a 100% satisfaction guarantee, you can confidently purchase a Jetsetter Digital Luggage Scale and know that if you are not completely happy with your purchase that you can get your money back.
I love that the Tarriss Jetsetter Digital Luggage Scale has a very easy to read LCD display screen making it easy to read. There is an auto shutoff to save the long life lithium battery for a long lifetime of use. The scale's compact lightweight design allows you to take the scale with you while traveling without adding significant weight or taking up a large amount of room in your luggage. The scale can measure up to 110 pounds (50 kg) with a precision accuracy of 0.2 pounds.
If you would like more information or to purchase a Tarriss Jetsetter Digital Luggage Scale, please visit the Tarriss Travel Gear Website. Be sure to stay up to date on all of the latest news and products from Tarriss Travel Gear by following their social media pages on Facebook and Twitter. While you are there be sure to follow Mom Blog Society on Facebook and Twitter.
Disclaimer: Mom Blog Society received product free of charge to write our review. All opinions stated in our review are our own truthfully opinion and were not influenced by the sponsor or from getting the review product free of charge. We were in no way compensated for our review or opinion.
I received one or more of the products mentioned above for free using Tomoson.com. Regardless, I only recommend products or services I use personally and believe will be good for my readers.