I can't remember a time I didn't use Caboodles. I used to have the smaller cases, that had the mirror inside, and one shelf. I've been using these since I was a kid. Now Caboodles has an entire line of products, from 5 in 1, to the old smaller cases with the mirror.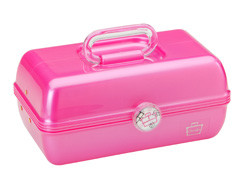 I truly love Caboodles. They make it easy to carry all of my makeup, along with my curling iron, and hair accessories in one place. And, my husband doesn't complain that my stuff is everywhere.
The Caboodles Classic, pictured above, is the case I was telling you about above. The Classic has so much room in it. Everything I own, makeup wise, and hair accessory wise, fits in this case. It's like the never ending case.
Features:
One Auto Open Tray
Flip Lid with Mirror
Removable Accessory Tray
Spacious Interior Storage
Secure Latch
Carrying Handle
13.38" x 8.88" x 6.5"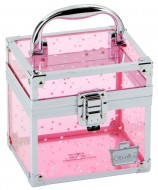 There is also the Caboodles Mini, for overnight trips, where you don't need to take everything with you. This is becoming one of my favorite Caboodles to have. My mini came with a bonus wristlet, that I was so excited for. Now I can carry my money close to me, and not have it in a big, bulky purse. The Mini is so cute, and has a lot of room, even though it's smaller.
Features:
Clear Acrylic
Interior Storage
Secure Latch
Carrying Handle
5" x 4.5" x 9"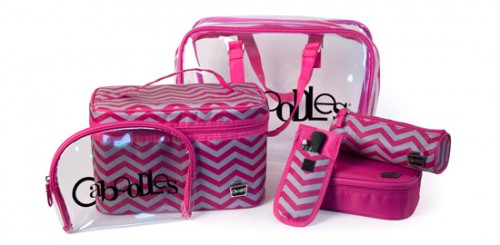 The Le Sophistique is perfect if you go on longer trips. It's got everything you need to keep you organized for those business meetings. It's got a makeup bag, a hair accessory bag, and so much more.
Features:
6 Bags, 4 Brushes
Clear Outer Bag 13.5" x 7.750" x 9.250"
Valet 11" x 6" x 7"
Clear Pouch 3.25" x 0.25" x 6.75"
Round Brush Bag 7.25" x 2.75" x 2.75"
Brush Valet 8" x 5.5" x 2"
Clear Pouch 8.5" x 1" x 6.5"
Four Makeup Brushes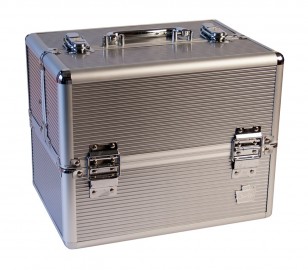 The Goddess Caboodles Case is all that and more. Check out the features of this case.
Features:
Four Large Auto Open Trays
Spacious Interior Storage
Two Locking Latches with Keys
Carrying Handle
12" x 8.75" x 10.5"
Give someone you love this Holiday season, the gift of Caboodles. They will so appreciate it. I own 3 from when I was a kid, and now I have about 8. I do give them to family to share the love, but I still have 8.
Connect with Caboodles: Shop | Facebook | Twitter
Disclaimer:
This product was received from the Company for review purposes only. All thoughts and words in this post is my own and I was not paid to endorse it. I am only voicing my opinion about this product.