One of the most popular recent trends that we have seen has been self-care, and rightfully so. We have learned how important it is to take care of oneself both inside and out. One of the other major trends we've seen is an uptick in CBD products. The non-psychoactive ingredient can be seen in all kinds of products now, from food and pet care to pain relief and skincare. We spoke with Brook Bacon, the vice president of marketing at Sky Wellness, one of the hottest CBD brands to hit the market, on how to self-care with CBD. Sky Wellness has an array of products designed to support healthy lifestyle habits including relaxation, focus, energy and pain relief. Brook points us to the CBD skincare products that she recommends for all mothers and mothers-to-be.
Please note if you are pregnant or nursing, or taking medication to consult a physician before using CBD products.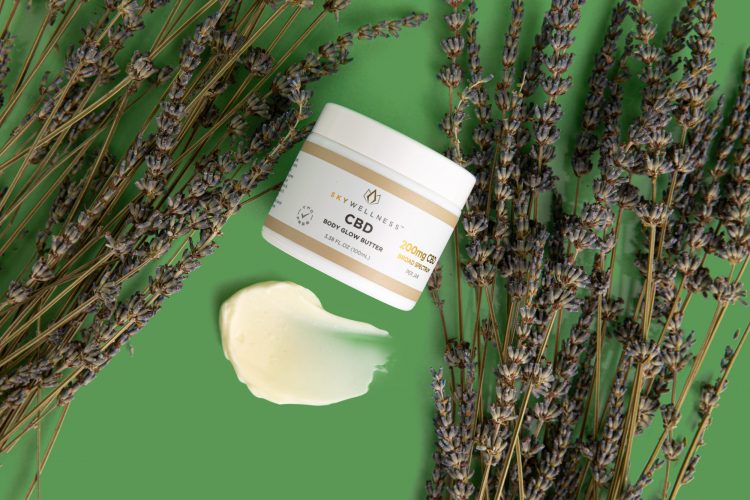 Cannabidiol, or CBD, for short has many benefits for skincare since it has potential for antioxidant and anti-inflammatory properties. "Research is indicating usage of CBD in products may help reduce inflammation, regulate oil production, and also hydrate skin," says Brook. In addition to 200mg of CBD, Sky Wellness also formulates their Body Glow Butter with shea butter, lavender, and vitamin E for even more effectiveness in hydration and in creating a barrier to protect, calm, and restore skin. This is recommended for anyone that wants soft, supple, and hydrated skin. It's also great for those that are pregnant to help with stretch marks and hyperpigmentation.
To support an anti-aging skincare regimen, the brand pairs CBD (an incredibly stable ingredient) with PhytoCellTec™ in their CBD Regenerative Sculpting Cream™. PhytoCellTec™ is a patented formula using the stem cells of a rare Swiss apple and created to protect the longevity of skin stem cells and delay skin cell deterioration. "Together with 100mg of CBD in every jar, we have created the ideal formula for both hydration and the reduction in the appearance of aging skin," says Brook.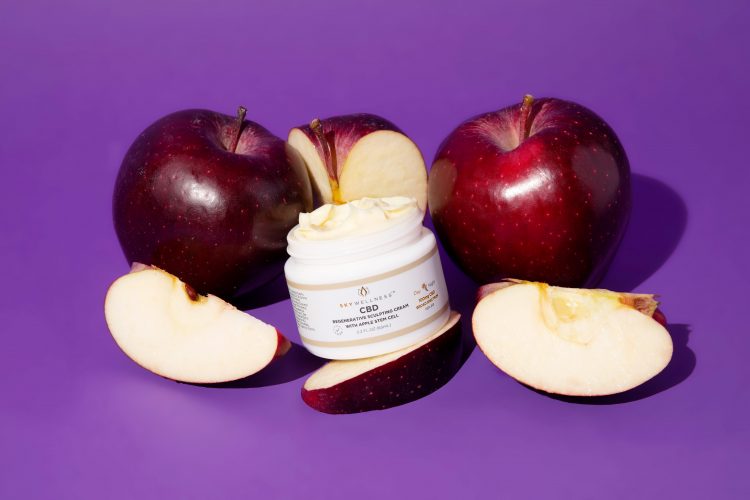 Again because of its stability, they are able to pair 100mg of CBD in the Triple Action Eye Cream with Retinol, as well as other skin boosting ingredients alfalfa extract, jojoba seed oil, and collagen. Together, these ingredients work to deliver concentrated hydration and deep moisture to the undereye area which helps to reduce the appearance of fine lines, dark circles, puffiness, and wrinkles.
One of the most important things to know about using CBD in skincare or any self-care regimen is to make sure that the product is safe to use. What you want to look for is rigorous testing from third party laboratories. Every company that produces CBD products should be completely transparent with the testing of each item and the lab results. Through their website SkyWellness.com, you can look up the test results from accredited laboratories and the certificate of analysis for each product. "You can see stand by all our products and their benefits that go to support healthy lifestyle habits and skin care regimens," says Brook, "with these great products, we have absolutely nothing to hide and we want our customers to see the tests and truly feel the results."
She concludes that the best recommendation they can give to all mothers is to create a routine that works for you, and CBD is a great and effective addition to any routine inside and out. We agree that these high-quality products are an easy way to care for oneself, especially for those with so little time.
Sky Wellness products are available in stores across the country and also online at www.skywellness.com.