Have you heard of VIM & VIGR?
They are a Compression Sock Company with great fitted Compression Socks. With flexible toe pocket for extra comfort, fitted heel and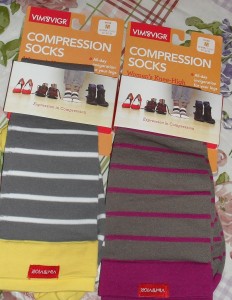 contoured leg for superior fit, compression that begins at ankle for increased circulation throughout the leg, and Compression level of 15-20 mmHg graduated compression (spandex throughout the sock). They are appropriate for all day, everyday wear.
These socks are miracle workers they prevent swelling in your legs, alleviate achiness and heaviness, and prevent and reduce spider and varicose veins.
All of VIM & VIGR's products are listed with the FDA.
I got these for my daughter, 17 year old, Sarah. She is a senior in high school, and these are perfect for her while she's on her feet a lot throughout the day. She's already had them on and loves the feel of comfort they give her. She has stated that she doesn't know how she survived before these socks.
These Compression Socks are more than just made for women, they are for men, as well. There are so many colors and styles to choose from. You really must take a look at their website to see all the great pairs of Compression Socks available. The sizes available are perfect too.
Remember to like VIM & VIGR on Facebook & Twitter to stay up to date with their latest promotions and products.