I recently downloaded Toon Goggles for my 3 year old, and he loves this app.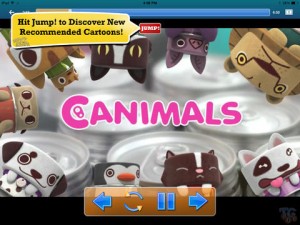 I don't know about you, but I'm sick of watching the same cartoons over & over again. It's like they play the same 3 cartoons day after day on tv. So, Toon Goggles is a great app for Jacob to watch.
There are so many cartoons we have never watched yet. The app costs nothing, and will keep your child busy for a long time.
There is so much to choose from to do, this is a must have app for any little one.
Toon Goggles is free to download. However, you can get the premium app (no ads will be played, just continuous kid safe, parent friendly cartoons, live action shows and engaging games) for just $4.99 a month. This version is great. I love having continuous play for Jacob.
Toon Goggles is continuous play for Boys & Girls with Action & Comedy and is Educational. There's TG Radio, Goggle Games and Boom Goggles.
There are so many shows to choose from. It's great for any child, there's even a special channel for Preschool Aged children.
I'm glad we were asked to do this review. It's given Jacob a whole new series of things to watch.
Make sure you go download Toon Goggles today.
On Tuesdays, you can get the latest videos.
This channel is an excellent choose for kids from 3-12.
Make sure to like Toon Goggles on Facebook to stay up to date with their latest cartoons and other information.