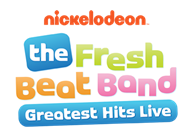 The Fresh Beat Band Greatest Hits Live Presented by Nickelodeon Will Feature New Songs Plus Fan Favorites and Travel To Cities Across the U.S. Including New York, Los Angeles, Atlanta, Chicago, Dallas and More; Tickets On Sale Starting Friday, Aug. 8
Nick's New Animated Preschool Series, Fresh Beat Band of Spies, Stars Yvette Gonzalez-Nacer (Kiki), Tara Perry (Marina), Jon Beavers (Twist) and Thomas Hobson (Shout)
NEW YORK, Aug. 5, 2014 – The Fresh Beat Band, Nickelodeon's preschool music group and stars of the Emmy Award-winning TV series of the same name, head back on the road for a brand-new nationwide concert tour Nov. 5–Feb. 15. The Fresh Beat Band Greatest Hits Live presented by Nickelodeon will travel to nearly 40 cities including New York, Los Angeles, Atlanta, Chicago, Dallas, Detroit and more. The show will feature Kiki, Marina, Twist and Shout performing the band's greatest hits including "Bananas," "Here We Go" and a remixed version of "Great Day," plus new songs including the pop classic, "Walk Like An Egyptian."
Pre-sale tickets along with Fresh Beat Band VIP packages with meet and greets will be available at www.freshbeatbandlive.comandwww.ticketmaster.com beginning Tuesday, Aug. 5. Citi® card members through Citi's Private Pass Program at www.CitiPrivatePass.com will also have access to pre-sale tickets beginning Aug. 5. The general public on-sale will begin Friday, Aug. 8 and Saturday, Aug. 9.
"The Fresh Beat Band is back on the road to give kids a chance to see their favorite rock stars live in concert," says Doug Cohn, SVP, Music, Nickelodeon. "This reimagined, high-energy production features the band's biggest hits, never-before-performed songs, and fun surprises that will deliver an unforgettable experience for families."
Nickelodeon is currently in production on Fresh Beat Band of Spies, a brand-new animated preschool series based on the hit live-action show, The Fresh Beat Band. In the new series, Kiki (Yvette Gonzalez-Nacer), Marina (Tara Perry), Twist (Jon Beavers) and Shout (Thomas Hobson) are bandmates and also undercover spies. The pop band uses their individual talents and the coolest transforming spy gadgets to outwit a goofy cast of bad guys and solve wild and wacky mysteries. The series, which teaches problem-solving to preschoolers, is created by Nadine van der Velde and Scott Kraft (The Fresh Beat Band). Fresh Beat Band of Spies will premiere in 2015.
The Fresh Beat Band soundtracks – The Fresh Beat Band: Music From The Hit TV Show and The Fresh Beat Band: More Music From The Hit TV Show Vol 2.0 – are currentlyavailable on iTunes and in stores everywhere. For more information, visit the tour website at http://www.freshbeatbandlive.com and for Fresh Beat activities and fun go to http://www.nickjr.com/the-fresh-beat-band/.
In each episode of The Fresh Beat Band preschoolers sing and dance along as they help The Fresh Beat Band solve everyday challenges. Preschoolers learn the fundamentals of music such as melody, rhythm, tempo and performance styles and the importance of friendship, working together, and respecting each other's differences. Ne-Yo, Justin Bieber, Jason Mraz, Wayne Brady and Sarah Chalke have all hung out with the Fresh Beats and the group is beloved by many celebrity parents.
Nickelodeon, now in its 35th year, is the number-one entertainment brand for kids. It has built a diverse, global business by putting kids first in everything it does. The company includes television programming and production in the United States and around the world, plus consumer products, online, recreation, books and feature films. Nickelodeon's U.S. television network is seen in almost 100 million households and has been the number-one-rated basic cable network for 19 consecutive years. For more information or artwork, visit http://www.nickpress.com. Nickelodeon and all related titles, characters and logos are trademarks of Viacom Inc. (NASDAQ: VIA, VIA.B).
2014 The Fresh Beat Greatest Hits Live Tour Dates:
Date City Theater
November 5 Melbourne, FL King Center for the Performing Arts
November 6 Clearwater, FL Ruth Eckerd Hall
November 7 Boca Raton, FL Mizner Park Amphitheatre
November 8 Orlando, FL Hard Rock Live
November 9 Atlanta, GA Fox Theatre
November 11 North Charleston, SC North Charleston Performing Arts Center
November 13 Columbus, OH Palace Theatre
November 14 Akron, OH Akron Civic Theatre
November 15 Detroit, MI Fox Theatre
November 16 Milwaukee, WI Riverside Theater
November 18 Minneapolis, MN Orpheum Theatre
November 19 Kansas City, MO Midland Theatre
November 20 Park City, KS Hartman Arena
November 21 Grand Prairie, TX Verizon Theatre at Grand Prairie
November 22 Baton Rouge, LA Baton Rouge River Center
November 23 Houston, TX Bayou Music Center (2 shows)
November 25 San Antonio, TX Majestic Theatre
November 26 Austin, TX Austin City Limits Live
November 28 St. Louis, MO Peabody Opera House
November 29 Rosemont, IL Rosemont Theatre (2 shows)
November 30 Indianapolis, IN Murat Theatre
December 2 Binghamton, NY Broome County Arena
December 3 Worcester, MA Hanover Theatre for the Performing Arts
December 4 Providence, RI Providence Performing Arts Center
December 6 Wallingford, CT Toyota Presents the Oakdale Theatre
December 7 Upper Darby, PA Tower Theatre (2 shows)
December 10 Pittsburgh, PA Benedum Center
December 11 Albany, NY Palace Theatre
December 12 Syracuse, NY Landmark Theater
December 13 Toms River, NJ Pine Belt Arena (2 shows)
December 14 Westbury, NY Theatre at Westbury (2 shows)
December 16 Erie, PA Warner Theatre
December 19 Baltimore, MD Meyerhoff Symphony Hall
December 20 Columbia, SC Township Auditorium
January 17-18 New York, NY Theater at Madison Square Garden (4 shows)
February 15 Los Angeles, CA Shrine Auditorium & Expo Center (2 shows)