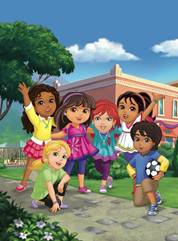 Get ready for Dora's next big adventure with the primetime premiere of Dora and Friends: Into the City! on Monday, Aug. 18, at 8:00 p.m. (ET/PT) on Nickelodeon. The half-hour series (20 episodes) features the iconic character Dora living in a city, attending school and at the center of a peer group that works together to give back to the community–having both real-life and magical adventures along the way. Created by Chris Gifford and Valerie Walsh Valdes (Dora the Explorer, Go, Diego, Go!), the series will regularly air weekdays at 12:00 p.m. (ET/PT) during the preschool block on Nickelodeon.
In the series premiere, "Doggie Day," Dora wants to shoot a video to help her friend Alana promote the animal shelter's Doggie Adoption Day. When Dora points her video camera at Cusco, one of the shelter's dogs, he magically starts singing a song about being separated from his brothers. Dora and her friends head out to help Cusco reunite with his family. "Doggie Day" Clip: https://vimeo.com/100761146
Following the Dora and Friends premiere is a brand-new episode of Nickelodeon's top-rated preschool series, PAW Patrol, at 8:30 p.m. (ET/PT). In the episode, "Pups and the Pirate Treasure," Cap'n Turbot accidentally stumbles into a secret cavern that was once a pirate's hideout. When the PAW Patrol rescues him, they go on a journey to find the missing pieces of a treasure map which leads them to a sunken pirate treasure!
About Dora and Friends: Into the City!
Set in the fictional city of Playa Verde, Dora and her friends go on adventures, whether it's rescuing a lost stuffed monkey for a little boy in the hospital or returning a ring to an ancient Mayan Princess. Throughout her journeys, Dora uses Map App on her smartphone and a magical charm bracelet to navigate the city and overcome any obstacle. In the new series, Dora continues to be a good friend, leader, and problem-solver with a group of new friends–Kate, Naiya, Emma, Alana and Pablo-who share her passion for learning and exploring.
Developed with the support of educational experts and tested by preschoolers themselves, Dora and Friends is set to a contemporary soundtrack of Latin-influenced pop music and features an interactive curriculum focusing on community service, problem solving, emotional skills, Spanish language and Latino culture.