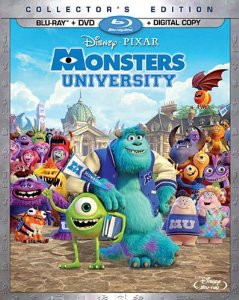 "Mike Wazowski's lifelong dream is to become a Scarer at Monsters, Inc. and he's sure he knows just how to do it. Ever since he was a young monster, Mike's had his eye on Monsters University, home of the world's top Scare Program. Now a freshman and hopeful Scare student, he's well versed in the rich history, theory, and technique required to reach his goal, and the little green one-eyed monster has more confidence, enthusiasm, determination and heart than all of his classmates combined. But unexpected roadblocks derail Mike's plans and he's forced to team up with a group of misfit monsters and an unlikely ally to give it the old college try and pull off the biggest coup in the University's history".
My kiddos adore Monters University! Our favorite Pixar characters are back and better than ever!
This is great movie, we enjoyed it as much as original movie. I highly recommended it for any age group. It's super funny and cute. It's absolutely well-done.Our kiddos and I loved it so much, we watched it two more times within 48 hours
It was a fantastic prequel to the beloved Monsters, Inc. Not only is it a great stand alone movie, but ties in the "little things" to the original. Randal's fierce need to no longer be in second to Sully. Mike and Sully's relationship and things like that. It provides an opportunity to talk about morals, doing the right thing, with kiddos!  I do recommend that you Make sure to watch Monster's Inc. first! If you're looking or a great stocking stuffer you just found it!
EXTRAS: There are a TON of extras!
If you like the behind-the-scenes process of filmmaking, the extras here are about as extensive as I've seen before. Not only do the shorts give a background of life on Pixar's campus (Campus Life), but plenty of dedication to each aspect of making the film. Of course, there's also some deleted scenes.
What's nice about the scenes is that director Dan Scalon talks you through the scene in detail and why it was cut. They are of course unfinished, but still interesting to see what could have been part of the movie.
If I have one complaint, it's the layout of the bonus features menu. Despite the features being on a blu-ray disc, the menu does not operate like a blu-ray menu. Typically, you're able to operate within the menu while the movie (or features) are playing on screen. Instead, you need to return to the menu screen to select the next option. It's a small caveat, but there we go.
Connect with Monsters University: Monsters University | Facebook
Disclosure: I received a free product from the sponsor to review. I received no monetary compensation and my opinions are my own and were not influenced by the sponsor.