Better job opportunities, getting exposed to diverse cultures, and having a better appreciation of how life works; such are the benefits of teaching your kids new languages.
The best part is, we're just scratching the surface here. If you'll consider how learning new languages can give your kids a brain boost and how they can easily connect and befriend people from other countries — let alone all the benefits that come with it — you'll surely take the time to invest in teaching your kids new languages.
While your kids becoming multilingual is good and all, achieving such a feat isn't exactly easy. Not only would it entail the parents spending truckloads of cash, but the parents also need to invest their time in teaching their kids.
That's how things worked in the past, at least.
With Mondly in the picture, the parents can now help their kids learn new languages without having to spend a hefty amount of sum, and spend hours upon hours to help their kids with their learning.
Mondly is a family-friendly language learning app created by ATi Studios. The app was dubbed by Apple's editorial team in Germany and several other countries as the "Best New App" last year (January 2016) and has been downloaded over 20 million times globally.
ATi Studios designed the Mondly app for kids with the next generation's needs and natural tendencies in mind, that is why the app has no problems connecting with the kids.
"Children are extremely different from adults when it comes to learning languages. They are tech-savvy and need to constantly be challenged and engaged otherwise they get bored. That's why we decided to create a bespoke app to meet the unique needs of the younger language learners. Mondly for Kids is the result of our 5-year experience in creating educational apps downloaded by 20 million people in over 190 countries to date." — Alexandru Iliescu, CEO, and co-founder of ATi Studios
Features: What makes Mondly app for kids amazing.
If you visit Google Play and iTunes to check the reviews made by the users who downloaded the app, you'll soon find out that the reviewers are giving all sorts of positive feedback: from their kids enjoying the app's learning method, or the app having an amazing graphics. These are just some of the many things that make the app remarkable.
To give you a better idea of the kind of experience that your kids can get from using Mondly for kids, here's a list of the app's features.

The app's audio quality is superb.

The app has captivating sound effects.

The app's animation and sound effects are child-friendly, let alone appealing to the kids. This makes their learning experience more exciting.

The app has an incredible verb conjugator to aid the kids in learning the grammar rules of other languages.
The app also has several learning methods that your kids can go through. Mondly for kids have word games and flashcards (among other things), making the kids' learning experience more dynamic and exciting.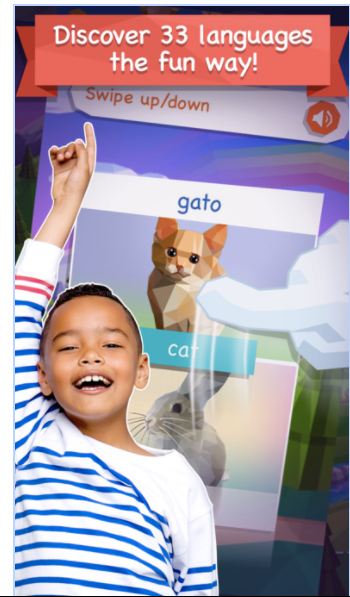 The app's categories
The Mondly app has 12 categories that your kids can choose from. The best part about these topics is they're the kind that your kids often face in their day-to-day lives.
Here are the app's list of categories:
Animals

Daily Lessons

Nature

Parts of the Body

Fruits and Food

Family

Buildings

School

Professions

Colors & Numbers

Sports

Leisure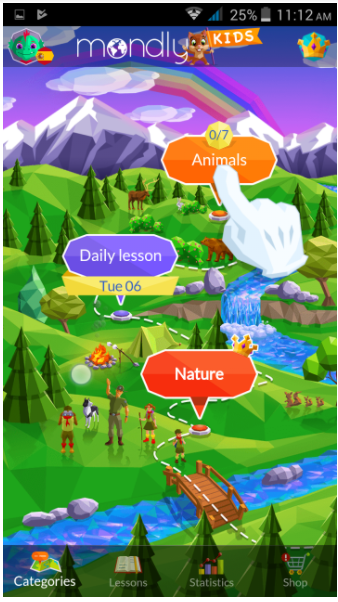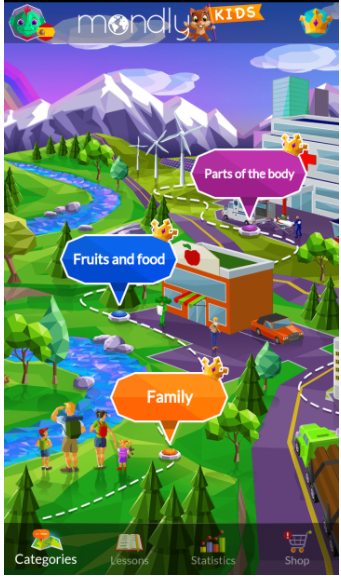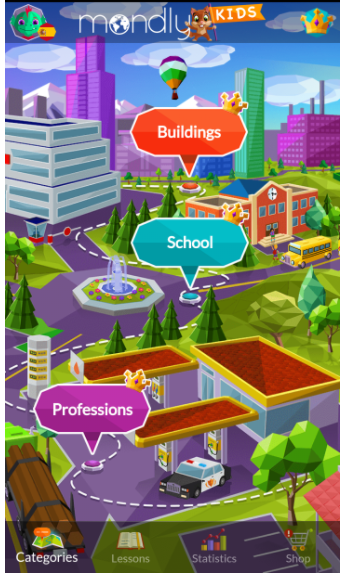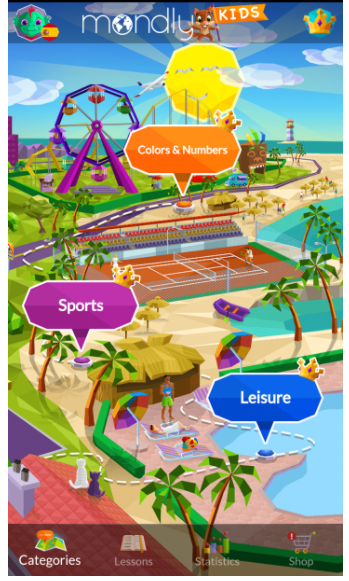 When your kid's vocabulary bank on these topics reach a decent level, it'll only be a matter of time before they can start applying the things they've learned, and be able to converse in a different language.
Also, since the app releases new lessons daily, the kids will never get bored of having to learn the same things over and over again. Considering how boredom is often an element that can cause the kids to be distracted, it pays to have your kids focus on these daily tasks.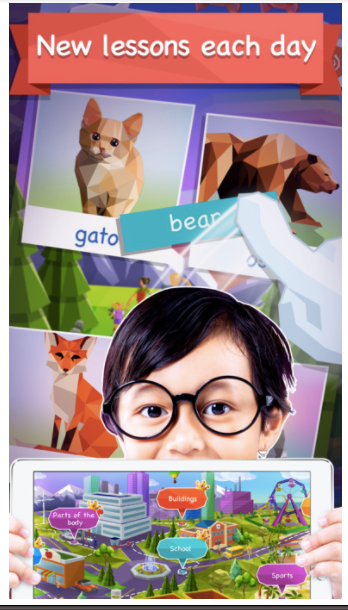 What languages does the app cover?
The app covers a plethora of languages. Here's the full list: British English, Spanish, American English, German, French, Portuguese, Italian, Mandarin Chinese, Russian, Japanese, Arabic, Dutch, Turkish, Norwegian, Swedish, Danish, Korean, Romanian, Greek, Vietnamese, Hindi, Indonesian, Hebrew, Bulgarian, Polish, Ukrainian, Croatian, Czech, Finnish, Afrikaans, Persian, Thai, and Hungarian.
The app's difficulty level.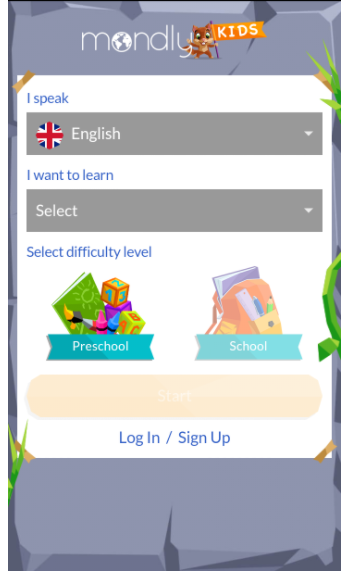 The app has two difficulty level options:
The option allows you to select the lessons' level of difficulty that would be appropriate for your kids, based on how they're responding to the teaching.
It's also worth emphasizing how the app has a "Statistics" page which you can visit to check your kid's progress in their learning.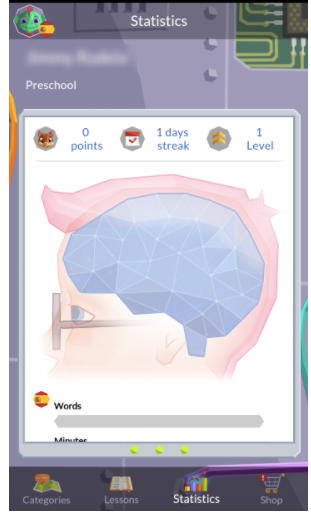 The Statistics page does wonders for parents since it gives them a clear sign if their kids are struggling with the lessons. When the results shown on the page aren't as good as it ought to be, then the parents can step in to give their kids their needed support.
Reviews
Mondly app for kids has managed to collect 238 reviews on Google Play (in this time of writing) where 207 of the reviews are 5-star ratings, and only two ratings are 1-star.
Here's how the breakdown of the total review in Google Play looks.
The reviews are pretty amazing, huh?
Now check out what the users are saying about the app.
"Incredible. A very good way for my kid to learn English I saw that i can choose other languages as well. Very entertaining. Been waiting for an app like this for a long time. The design and animation are stunning. Congratz." — Alex Quasar
"Best app to learn languages for kids. my kid is learning Spanish in a fun way." — Alex Dom
What's next?
If you're looking for a reliable language learning application that you can use to teach your kids new languages, then download the Mondly app for kids now.
You can get the app using these links: Google Play | iTunes
If you've been a Mondly for kids user for quite some time now, then please share your feedback of the app in the comments section below. Cheers!