My kids create sticky, smelly disasters almost everywhere we go, and until now I've reached for our huge package of butt wipes for on-the-go clean-up. They never really worked – they're for butts after all – and almost always left a trail of lint behind. Needless to say I was excited to give the new KIDS 'N' PETS Instant All-Purpose Stain & Odor Remover WIPES a try. The package says they clean up nearly every surface stain with no rinsing required, so I put them to the test after a craft project, on my baby's car seat*, the stroller and even our carpets after I spilled some red wine. They not only cleaned up the mess – leaving nothing behind – the wipes removed the odor, even the spoiled milk spilled in the car seat!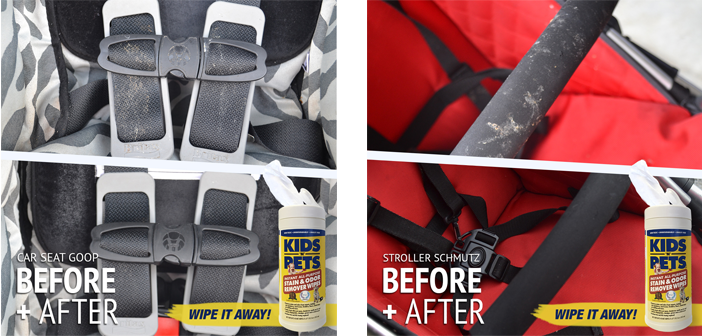 Not a bleach wipe and not a butt wipe – these all-purpose wipes are safe and effective and unlike anything else on the market. They'll definitely be part of my arsenal for everyday clean-up, especially for our upcoming summer outings and road trips!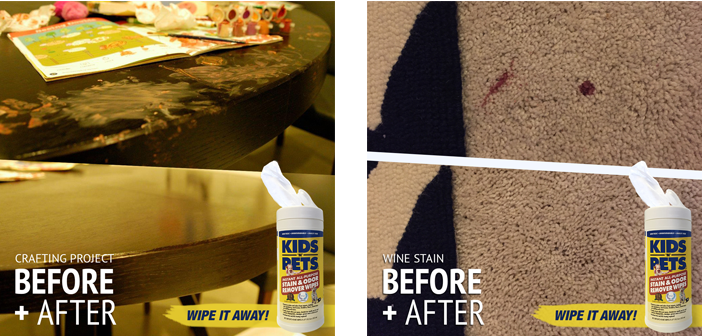 Superstar Features:
Portable and easy to keep in your car or stroller
Non-toxic, bio-degradable and cruelty-free
Safely eliminates almost every stain and odor without perfumes or masking scents
These wipes are tough and hold up against nearly any fabric or surface
Residue-free
No rinsing required!
Safe on any water-safe surface like clothing, upholstery, furniture and more!
Removes pet odors and paw prints
Available on Amazon
*Please reference your car seat manufacturer's guidelines for proper cleaning instructions.
We're giving away these stellar wipes! Enter to win one of five 2 packs.