Chances are, your garage houses everything, but your vehicle. For most of us, our garage has become the "catch-all" space. The place where we throw everything and then forget about it. Last summer, my husband and I spent an entire weekend cleaning out our garage. I won't lie, it was a ton of work. But in the end, it was well worth it.
Getting Started:
Start by marking designated areas in your driveway. Make one for keep, donate, sell, and toss. Work your way from front to back. Simply start moving items out of the garage to the designated areas you've marked in the driveway. Decide if it's worth keeping, donating, or even selling in a yard sale. Having a giant garage sale at the end of this "clean up" could possibly fund a much more organized garage in the end. Between shelving, work benches, tool chest and bin organizers, you can restore your garage to it's former glory in no time.
Organizing:
If your family is anything like mine, chances are when you were cleaning out that messy garage you came upon a ton of screws, nails, nuts and the like. When we cleaned out our garage, we kept all those bits and pieces. Why, because you never know when you're going to need one of those tidbits you just found. For us, we decided to add a TRINITY dual-sided mobile bin rack in our garage. And I cannot tell you how much I love this piece of garage shelving. It has been such a blessing. It holds so much, and it's so organized. Whenever we need a nail or screw or one of the many of thousands of things we've stored in one of those bins, we can find it with such ease.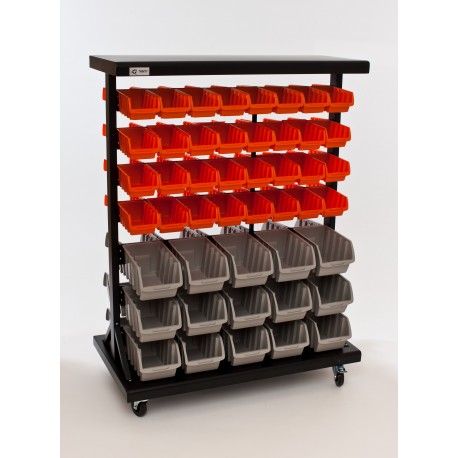 Tools:
Now that we've found a place for all those tidbits we collect, it was time to find a place for the millions of tools my husband seems to have collected over the years. I don't know why anyone needs so many tools, but apparently he needs them all. Rather than going with the standard tool chest, we decided to go with one that offers workspace as well. The TRINITY stainless steel 72″ rolling workbench seemed like a perfect fit for us. First, it ROLLS. That alone was an important deciding factor for us. Simply being able to effortlessly move the workbench around where we needed it was a major selling point. My husband is always tinkering around out in the garage and well, he's getting older. Lifting up all these heavy objects just isn't an option anymore. The other factor for us was the thick solid rubberwood butcher block top, plus it has enough drawer and cabinet space to hold most of his tools and allow him a work area for his projects as well. So, we have all of our tools and tidbits stored and organized. Now, for the rest of the mess.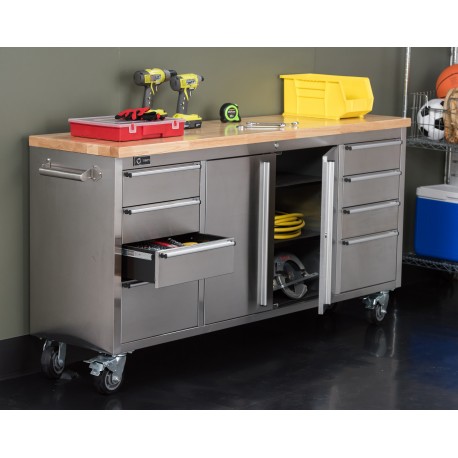 The Kids Stuff:
Our kiddos play a ton of sports, and when they're not, the garage is filled with all their toys, bikes, skateboards and sporting objects. For us, we simply used the TRINITY ECOSTORAGE™ 6-tier wire shelving racks. In fact, we have several of these babies lining our garage walls. They can store so much excess. Including all your holiday decorations. I love that they are on WHEELS, making it easy to move them around and that they have an 800 lb weight capacity per shelf.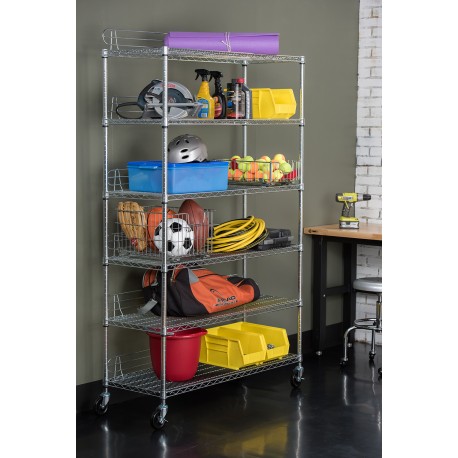 Crafting:
And finally, we added a crafting area. We used the shelving racks to hold and organize all of our crafting supplies. Then, we added TRINITY ECOSTORAGE™ stainless steel table and the 30″H Chrome Swivel Stools. I cannot tell you what a blessing this has been. The kids can craft in the garage and I don't have to worry about the mess in the house!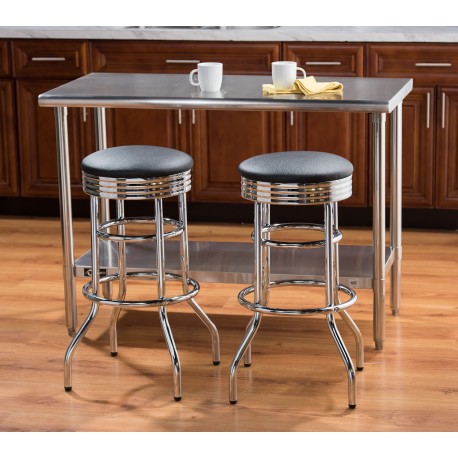 TRINITY has been used throughout our home for years. We have so many pieces of their amazing products in several different rooms in our home. Over the next couple of months we will be organizing and setting up a new room using more of the TRINITY brand products. We even plan to do a video to show you how easy it is to assemble their products. It's there's a brand I trust in my home, it's the TRINITY Brand. If you're looking for a way or organized any room in your home, I strongly suggest you take a look at their products. The quality and the price alone is well worth it.
Connect with TRINITY: Facebook | Twitter | Instagram | Pinterest | Shop