Find Affordable Formal Wear for Kids with Black N Bianco

Spring is here, which means Wedding season is upon us! Most brides have drastically reduced their wedding budgets over the years and are looking for more affordable dresses for not only themselves but for their wedding parties.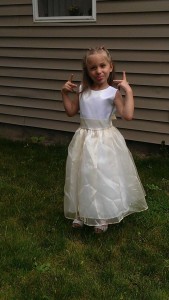 Black N Bianco is a high quality online clothing boutique that offers the best in formal wear and wedding wear for children. They specialize in offering a variety of different styles of suits for little boys that will help to please any person's personal tastes and match your wedding. Black N Bianco also offer a wide range of choices of flower girl dresses that will be sure to make any flower girl look perfect on your wedding day.
Mom Blog Society recently had the opportunity to work with Black N Bianco and review their beautiful formal wear. We were sent two beautiful flower girl dresses to review with our daughters free of charge.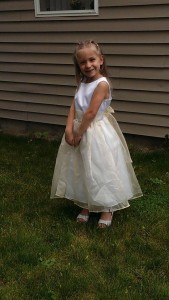 Cheyenne loves being a princess and loves getting dressed up. She loves being fussed over. At 5 years old she is already dreaming about her prom! Alexandria on the other hand, I have to beg to wear a dress. She would rather live in a t-shirt, pair of jeans and sneakers. When it comes to her hair, it is pulled back into a pony tail. When the dresses arrived Cheyenne could not wait to put the dress on and model for me.
I absolutely love how the dress looks on Cheyenne. I have had to shop for Formal Wear for the kids for several different occasions and honestly shopping for 4 kids can break the bank. The quality of the dresses from Black N Bianco were better than those I have purchased in the past and was only a fraction of the prices that I spent! I wish I would have known about Black N Bianco before. I could have spent the same amount on all four of the kids formal wear that I spent on one outfit in the past!
If you would like more information or if you would like to purchase the Flower Girl Dresses, please visit the Black N Bianco Website. Be sure to stay up to date on all of the latest news and products from Black N Bianco by following their social media pages on Facebook, Instagram and Twitter. While you are there, be sure to follow Mom Blog Society on Facebook.
Disclaimer: Mom Blog Society received product free of charge to write our review. All opinions stated in our review are our own truthfully opinion and were not influenced by the sponsor or from getting the review product free of charge. We were in no way compensated for our review or opinion.