Jungle gyms and kids are great friends since the time immemorial. Children love to swing, climb rope ladders, slide, and simply spend time in parks and outdoor play zones equipped with jungle gyms. Parents are even happier with jungle gyms because they do wonders for kids' physical, mental, and social development. Children get plenty of exercises while playing with their old friend jungle gym and this helps them to gain muscles, lose excess weight, and strengthen their back.
We spoke to a representative from the Hampton Gym, and they said, "Children who are not
active have a risk of developing chronic diseases, this is why physical activity is an essential
part of healthy living at any age and is very important for kids. Physical activity also makes
sure that children remain entertained, happy and healthy. It is also good for them as they
learn to communicate with others and build relations as they play with other children"
How to find a good jungle gym
Those amazing developmental benefits are the reason why more and more parents try to ensure that kids have regular access to an equipped playground. However, many families live in apartments and do not have an opportunity to put a jungle gym in the backyard. Even those who have this option may face challenges in installing an outdoor jungle gym due to several reasons. First, the prices for equipment can be too high. Second, there will be many days in a year when kids will not be able to play because of bad weather conditions.
As a result, parents search for an indoor jungle gym for their kids to allow them to play at any time – regardless of the weather and other conditions. It is also important for this playground to be safe and take up little space. There are not many good propositions on the market that suit these demands and that's where EZPlay comes out on top.
EZPlay playgrounds ensure kids are healthier and happier
The mission of EZPlay is to gift kids a fun and safe indoor adventure. Indoor jungle gyms produced by EZPlay are designed to motivate kids to use their imaginations while playing. Chldren, flex their creative thinking skills as they imagine that their jungle gym is a pirate ship or an Amazonian rain forest. At the same time, EZPlay playgrounds include several play features that allow children to climb, slide, and swing and, thus, develop their strength, endurance, and hand-eye coordination as well as other important motor skills.
EZPlay has two basic jungle gym models for kids of different age groups. EZPlay Panda Playground comes with small swings, gymnastic rings, rope ladders, and a short slide and it's a perfect choice for children aged 1-5. This kids jungle gym is regularly chosen by parents for small children who are just learning the joys of having adventures on a playground.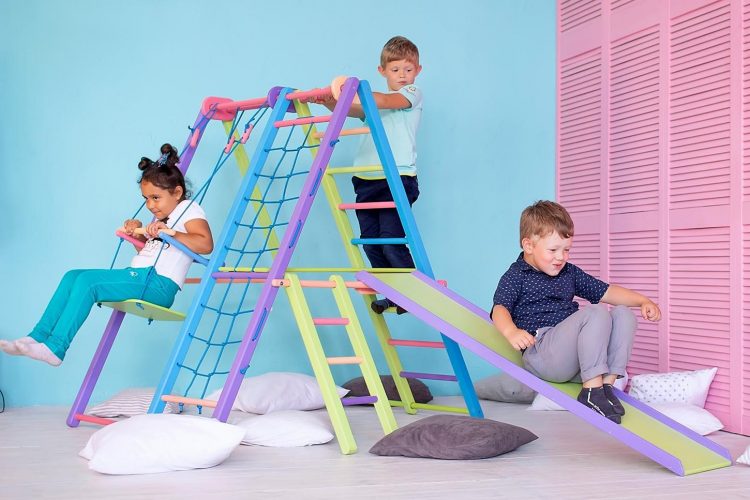 If kids are a bit older, EZPlay Koala Adventure can be a solution. It is made for children aged 4-10. This indoor playset has monkey bars, swings, rope ladder, gymnastic rings, and a slide to give kids a true playground experience in the comfort of their home. Parents can adjust height settings when kids grow up.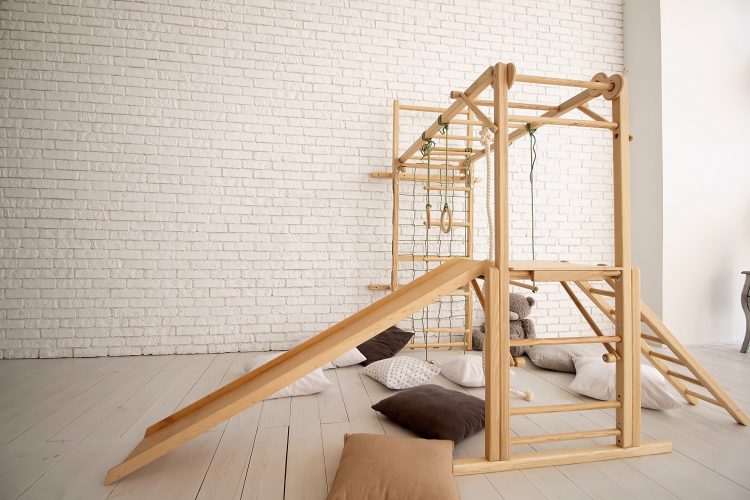 Both Panda and Koala are made from splinter-free ash wood with a beautiful texture. EZPlay uses only water-based paints that are 100% non-toxic. Jungle gyms have two basic color options to choose between: Natural and Multicolor. It may be challenging to choose the color you like the most but you can always ask your kids for help!
Why indoor playsets by EZPlay are a lifesaver for any family
Unlike outdoor jungle gyms, children can use EZPlay indoor playgrounds regardless of the weather outside. If a summer day is just too hot, then parents can set up a new indoor playground to allow their kid to play in an air-conditioned home without worrying about overheating. During chilly winter months, kids will be able to run around indoors instead of braving the cold and snow, and parents can let them play indoors when the sun starts to set early in the evening. With an EZPlay indoor playground, kids will be able to safely enjoy all of the benefits of a playground regardless of what it's like outside.
EZPlay playgrounds are also perfect for parents. Since the jungle gym is in your own home, you won't need to rally your family for a trip to the park to play, and you can watch your kids play in the living room as you make dinner or phone calls in the kitchen at the same time. EZPlay kids jungle gyms are also incredibly safe. They're made of 100% natural materials and designed with kids' safety in mind. It is possible to purchase special folding mats adding an extra layer of safety to the playgrounds.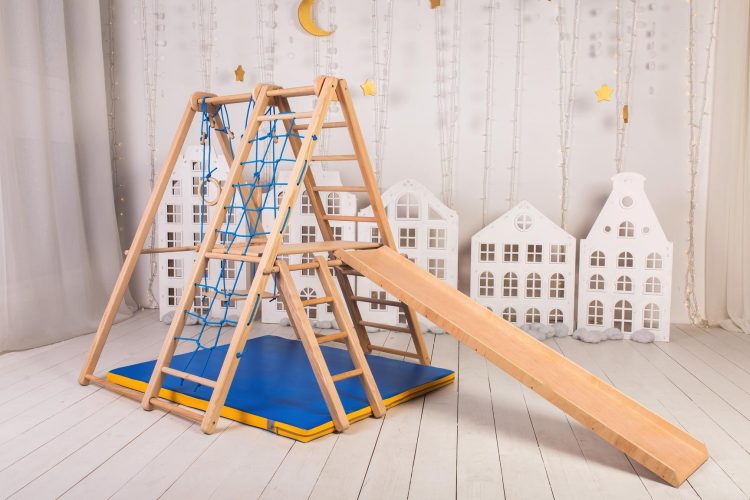 As an added bonus, all EZPlay jungle gyms are easy to assemble, and they're collapsible and easy to store. No need to be an expert builder to put any EZPlay playground together in 2 minutes, and then, if you want to have guests over or need to tidy up, you can put your kids' playground away without any hassle.
Do not hesitate to get your EZPlay jungle gym
EZPlay indoor playgrounds allow your children to enjoy their childhoods even if they need to stay indoors, and with two great options, you'll easily be able to find an indoor playground that's perfect for your kids. If you want to give your child the gift of fun, exercise, and adventure, go no further purchasing an EZPlay jungle gym!