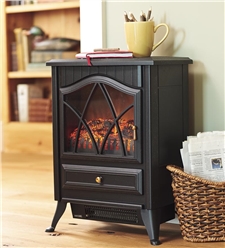 There's just certain things I love about winter. The beauty of snow, the holidays, soup, homemade bread and the cozy feel of the fire roaring in the fireplace. The one thing however that I don't like about winter is chopping the wood for the fireplace. When I'm ready for a fire on a cold winters night, I just want to light it and be done with it. That's simply isn't possible with our fireplace. We must first go out into the cold, chip the wood, hull it to the house, build it just right in the fireplace, and hope we put in enough paper and twigs to get it to light. Then, we have to keep adding wood to it thought the day in order to keep it burning. And while this looks beautiful once you've done all the work, it's just simply too much!
I love the look of an old fashion wood-burning-stove and I've wanted one for years. However, and again I don't want to build and feed the fire. I recently found an electric wood burning stove. It gives the warm and fuzzy feeling of a real fire, it heats the house perfectly, and all I have to do if flip the switch! You can have the fire going with the heat on, or with the heat off. So on the days you want the cozy feeling of a fire without the added heat you can have it! Problem solvers has solved the problem! It's also very light weight weighing only 14lbs. And it fits in a lot of small, tight places too. It comes in black, red and ivory so it can fit in nicely with just about any décor.
This portable electric stove also has a vent-free heater that can heat a 400 square foot room. Plus it's safe around children and animals since it's surface stays cool and will not burn you when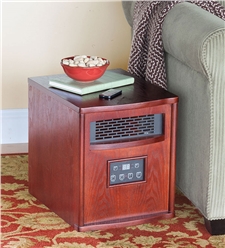 you touch it. Problem solvers has some space saving and economically friendly ways to heat your home too! Like this Super-Efficient Infrared Space Heater. It "warm up to 1,500 sq. feet with our safe, cool-touch Infrared Space Heater. It uses true quartz and infrared heating tubes for super-efficient heat. Convenient LED control with remote and built-in digital thermostat for ease of use. Rolls on heavy-duty casters for easy mobility. Furniture-grade wood in a dark oak finish. 1,500/750 dual watt power selection."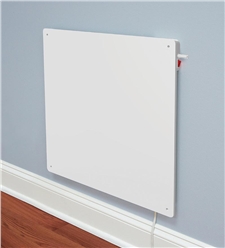 Or this "wall-Mounted Eco-Friendly Heater. This wall-mounted, eco-friendly heater is a stylish and efficient way to heat chilly rooms, without running your costs up. The 400W heater will heat any room up 10′ x 12′ on 70 percent less energy than any traditional space heater. Mount the heater to wall to save floor space and paint it the color of your wall so it's not noticeable. Place the included heat deflector on the wall to ensure that no heat is wasted."
Whatever your heating and space saving needs are, Problem Solvers can solve the problem!
Connect with Problem Solvers: Facebook | Pinterest | Shop
Disclaimer:
This product was received from the Company for review purposes only. All thoughts and words in this post is my own and I was not paid to endorse it. I am only voicing my opinion about this product.