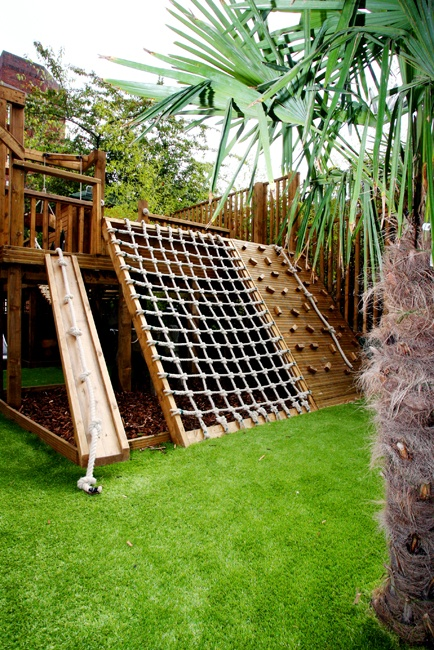 (Image Source: pinterest.com/pin/445082375648190578/)
We know how important it is for kids to engage in physical activity. The earlier you introduce children to the joys of outdoor recreation, the better.
If you're worried because your kids are hooked onto their TV sets and video games, you need to get into action first and get rid of that junk in the backyard. After all, how are kids going to play if there's no place to?
If your backyard is a dump, here are a few tips to help you get started.
Perhaps all the organizing you ever did was indoors. And it's easy to dump useless things in the backyard to clear clutter from inside the house than to actually get rid of them for good. Old tires, equipment that doesn't work, or items that can't be fixed- dispose them. If there are things you're in two minds about, they need to go too.
If you have a garden shed or garage, you'll find plenty of clutter lying in there as well. Depending on what you have in mind for your kids, you may or may not want the shed or garage to take up space in the backyard. If you want to let the structure remain, you can use it to store toys, bicycles, and holiday decorations. However, make sure that you don't store any hazardous items in there.
Put On Your Gardening Gloves
Once you have cleared the area of debris and trash, get started on clearing weeds and outgrowths you don't want. You may want to mark plants and shrubs that aren't meant to be uprooted. Also spray insecticides before you begin clearing out weeds as you wouldn't want to be stung by any insects like wasps or hornets.
Use a weed cutter or a string trimmer to cut the weeds. Work on small areas and use a rake to pull out the cut weeds. Proceed gradually. Also use the rake to pull out any weeds growing in your flower beds. You may want to mark borders for your garden and flower beds. Remember to prune overgrown vines. Dispose all garden waste as soon as you can or plants will keep growing in the compost heap.
If there are any shrubs you need to uproot, first cut off its branches and stems. Dig around the main stem and pull out the root ball. You'll need to then fill in the hole with topsoil. Do the same with any small to medium-sized tree stumps in your backyard.
Remove fallen tree limbs and also prune shrubs and large trees. Loose overhanging branches may fall off any time and cause injuries. Carefully inspect any large trees in the yard and see if they are infested with pests. Some trees may look healthy but may have rotted from the inside. Such trees pose a risk and it is best to seek advice from a professional. A professional will also be able to treat trees and plants if infected with any diseases.
Make the Ground Safe for Kid's Play
Clearing the backyard isn't all you have to do; the ground needs to be such that it can provide some amount of cushioning to kids and pets from falls. As such, don't think of concreting the surface or laying down bricks.
If you already have a thick cover of green grass, all you need to do is mow the lawn and rake the clippings, and dispose them. You may need to re-seed the grass if there are bald patches.
Once your kids begin using the playground, you'll need to keep re-seeding the grass in high traffic areas. You'll also need to make sure that weeds and other toxic plants aren't growing on your lawn. You might want to consider installing a synthetic turf is you don't want to deal with these hassles. Many people are turning towards artificial turf for playgrounds as weeds don't pose a problem and the rubber matting used to install the turf provides adequate cushioning.
Kids will be more excited about playing outdoors if there's something to entice them. Use your imagination or take help from here.
Set up a chalkboard against the fence or a wall for kids to have fun with chalks. You can also paint the wall or fence with chalkboard paint.
Plant some fruits or vegetables. Kids will find it exciting to see them grow. You can also teach kids about gardening this way.
Set up a bird bath or bird feeder. Seeing birds stop over for a drink is sure to draw tiny tots outside.
Set up different play areas than keeping everything look the same. A sandbox in a corner is a must if your kids love playing on the beach. For you little princess, you might want to set up a play kitchen. A tree house or tent is sure to delight little ones.
A playhouse with slides can turn into hours of fun for your kid and his friends. A couple of swings are a must for kids. You can use old tires hung securely to firm tree branches too. Install monkey bars for some strength training too!
Trampolines are loved by almost all kids but they can pose a safety hazard. Buy ones that are safe and always supervise kids when they play on it.
Twister is even more fun when played outdoors. Just use colored spray paint and a stencil to create the circles.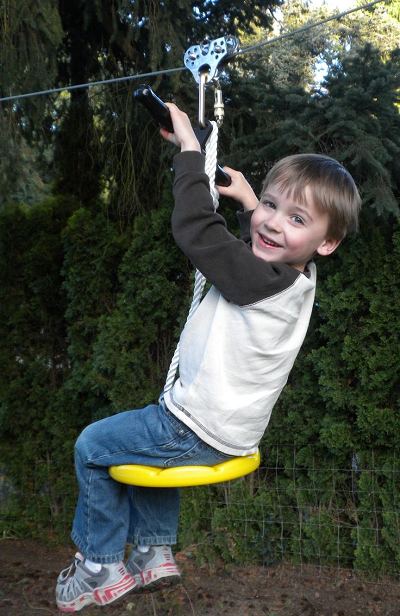 (Image Source: pinterest.com/pin/391883605046521726/)
Conclusion
Sounds simple enough, doesn't it? All you need to do is get started and keep going patiently. You'll know your efforts have paid off when you see the big bright smile on your kid's face.