Moms who learn how to choose, prepare, and cook seafood have a better chance of getting their kids interested in a wider range of foods. If you'd rather your kids beg for fish than hamburgers, follow these four tips to give them delicious, safe seafood dishes.
1. Follow FDA Guidelines to Choose Safe, Delicious Seafood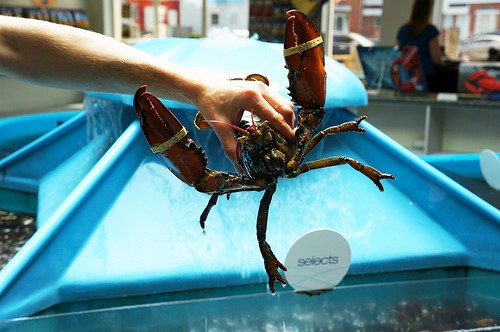 Image via Flickr by andrewmalone
The Food and Drug Administration offers several tips that should help you choose safe, delicious seafood. Some of the most important tips include:
Buying live lobster that still move their legs
Avoiding cracked shellfish
Staying away from fish that has a sour or ammonia smell
Choosing translucent shrimp with very little color
Fresh seafood is almost always better than chilled or frozen options. You don't have to live near the coast to get fresh seafood. Online stores like LobsterPlace.com will ship live lobster and other fresh seafood right to your door. They even come with cooking instructions so you always serve tasty dishes to your family.
2. Learn How to Clean a Variety of Seafood
If you have never cleaned seafood before, it might seem a little daunting. With the proper instruction and a little practice, you can learn the skills you need to clean everything from fresh fish to calamari.
Here are some basic tips to get you started:
Use the tip of a paring knife to devein shrimp
Remove scales from fresh fish by running a knife from the tail to the head
Always remove the beak located between squid tentacles
The cleaning method you use should depend on the type of ingredients you want to put in your recipes. There are plenty of online resources that should help you get the job done right so you don't accidentally serve unwanted pieces.
3. Know the Right Temperature for Your Seafood
Cooking seafood helps ensure that your family doesn't eat bacteria that could make them sick. You should generally cook fish to 145 degrees Fahrenheit. At that point, the flesh should come apart easily with a fork and have an opaque look.
If you don't have a kitchen thermometer handy, then you can use some visual cues to determine when your seafood is thoroughly cooked. For instance, you can tell clams and oysters are done because their shells will open slightly.
When in doubt, follow the government's food safety guidelines. The Food Safety website offers suggestions for preparing a range of seafood as well as other types of meat.
4. Make Sauces for Your Seafood
The right sauce can make seafood even more delicious. Topping fish with a hollandaise sauce brings out fresh flavors. Herb-based sauces can work well with practically any seafood, including lobster and other shellfish.
Some moms feel intimidated by sauces. Making them well does require a little practice, but it only takes a few attempts before you figure out how to make them just right so everyone in your family is happy.
Now that you know some seafood cooking tips, what recipes are you eager to try?