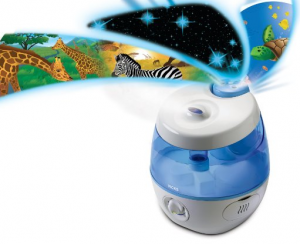 It's so heartbreaking to seem my baby sick. It doesn't matter how little or big your baby is – in a mom's eyes, a sick baby always tugs at heartstrings.
There are small things we can do to help our little ones be more comfortable.
Vicks's "Sweet Dreams" cool mist humidifier helps relieve congestion and make a better sleeping environment
"The Vicks Sweet Dreams Cool Mist Humidifier creates an enchanting and soothing bedtime environment while providing temporary relief from cough and congestion. The Sweet Dreams Humidifier has a choice of 3 theme projections, each with 3 dream inspired images, that allow children to fall asleep beneath either a safari, sea or star-filled sky. While the projections lull children to sleep, the filter-free humidifier quietly releases cool mist into the air for added comfort and relief from nasal and chest congestion. It also accepts two Vicks Scent Pads for long-lasting and soothing menthol vapors."
M has been sleeping with it, and it really helps make the room more comfortable. Having the heat constantly on can dry out the room, which can be uncomfortable even when you don't have a cold. The humidifier helps relieve that while it casts soft and relaxing images on the ceiling.
Features of the Vicks Sweet Dreams Cool Mist Humidifier: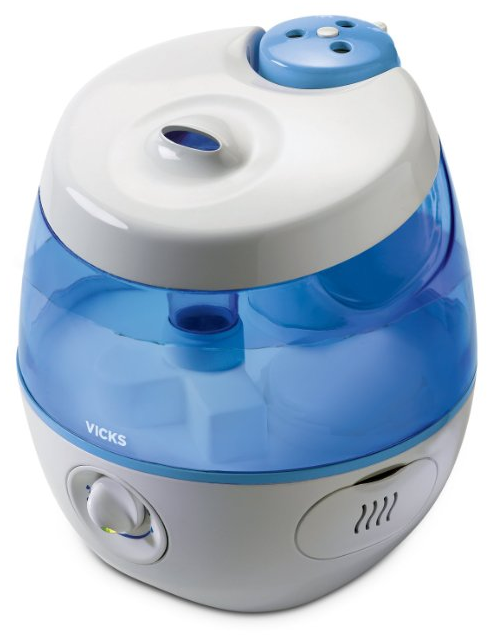 Add scents into the scent pad slots (machine comes with a sample.)
Get up to 24 hours each time you fill the gallon tank!
Various strengths in an easy-to-use dial.
Works silently so your child can sleep in peace.
Three themes project three images each onto the ceiling.
Humidifying the room can help make it more comfortable during the cold, dry winter months. It can help prevent your child from getting sick, and make her feel better when she does.
Vicks Smart Temp Wireless Bluetooth Thermometer helps you track your baby's temperature (and your own!) using the latest technology. When trying it out, I got my temperature in minutes, and it's all stored on my phone! So, I can compare it and notice spikes. It's great for tracking ovulation, tracking a fever, or just noticing patterns.
Features of Vicks Smart Temp Wireless Digital Thermometer

Connects via Bluetooth to your smartphone
Download the free app for Android or iOS
Takes minutes to set up the first time, and seconds to set up afterward
Gives you professionally accurate readings in 8 seconds.
Shows your status, labeled as "green, yellow, or red".
Has a flexible, comfortable tip
Tell the app whether you're taking oral, rectal, or underarm temperature, for accurate color coding.
Set profiles for various family members. See their history and charts in a variety of settings.
You can also use it as a full diary for fever and caregiving – record symptoms, record medications taken, and set reminders for taking temperature or medication.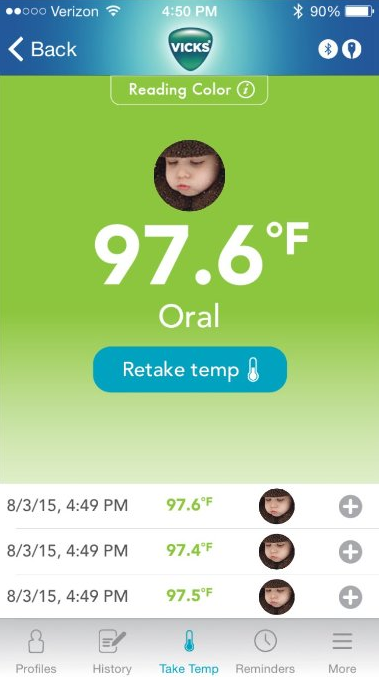 The Smart Temp thermometer is perfect for tracking health and wellness at an affordable price. It will give you peace of mind this winter, and along with the Sweet Dreams humidifier, help make your family more comfortable.
Disclaimer: This product was received from the company for review purposes only. All thoughts and words in this post are my own and I was not paid to endorse it. I am only voicing my opinion about this product.