The best way to complete an outfit is to add fashionable accessories. These can be anything from chic purses and sunglasses to statement jewelry pieces, all of which have the power to take the look to a whole new fashion level.
In most cases, style icons choose jewelry because it is feminine, classy and very versatile. Depending on your personal taste, your outfit and occasion, you can find it in many forms, colors and designs.
For example, necklaces are one of the most commonly preferred types of jewelry among fashion lovers. It is something you can wear with nearly anything as it can flawlessly enhance your beauty and appearance. Whether you are going on a brunch date with your friends, attending an office meeting or simply running errands, the necklace would be an excellent addition to your wardrobe.
If you are a true jewelry lover, here are five necklace styles you should include in your collection.
Photo by Joshua Rondeau from Unsplash
A zodiac necklace
A necklace style that has become a fashion accessory staple is the zodiac necklace. It is the perfect addition to both casual and formal outfits as you can wear it alone as a representation of your astrological personality or layer it up to make a greater fashion statement.
For example, if you were born between late January and late February, you should look for a dainty Aquarius necklace to complete your outfit. Most jewelry lovers opt for a gold zodiac necklace as it suits every skin tone and adds the perfect touch to the entire look.
A pearl necklace
A more formal necklace style that can also be worn with casual outfits is the pearl necklace. The truth is pearls are one of the most classic, elegant and timeless jewelry types which will never go out of style, so you should definitely consider adding a pearl necklace to your collection.
Depending on your preferences, you can find this necklace style in many sizes, colors and shapes. The most common way of wearing it is with formal gowns or office looks as it has the ability to enhance your beauty and show off your feminine side.
A choker necklace
Another necklace style which has made a comeback from the '90s is the choker necklace. This necklace is usually single-stranded and it is a great option when you want to focus on your neckline or neck. It can also be found in many styles and pairs well with formal off-shoulder gowns and casual, simple tops.
One great thing about choker necklaces is that you can layer them up with other statement necklaces. However, when you do so, make sure the other necklaces are thin and discrete so your choker necklace can stand out.
A beaded necklace
A necklace style that is perfect for the warmer months of the year is the beaded necklace. It is such a versatile type of string which you can wear with just about anything to add a touch of flair to your outfit.
You can either opt for the monochromatic beaded necklace with different size beads or a multicolored string to keep things funky with your look. No matter which style you choose, just make sure you think about your closet first so the beaded necklace can blend well with your clothes.
A tassel necklace
The tassel necklace is another statement necklace piece that is also definitely worth your fashion dollar. The best thing about it is that it is delicate enough not to overpower what you are wearing, but it is long enough to layer. You can find it in every size, shape and material, from metal to leather to pearls, dangling from chains or beaded strings.
Most fashionistas wear them with plain color T-shirts when they want to add some vibrancy to their look or with office tops to stay modern. They are an excellent attention grabber and will highlight your best facial features.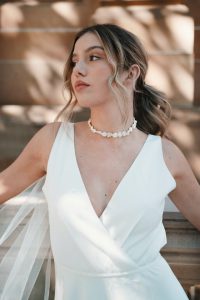 Photo by Joeyy Lee from Unsplash
Final thoughts
The necklace is a type of jewelry piece which is a must-have accessory to complete any look. It is very versatile as it comes in a variety of styles, shapes, colors and designs, allowing you to pick the one that best suits your fashion taste and personality.
From the classic and timeless pearl necklace to the multicolored beaded necklace, there are plenty of necklace styles that every jewelry lover should have in her collection.
If you can't make your pick, refer back to our post and choose your favorite necklace.