With its world-class restaurants nestled in between its 58 peaks over 14,000 feet, Colorado is one of the most exciting year-round destinations in the U.S. But, even the most outdoorsy kids sometimes need a break from hiking and skiing. These three regions offer a truly unforgettable travel experience for you and your kids.
Colorado Springs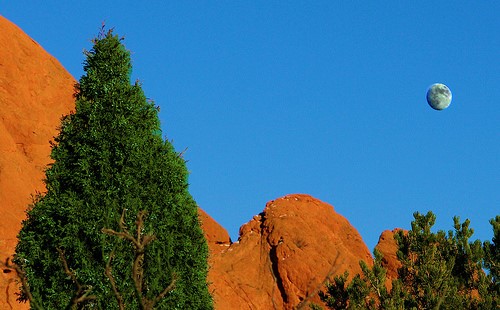 Image via Flickr by kla4067
Colorado Springs has long been known as a quintessential destination for exploring the outdoors. Beginners can walk along the stunning rock formations at Garden of the Gods, right in town, and more experienced hikers can tackle Pike's Peak, less than 30 miles outside the city center.
But, even if your kids aren't into hiking, there's plenty to keep them occupied. They can see real-life stalagmites and stalactites at Cave of the Wind, which offers daily tours inside the caves. You can even stop by the north pole and see how Santa is coming along, with Santa's Workshop located right at the base of Pike's Peak. The holiday-themed amusement park is open year-round and offers 25 rides for the whole family.
Lafayette
Perfect for the budget traveler, Lafayette is a stone's throw from Boulder, but offers lodging at an affordable price. Plus, if you and your kids need a break from exploring, Lafayette itself has plenty to do. Waneka Lake and the surrounding park is the perfect place to see the area's natural beauty at a more leisurely pace. There is also a playground right on the lake to ensure fun for the whole family. If museums are more your speed, the WOW! Children's Museum is right in town and has hands-on activities for youngsters, including a pirate ship.
If Lafayette is just a pit stop on your way to Boulder, you can't go wrong there, either. If you have artistic kids with big dreams, the Arts and Crafts gallery may be right up their alley. Or if they're more into exploring the outdoors, Eldorado Canyon can't be missed.
Fort Collins
The medium-sized suburb, an hour and a half north of Denver, is a bit of a dark horse in the fight for tourism. When you're traveling with kids, the smaller destinations that are jam-packed with kid-friendly activities can be even more magical than the more popular tourist destinations. Whether your kids are into farm animals or wild animals, you can come face to face with them in Fort Collins. The Farm at Lee Martinez Park gives kids the chance to interact up close with goats, sheep, ponies, and more farm animals. The Wild Animal Sanctuary in nearby Keenesburg covers 10,000 acres and features lions, bears, and more wild animals roaming as if on a safari.
Whether you're visiting in the winter and hitting the slopes, or coming in the summer for the breathtaking mountain views, Colorado offers endless entertainment and excellent food for your kids, too. By simply staying a bit off the beaten path, you can experience the best of Colorado without breaking the budget and ensure your kids have a memorable trip as well.