Delta Children Revolve Reversible Stroller:
We want to be sure to thank Delta for being our sponsor for this Gift Guide. And we want to be sure to show you this light, compact and easy to maneuver, Revolve Reversible Stroller by Delta Children its ideal for everything from city streets to park paths. With three ways to ride, its reversible seat can be positioned facing you or facing the world, and a car seat adapter allows you to easily attach the most popular car seats to the frame (car seat and adapter sold separately). Offering premium features any parent will appreciate, this ultramodern stroller has an expandable knit canopy with zippered peek-a-boo window and a soft, leather wrapped handlebar and child bar. Its reclining seat, adjustable footrest and all-wheel suspension system ensures the most comfortable ride for your little one. You'll love the adjustable handlebar positions, spacious under-seat storage, as well as the front swivel wheels and one-step back brake that allow you to easily maneuver the stroller in busy streets, airports or amusements parks. And, when you need to store or take the stroller with you, its super-lightweight aluminum frame with a compact, one-hand fold can be done in parent-facing or front-facing mode. Perfect for city or suburban living, the Revolve Stroller combines style, performance and function to create the ultimate stroller for modern parents and their little explorers. Holds up to 50 lbs.
Available at: https://deltachildren.com/collections/strollers/products/revolve-reversible-stroller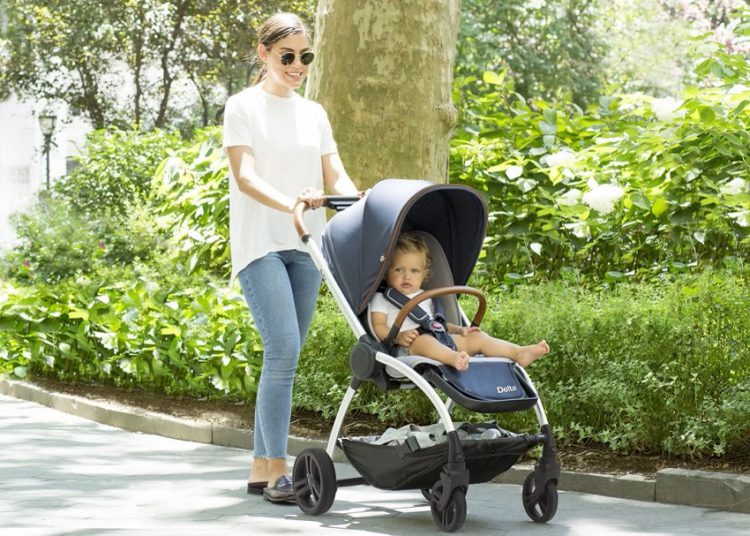 Also from Delta Children is the Revolve Carriage/Pram Add-On. Adding the Revolve Carriage/Pram to your Delta Children Revolve Stroller is the coziest way to stroll around town with your newborn. This cozy infant carriage seamlessly attaches to the Revolve Stroller, both forwards and backwards. Designed with comfort in mind, this bassinet features a waterproof mattress pad, full coverage canopy, and lets your baby sleep soundly while laying completely flat. It also includes a sunshade attachment with UPF 30+ that completely blocks out all light. The zippered foot cover will protect baby from the sun or cold weather. Topped with a luxe leather wrapped carry handle that makes it easy to attach and detach.
Available at: https://deltachildren.com/products/carriage-pram-add-on?variant=37946573816008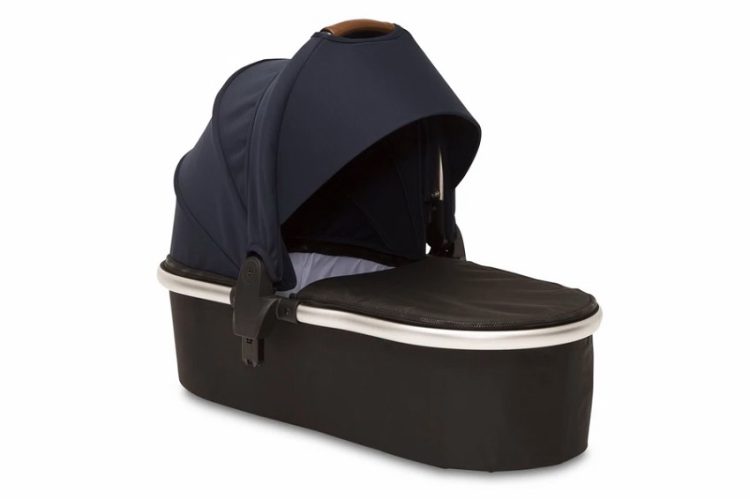 ---
KeaBabies All-in-1 Multi-Use Cover:
This KeaBabies Multi-Use Cover provides a 360 degree coverage for all breastfeeding moms to feel confident and enjoy those special moments with your little one. It comes in a lot of different patterns to suit every need and is made from a premium cotton-rayon blend which provides breathability and stretchiness.
The KeaBabies Cover fits almost all types of baby car seats, strollers and prams, while providing breathability for your baby to stay cool and happy while seated inside.You can let your baby sleep in peace and undisturbed while you enjoy your shopping or day out. There are just too many uses for the KeaBabies All-in-1 Multi-Use Cover for us to list them all. Get creative with this versatile design and that provides stretchy yet durable fabric. Enjoy everyday moments with your baby while protecting them in public places.
Some uses for the KeaBabies All-in-1 Multi-Use Cover: Nursing Cover, Car Seat Canopy, Shopping Cart Cover, Baby Blanket, Changing Mat, Infinity Scarf and many more!
Available at: https://keababies.com/collections/multi-use-covers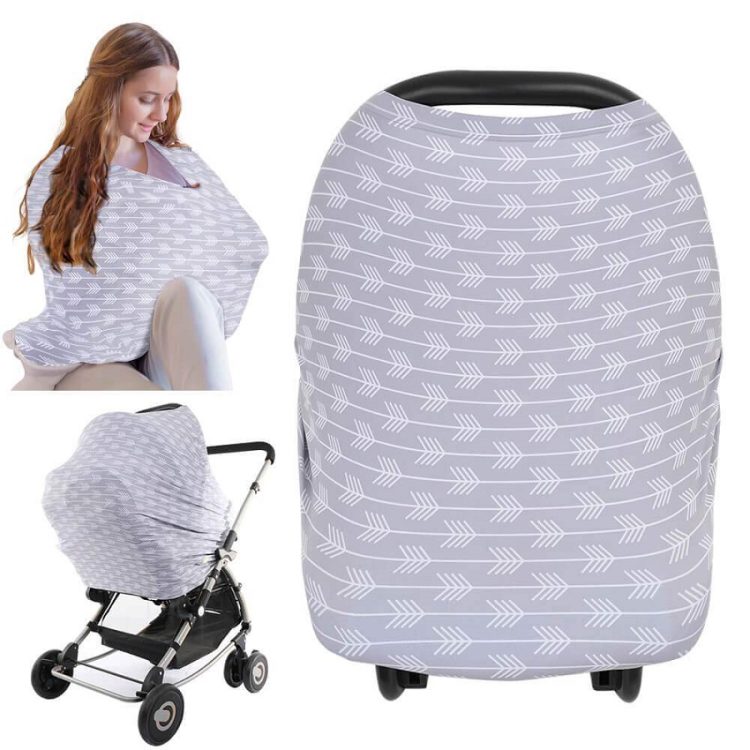 You might also be interested in these items:
Baby Wrap Carrier
URBAN Organic Burp Cloths
Organic Bandana Bibs
DELUXE Baby Bamboo Washcloths
3-Pack WARMZY Baby Beanies
---
Lug Tempo VL Tote Bag:
Meet the Tempo VL tote bag! A go-anywhere, carry-everything kinda bag that can truly do it all! From work to weekend & everything in between, this Vegan Leather bag is roomy and packed with pockets. Featuring a large insulated zip pocket, large interior capacity, built-in card slots, a retractable key chain, RFID-protection & so much more!
Available at: https://www.luglife.com/products/tempo-vl?variant=39246577500233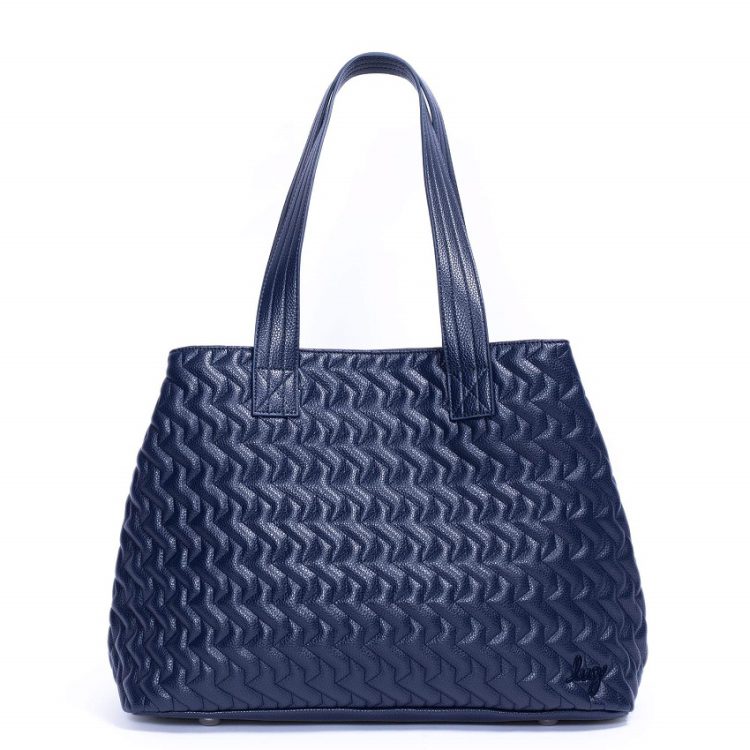 You might also be interested in looking at these products:
Mini Trolley Cosmetic Case
Tango Travel RFID Wallet
---
TWELVElittle On-The-Go Stroller Caddy:
The On-The-Go Diaper Stroller Bag is the perfect hybrid between a traditional stroller caddy and a messenger style diaper bag. It comes with a set of stroller clips so you can attach it on the stroller bar, and also has a detachable long strap to be carried as a diaper bag. The interior has multiple functions, including a separate area for baby wipes, which is accessible from the outside via a hidden magnetic flap cover, and a compartment divider that can be used to customize the interior space. The main flap has hidden magnetic closures on the front and back so you can choose to keep the bag open or closed, and an additional snap closure for extra security.
Available at: https://twelvelittle.com/collections/onthego-collection/products/on-the-go-stroller-caddy-in-grey-twinkle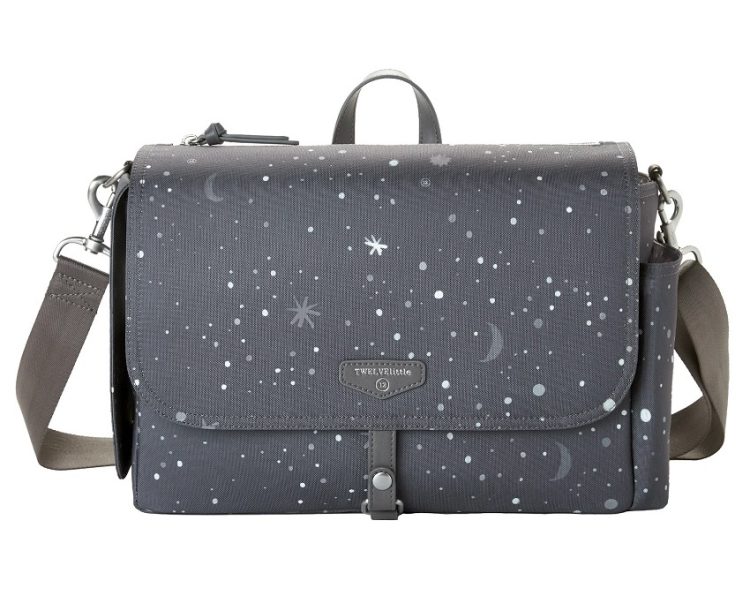 ---
Olababy Essential Feeding Gift Set:
The Olababy feeding gift set provides the best feeding essentials from bottle feeding to the introduction of solids thru baby-led weaning. It includes a 4oz GentleBottle with slow-flow nipple, an 8oz GentleBottle with medium-flow nipple, a soft-tip parent feeding spoon, a baby-led weaning training spoon and a SteamBowl. All of these essential baby feeding products are designed to engage baby with enticing colors, easy-grip, and naturally inspired shapes. All products are made with 100% toxin free silicone that is BPA and phthalates free.
Gentle Bottle: Antic colic bottle, with easy latch off-centered nipple promotes upright feeding and continuous flow.
Training spoon: Encourages baby to learn self-feeding, flexible to scoop food at any angle and can be used as a teether.
Steam bowl: Collapsible base for steaming to serve and smart lip for easy food collection from bowl to spoon.
Nontoxic, Medical-grade Silicone that is BPA, PVC and Phthalate-free
Easy to clean and dishwasher safe
Available at: https://www.olababy.us/collections/shop-all/products/essential-feeding-gift-set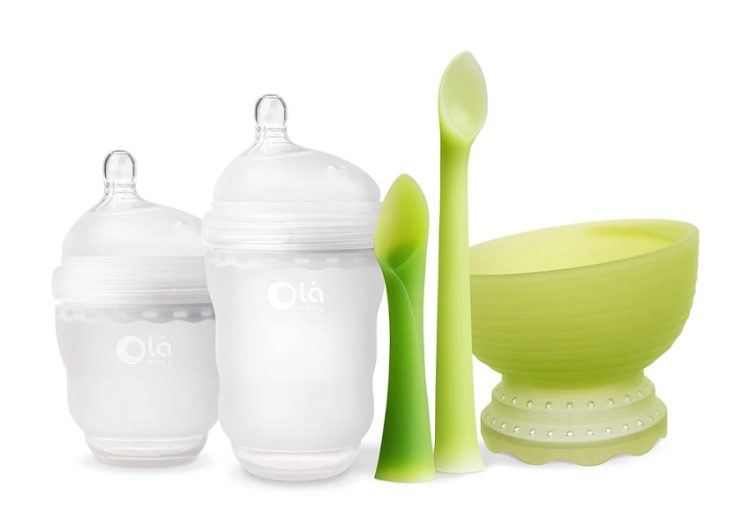 You might also be interested in these items:
Training Fork + Spoon Set
Silicone Divided Suction Plate
SteamBowl with Fork+Spoon Bundle
---
Feltman Brothers Cable Pointelle Knit Blanket:
The Cable Pointelle Knit Blanket is a Feltman Brothers favorite, blending classic style with cozy convenience. Wrapped up in this blanket, your loved one will be able to stay warm without compromising on fashion! Cable knit is patterned with garter stitching and a sweet fern leaf shaped pointelle design in stripes all throughout the body of this piece. The border is lined with classy garter knit, finishing the blanket off with a classy look. Available in white, baby blue, and pretty pink, to match any style. Perfect for baby carriage strolls through the park, for lining Baby's crib, or as a gift for your loved ones.
Available at: https://feltmanbrothers.com/cable-pointelle-knit-blanket/
---
MAM Easy Start Anti-Colic 9oz – Baby Bottle:
The Easy Start Anti-Colic Baby Bottle is just one of many that is offered by MAM Baby. They have many different sizes and types to chose from. This particular item includes the following features:
BPA- free
Can be sterilized in the microwave in just 3 minutes!
Wide openings and 5 parts make for easy cleaning
The MAM Ultra Soft Silicone Nipple makes for an easy switch between breastfeeding and bottle-feeding
Base ventilation systems provide a smooth milk flow which reduces air swallowed by baby, gas, and burps
Comes with a slow flow nipple
Available in a single pack, double pack or triple pack
Removable plastic cap helps keep nipple clean when not in use and features measurement tick marks
Available at: https://www.mambaby.com/en-us/p/easy-start-anti-colic-9oz-baby-bottle/mam-anti-colic-8oz-girl/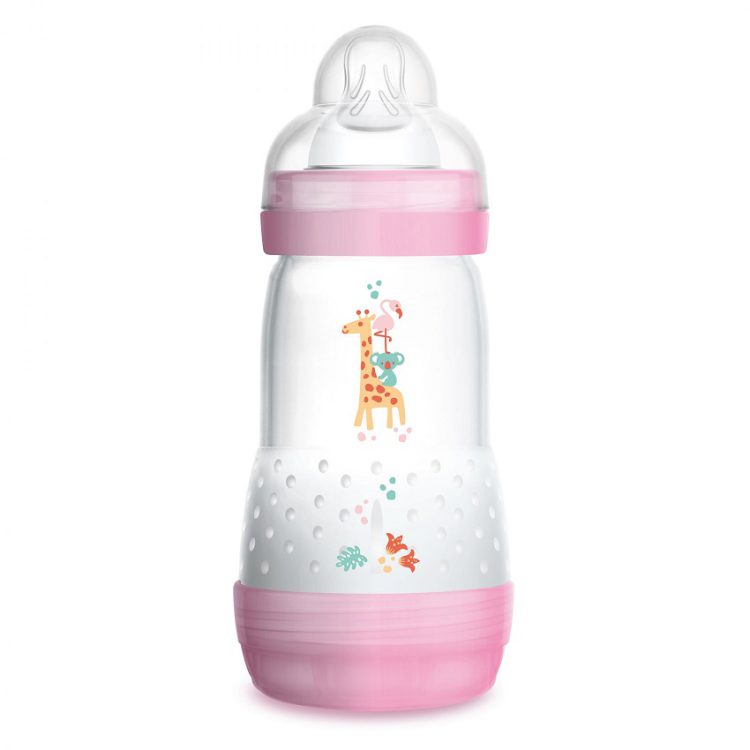 you may also be interested in these products:
Pacifiers
Oral Care & Teethers
Breastfeeding
---
Notes to Self 'I am a blessing' baby girl gift set:
The three-piece set comes in white and pink with positive words of affirmation. It includes a white one piece outfit with pink words (6-12 months), white infant socks with pink words (3-12 months), and a pink hat with white and pink words (one size). A perfect as a shower gift for baby girls and a new baby gift. Presented in a pretty box. This set also comes in blue for boys.
Available at: https://www.notestoself.com/collections/size-newborn-and-infant-socks/products/baby-blessing-set-white-pink
You might also be interested in these products:
expecting – mom to be + dad to be + baby socks in gift box
5 pair baby girl infant socks in silver gift box – 3 mo to 12 mo
---
Dreamland Baby Dream Weighted Sleep Swaddle, 0-6 months (2nd Gen):
Meet their Second Generation baby weighted sleep sack with fully integrated inner swaddle band for security and comfort. It is designed to help your baby feel calm, fall asleep faster and stay asleep longer. The gentle weight naturally reduces stress and increases relaxation through deep-pressure stimulation to give your baby feelings of security and comfort. They come in a variety of colors and patterns, I'm sure one will suit your needs.
Available at: https://dreamlandbabyco.com/products/dream-weighted-sack-swaddle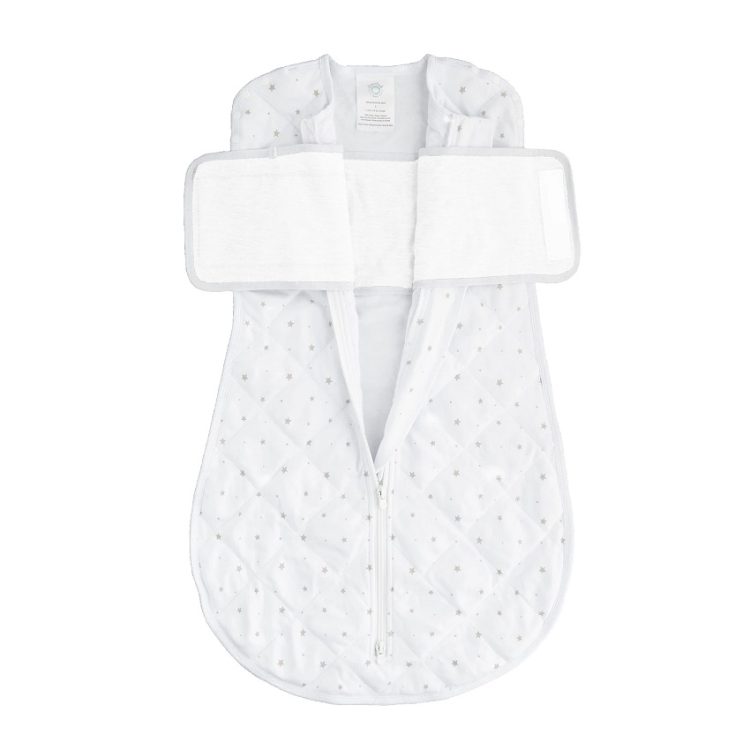 ---
Kindred Bravely Bamboo Nursing & Maternity Long Sleeve T-shirt:
Super-soft and modern with a flattering scoop neck, the Bamboo Nursing & Maternity Long Sleeve T-shirt will be your go-to for all-day (and all-night!) comfort. A hidden underlayer allows for easy, discreet breastfeeding — plus the two-layer construction creates a great drape, easy fit, and extra coverage. The long sleeves make it perfect for cooler weather, but the breathable bamboo fabric means it'll work in warmer weather too, and it looks great with pajama pants, shorts, and everything in between. An essential long-sleeve tee for pregnancy, nursing, and comfort for years to come! You may also be interested in their pajamas or Accessories.
Available at: https://www.kindredbravely.com/products/bamboo-nursing-maternity-long-sleeve-t-shirt-wheat?variant=32720200892512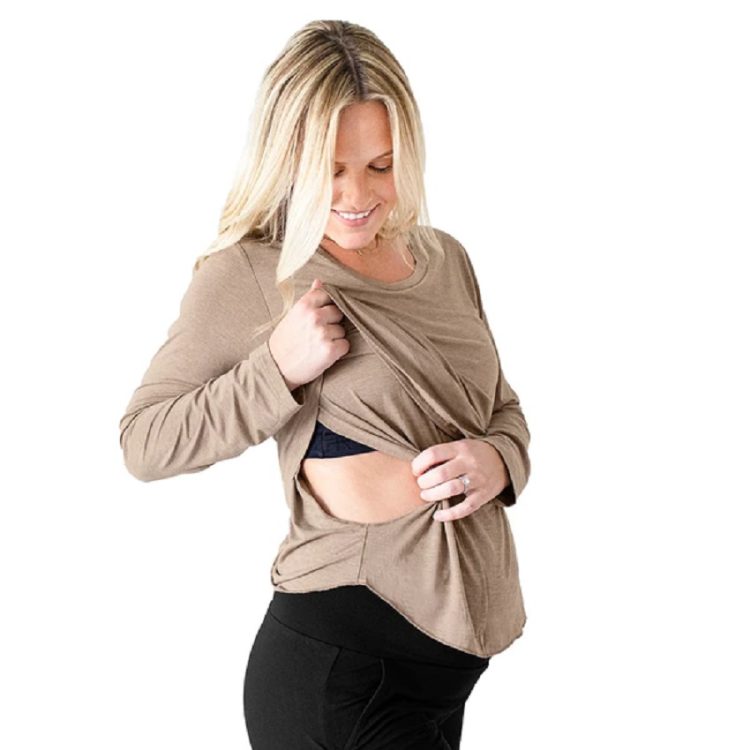 ---
One by Wacom:
From learning to draw and edit photos to collaborating in online classes or completing academic assignments with natural handwriting, One by Wacom brings an easy to use digital pen to PC, Mac and most Chromebooks. Digital learning and creativity couldn't be easier. One by Wacom's pressure sensitive and battery free pen is the perfect tool for learning. It brings a familiar, pen-on-paper feel to drawing and writing and is simple to set up and use. Available in two sizes, One by Wacom can be used with most pen-enabled creative software as well as many online learning applications and platforms on PC, Mac and most Chromebooks. Whatever and wherever you are learning, One by Wacom can help.
Available at: https://www.wacom.com/en-us/products/pen-tablets/one-by-wacom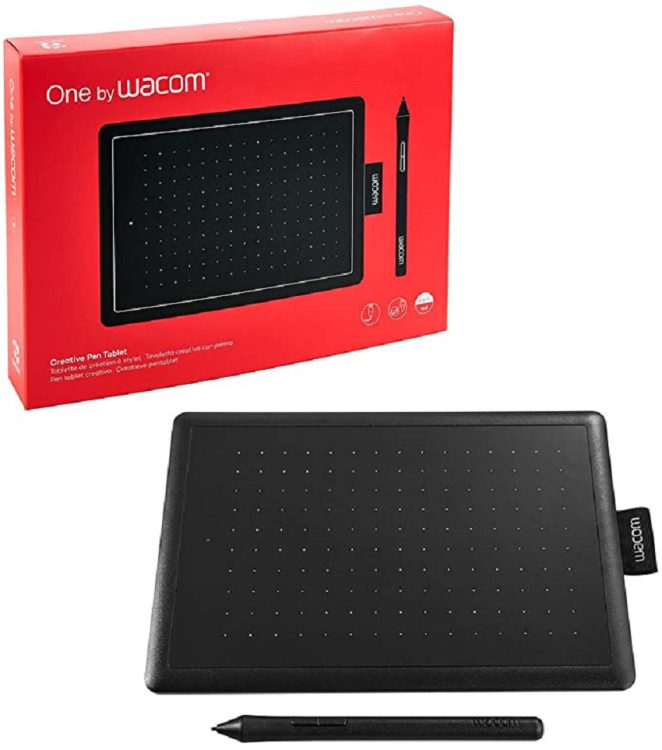 ---
BlueSpatula Defrosty – Defrosting Tray:
Frozen food? Stop waiting for your meat to thaw when there's an easier and more effective way to quickly defrost your frozen food. No more thawing in a microwave that creates hot spots. It's like magic! You don't have to worry about thawing out frozen meat with this special aluminum plate! The safest way to defrost – simply place any frozen food straight onto the plate and watch it defrost in front of your eyes within minutes. Its Eco-friendly. You don't need electricity or your microwave using this plate. No battery or chemicals needed as well! And its easy clean, non-toxic aluminum and is dishwasher safe. The cooking prep nightmares are over. No more exhaust, no more hassle in defrosting the dinner!
Available at: https://bluespatula.com/products/defrosting-plate-board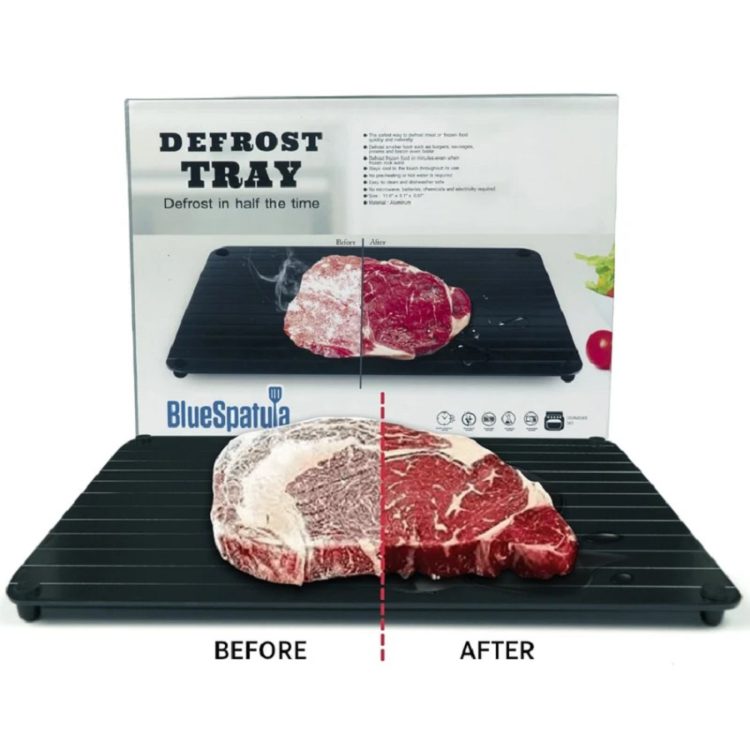 You might be interested in these products as well:
6pcs Silicone Stretch Lids
Mini Electric Whisk
The 6 in 1 Multi-Function Opener
---
The Animal Kingdom Loopy Hoopies:
The marble spinner that's perfect for younger fidgeters! These skill fidgets have the same base concept as the original Loopy Looper marble spinners but the ball stays safely sealed inside the loop so it's perfect for practicing spinning. All Loopy Hoopies contain a hoop so that once they've mastered spinning the ball in the loop, they can try to stop spinning at the right moment to shoot a hoop! With 3 colors to collect and a tactile rotating ring to fidget with, Loopy Hoopies are perfect for little ones!
Available at: https://www.theanimalkingdom.com/products/blue-orange-loopy-hoopies?variant=39518956814433&currency=USD&utm_medium=product_sync&utm_source=google&utm_content=sag_organic&utm_campaign=sag_organic&gclid=CjwKCAjw2P-KBhByEiwADBYWChXuUqzcsb3Z6r_D6Xqh0mth-jgUtiP71e0HnMjf8TqmPxyvkMrw5BoC7C4QAvD_BwE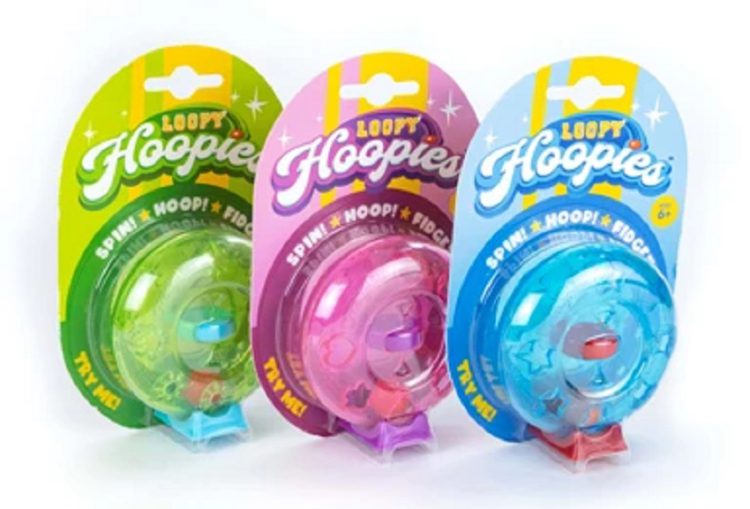 ---
Allay:
Their flagship Allay Lamp is uniquely soothing to your eyes and brain, even when you're most sensitive to light. Discovered by a Harvard Medical School neuroscientist, Allay's patented band of light is calming during a migraine – or any time – helping you get back to reading, working, and being yourself. Allay's unique narrow band of green light is non-irritating. It generates smaller electrical signals in the eye and brain. Smaller signals mean a calmer brain, even during a migraine.
Available at: https://allaylamp.com/products/the-allay-lamp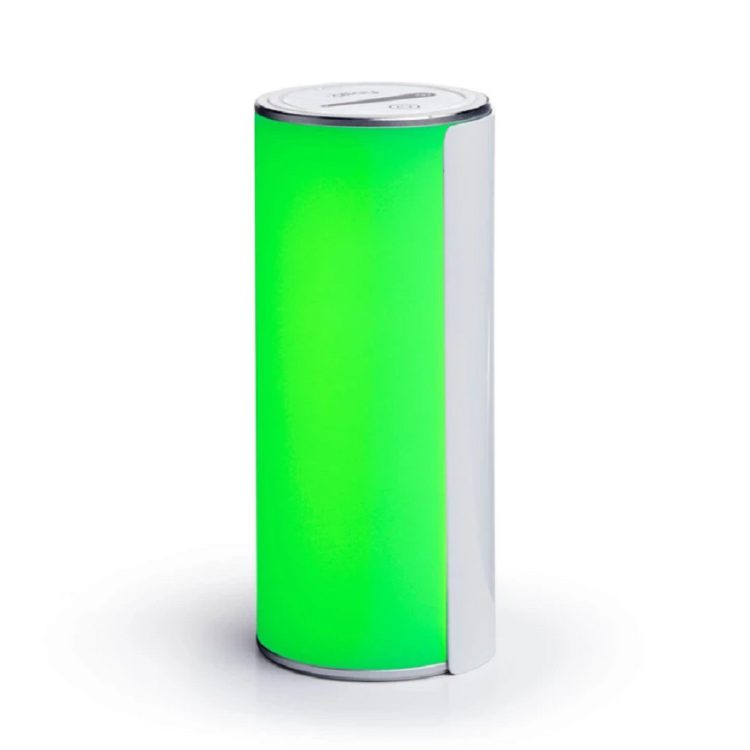 ---
POP IN A BOX:
DC Comics Justice League Snyder Cut Darkseid on Throne Funko Pop! Vinyl Deluxe: Zack Snyder's cut of the Justice League movie was one anticipated movie releases of 2021, Funko had to create Pops! of the characters! Perfect for Pop! Heroes fan and DC Comics Fans! This DC Comics Justice League Snyder Cut Darkseid on Throne Funko Pop! Vinyl Deluxe Figure comes packaged in a window display box, please note images shown are artwork and final product produced may vary.
Available at: https://www.popinabox.us/merch-figures/dc-comics-justice-league-snyder-cut-darkseid-on-throne-funko-pop-vinyl-deluxe/12906540.html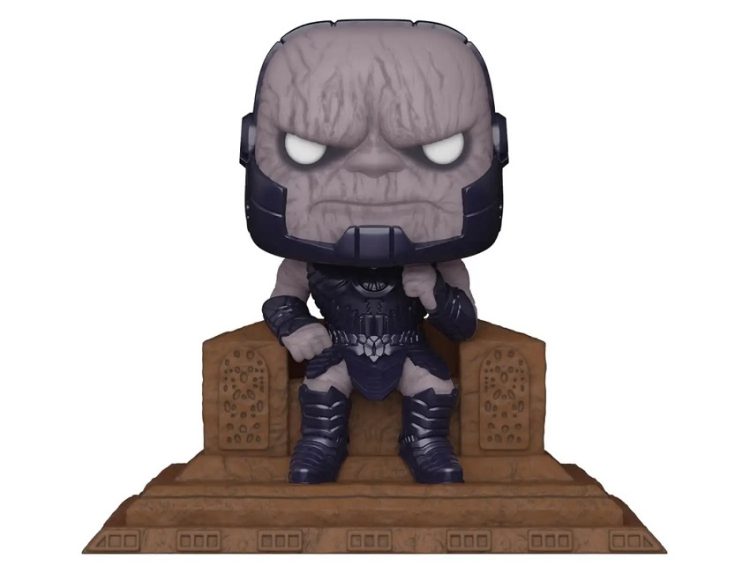 you may also be interested in
SNAPIES
---
The Cocktail Box Company Bartender Boston Cocktail Shaker Kit:
Our Boston Cocktail Shaker Kit with 2 Boston Shaker Cups (18/28oz), Hawthorne Strainer, Stainless Steel Jigger and Wood Stand. It is compact and does not have any unnecessary tools that take up space. Their wood stand is made with quality wood and looks great in the kitchen or by bar. This shaking kit is perfect for a wide variety of shaking based cocktail recipes. Whiskey Sour, Margarita and Daiquiri are a few classics that come to mind. It comes in a wonderfully designed gift box. Gift this item to friends, family, and colleagues and watch them be impressed by the presentation and the tools to make great cocktails!
Available at: https://thecocktailboxco.com/product/bartender-boston-cocktail-shaker-kit/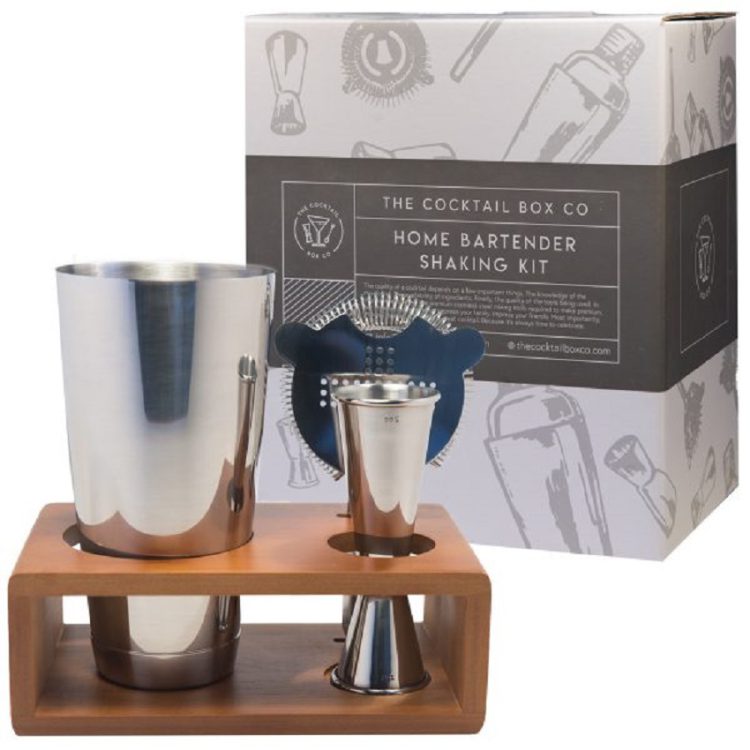 You may also be interested in their Old Fashioned Cocktail Kit
---
GIGI BLOKS 200 XXL BUILDING BLOCKS:
Big Building Blocks for Big Imaginations!
Build life sized adventures with the GIGI BLOKS 200 piece XXL building blocks set. Let your children's imagination come to life and build child sized castles, fortresses, towers, spaceships, racing cars, shops, tea rooms, buses, lions, cats, dogs and even dragons! If they can dream it, they can build it with GIGI BLOKS!
GIGI BLOKS are made from a strong, durable cardboard and, just like any other paper-based product, they are a blank canvass for creativity! Colour them, paint them, use chalk on them and when you're done, turn them inside out and start all over again with a new adventure!
What's in the Box?
• 160 x double unit blocks (20 x10x10cm)
• 24 x single unit blocks
• 16 x triangle unit blocks (10 x 10 x 10cm)
• Easy-To-Follow Instructions
• Access to Creative Design Ideas
• Hours of unlimited imaginative fun!
Available at: https://gigibloks.com/collections/all/products/200-xxl-building-blocks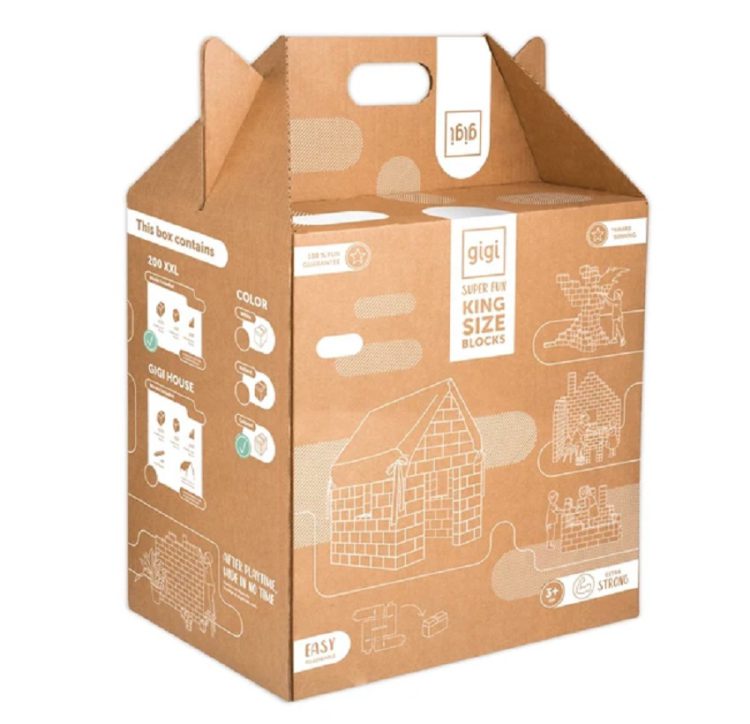 ---
Teach My Baby Learning Kit:
Give your baby a head start! 50+ pieces to teach baby first words, first numbers, sounds, touch and self awareness. Kit includes finger puppets, books, puzzles, blocks, and mirrors, Promotes fine motor skills, hand-eye coordination, self esteem and parent-child interaction. Step by step teaching guide to ensure successful learning and development. Teach My Baby is the award winning, all-in-one learning kit designed for babies 6 months+. Screen-free, the kit contains unique and coordinated tools to teach first words, first numbers, sounds, touch and self-awareness.
From finger puppets and books to blocks and puzzles, the kit is full of learning toys to give your mini scholar a head start. Teach My Baby promotes fine motor skills, hand eye coordination, parent-child interaction and self-esteem in just 20 minutes a day!
Available at: http://teachmy.com/teach-my-baby-learning-kit.php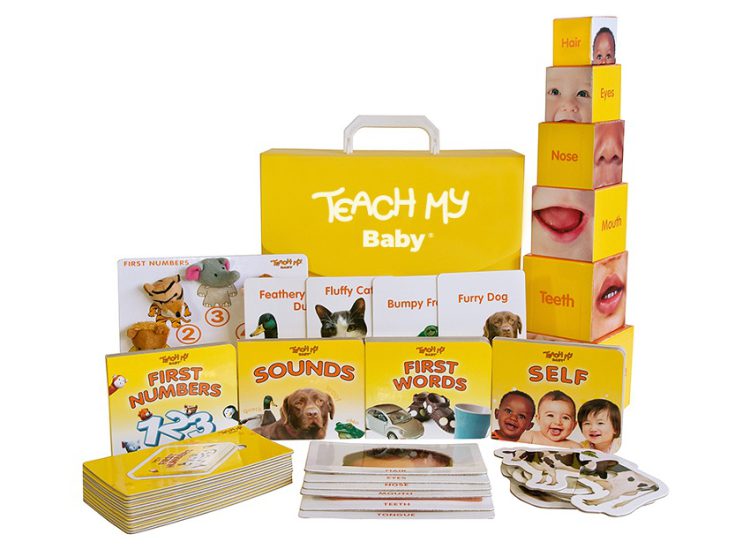 you might also be interested in their
Teach My Kindergartener Learning Kit
---