Greek International Market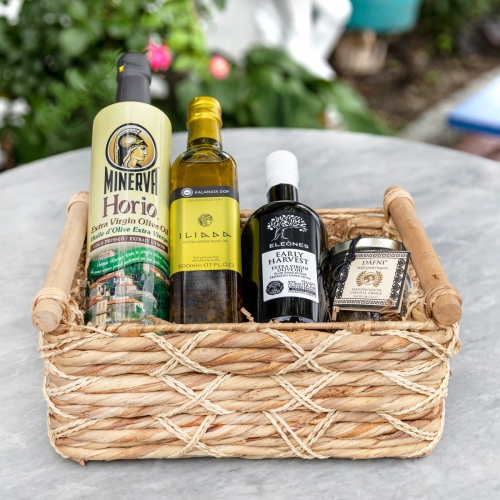 There is never a shortage of Greek Extra Virgin Olive oil in a Greek household. Growing up my parents would import our family's grove olive oil in large tins which we would use at our restaurant, the Farm Grill & Rotisserie (Greek cuisine) in Newton, MA. The interest and demand for our oil and the products that we used in our cooking led to the idea of the Greek International Food Market and then these baskets. Today, our cousins at Olympiana Fine Foods, Alexia Hatziiliades and Paul Hatziiliades collect, bottle and export olive oil from the family farm in Halkidiki, Northern Greece under the Eleones and Olympiana Brands. Enjoy Elenoes early harvest collected by hand, a light green grassy olive oil to top fresh veggie salads or dip bread. You will also find Ariston Basil Infused Olive Oil and Papoutsanis Pure Olive Oil Soap, which my grandmother always had at home.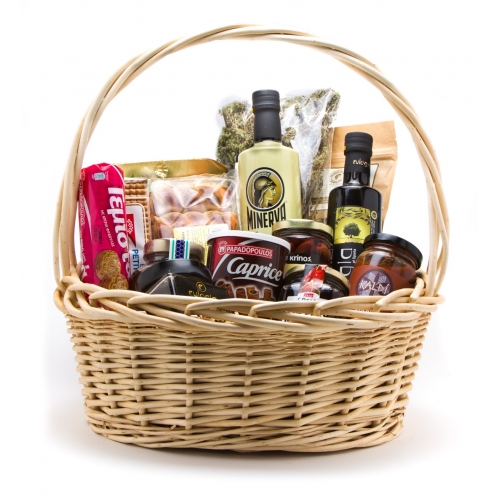 Your loved ones will enjoy the flavors and aromas of Greece from their own homes. The treats in this basket includes: Homemade Baklava with Walnuts. Known to be the best around! A traditional family recipe in stores for over 25 years! Olympiana Jumbo White Figs, Zanae Greek Stuffed Vine Leaves, Macedonian Tahini with Honey. Your family and friends will enjoy it on bread or toast, top off an ice cream, mix it in yogurt, or craft a homemade dressing for salads or meats. Saradis Sour cherry Traditional Sweet in Syrup. Traditionally served alone on a small dish for dessert, it's commonly used to top off yogurt, ice cream, dessert, on toast or enjoyed simply plain. Aoritiko pure honey from Cretan Mountains (Thyme, Pine Trees, Wild Herbs) Ion milk chocolate with whole hazelnuts, Krinos Pitted Kalamata Olives, Bake it Yours evil Eye custom cookie, Halva with cocoa sesame bar.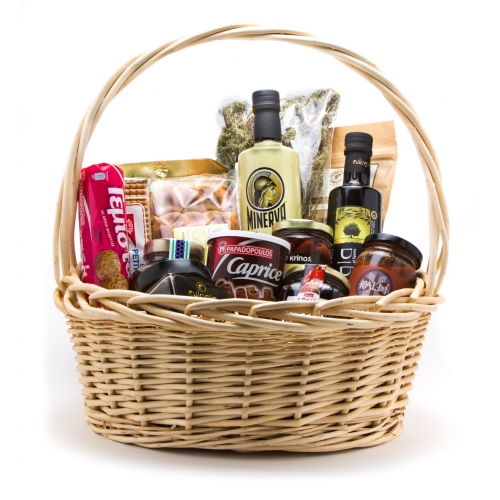 Greek chocolates are an all-time favorite for kids and adults alike. From the ultimate hazelnut spread that we use on Christmas sweet bread or on toast to wafers that are served alone or over ice cream or other desserts, we have a sweet for every shopper! This basket will contain: Papadopoulou Caprice chocolate Hazelnut Wafers, Molto Croissant, Merenda Hazelnut Spread, Macedonian Sesame Bar, Papadopoulou Choco Orange Cookie, Ion chocofreta hazelnut wafer, Ion chocofreta white wafer, Papadopoulou Biscotello Chocolate Vanilla Cookies, Ion Break milk chocolate bar with Almonds, Homemade Koulourakia twist cookies.
Available at Greek International Market
1More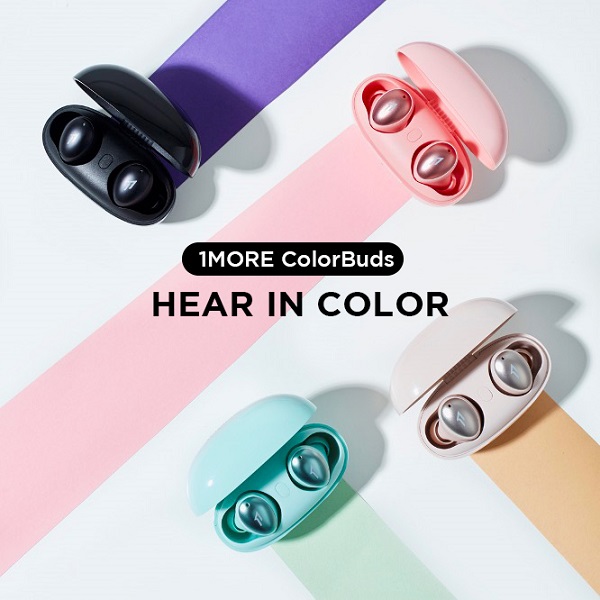 These earbuds also pack class-leading features in a compact design. Starting with fast pairing where after initial pairing the earbuds will automatically pair to your device as soon as you open the case lid. Using Bluetooth 5 technology and featuring aptX and AAC allows for an optimized listening experience with Android and iOS devices. Making calls with dual microphones featuring Environmental Noise Cancellation (ENC) technology to suppresses ambient noise so your voice remains crystal clear. A lasting battery with each earbud supporting up to six hours of usage and a portable charging case that provides a full day of music playback or talk time. Topping off with fast charge technology means a charge of only 15 minutes will result in an additional 2 hours of use. Added IPX5 sweat and water resistance handles everything from the workouts to the great outdoors.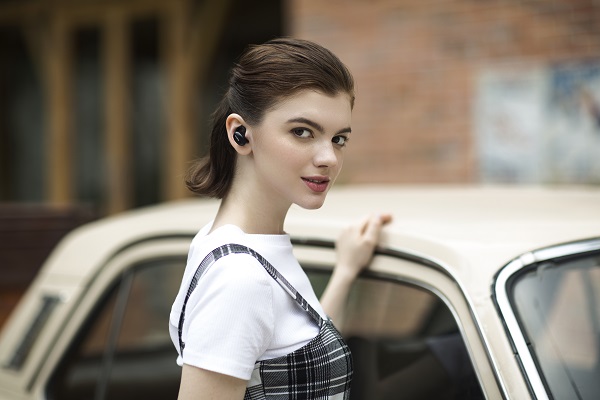 Following in 1MORE's mission to provide a level of affordable luxury, the new true wireless headphones use an advanced titanium composite dynamic driver for superior audio quality, along with a sleek water-drop design that will be available in four different colors—Rose Pink, Platinum Gold, Spearmint Green, and Midnight Black. The Stylish True Wireless headphones expand 1MORE's Stylish series of products by providing the perfect balance of great sound, functionality, and personal style all for the disruptive price of $99.99.

Available at 1More
Slime Obsidian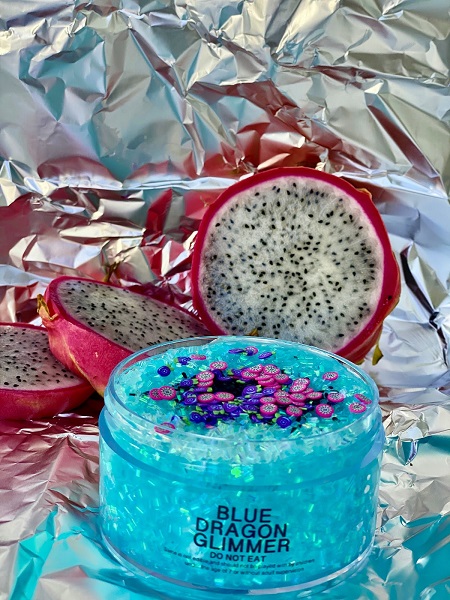 Slime Obsidian slimes offer an experience like no other. Through different textures and scents, our slime will give you a sensory thrill. Not only are Slime Obsidian slimes fun to squish and play with, they're also a great de-stressor and anxiety relief! Plus, to keep things exciting and new Slime Obsidian release new slimes every two weeks! Slime should not be played with by children under the age of 7, or without adult supervision. Keep slime away from pets, infants, furniture, and clothes. This product is non-edible and should not be consumed.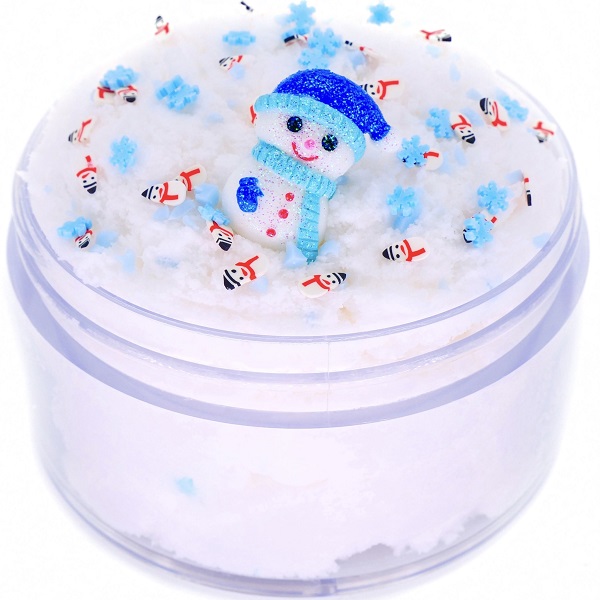 There must be some magic in this Frosty the Snowman slime! It will warm any cold heart.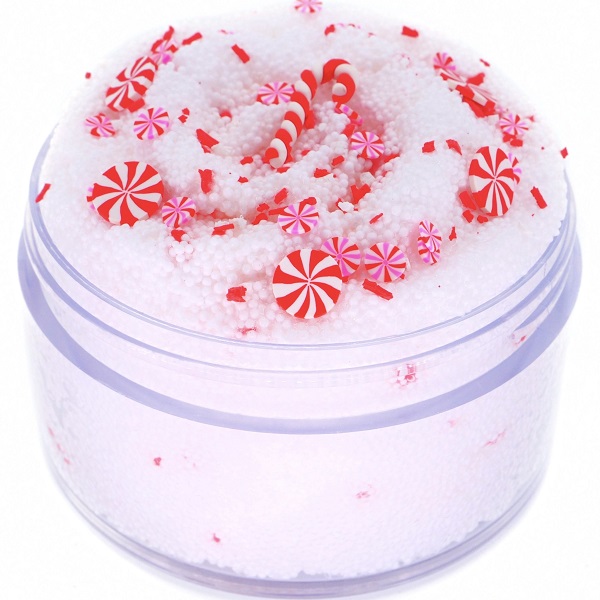 This Crushed Candy Cane slime is mint to be part of your slime collection! The fluffy texture and peppermint scent make it a delightful addition to your holiday wish list.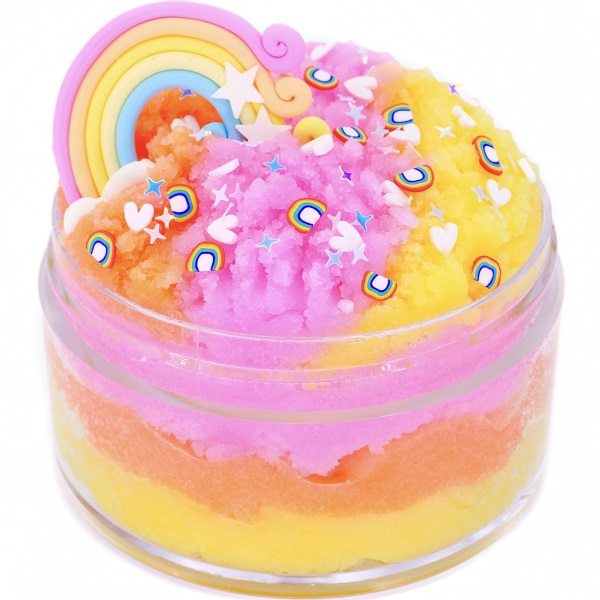 You will be "somewhere over the rainbow" with our Rainbow Frost Icee slime, scented just like your favorite strawberry candy! Fall in love with this beautiful tri-colored icee slime topped with a rainbow charm!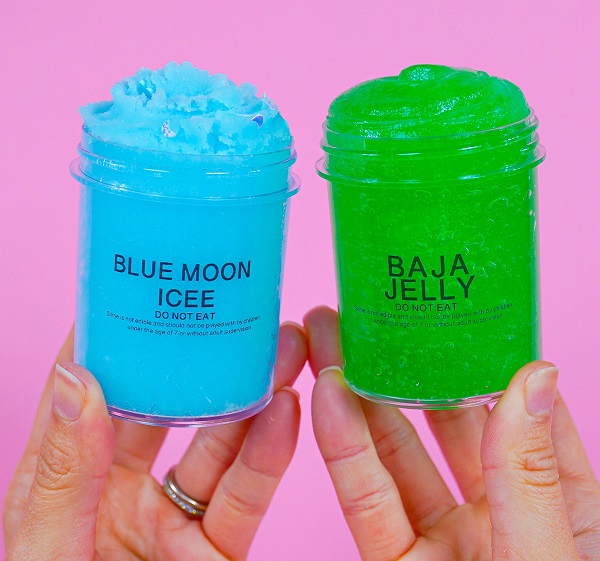 Our Icee Slimes have a soft and cooling texture that sizzles when pressed. The Blue Moon Icee comes with holographic moon elements and has a Tropical Fruit essence. Baja Jelly isn't like your usual Jelly, but sure does smell like it!

Available at Slime Obsidian
Village Rock Shop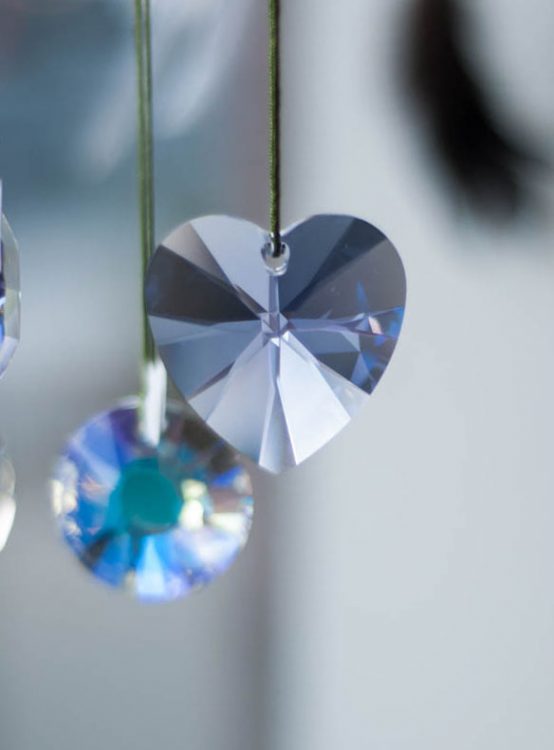 Place the Rainbow Maker in a sunny window and enjoy the happy rainbows they make all over the room!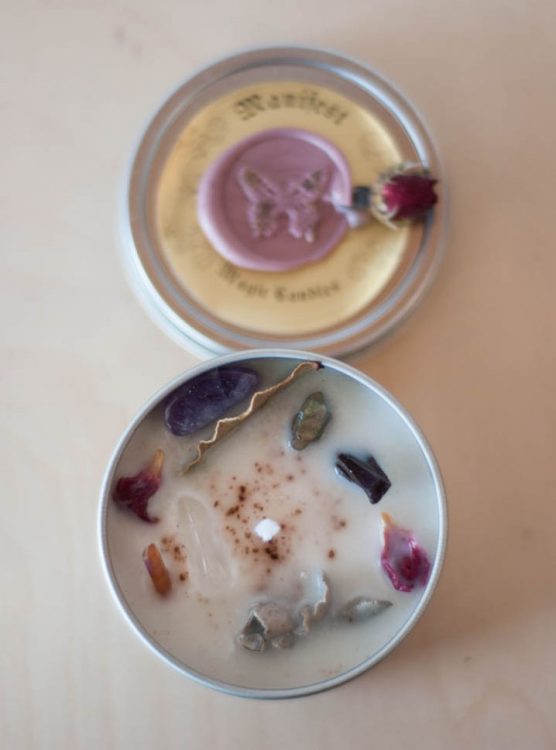 Manifest Magic Candle, locally made in small batches with natural ingredients. Contains: Soy Wax, Nag champa, White Sage Leaves, Bay Leaves, infused with Labradorite, Amethyst, Clear Quartz and Mystic Aura Quartz Crystals, Mica and Pure Magic.
Sage has been used for centuries to purify, cleanse, balance, and banish negative energy in any space, body, or object. It changes the ionic composition of the air around it, raining down like a deep spiritual cleansing shower, reducing stress and purifying the air. Locally and ethically sourced from the San Diego area.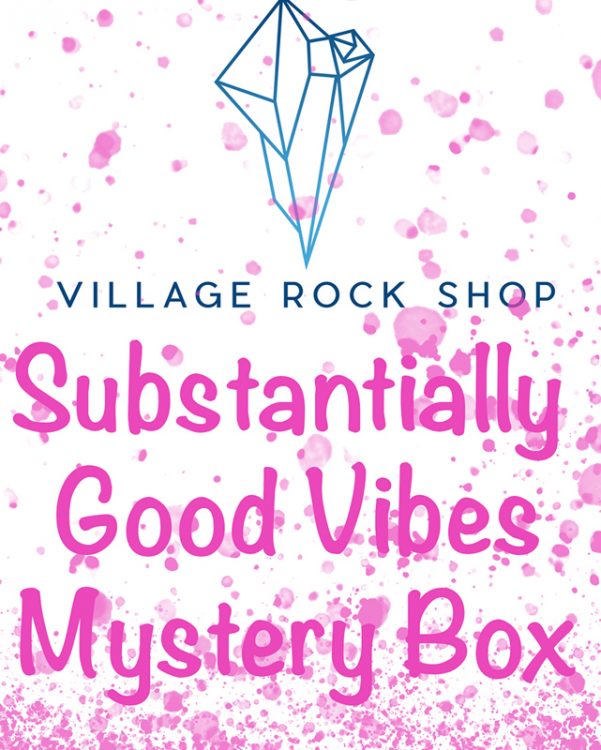 We don't want to give you any hints, but if you're a crystal lover, or new to the crystals world, or just want to have a fun exciting gift box for yourself or others, then these boxes are it!
Available at Village Rock Shop
AMMA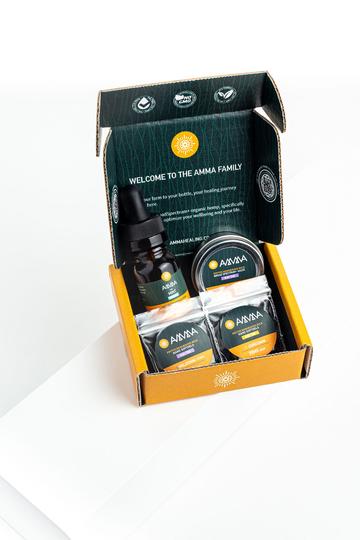 Just in time for the holidays, wellness company AMMA has unveiled its Starter Pack that provides a friendly introduction to the healing and wellness benefits of CBD.
The AMMA Starter Pack includes:
1 bottle of Salve with lavender and eucalyptus to soothe aches and pains

5 curcumin soft gels to help you stay focused

5 melatonin soft gels to help you rest and rejuvenate

1 bottle of peppermint hemp oil to restore balance to the body

1 bottle of Elevate elixir that offers the buzz of booze without the alcohol
The AMMA starter pack retails for $37 and can be purchased online here. It's the perfect under $50 gift that will put a little hemp in your holiday step.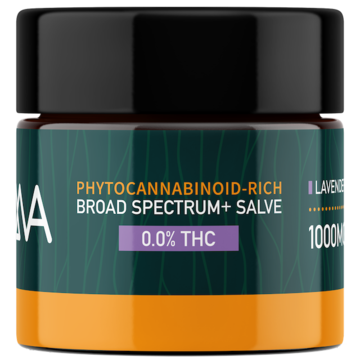 Love your body! Soothe muscle aches and pains and restore skin health with our nourishing Broad Spectrum+ Salve, infused with calming lavender and eucalyptus. Our Salve is formulated with 5 organic ingredients and 1000 mg of the highest quality hemp extracts to deliver relief at 4x the potency of other leading brands. Revitalize body and provide relief from muscle soreness, dry skin, inflammation, pain, and acne.
Available on AMMA
iChuze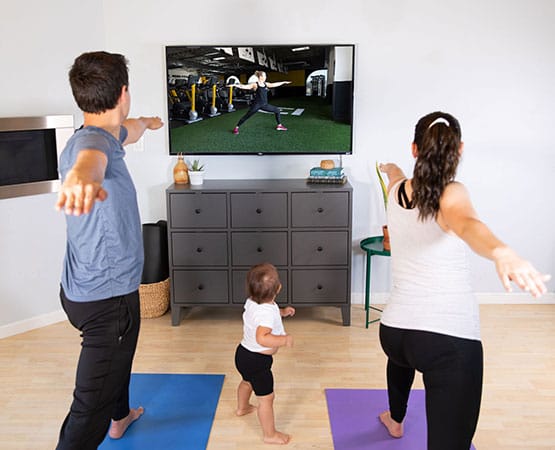 iChuze (from $5.99/month or $59.99/year) | Whether you want to get your body moving, center your mind, spread kindness or get reconnected with the fitness community, an iChuze subscription connects your Body, Mind & Heart through high-quality professionally made health & wellness videos at a ridiculously low price. Content includes: Body (Kickboxing, Team Training, GroupX, Yoga), Mind (Mediation, Self-Care, Breathing Techniques, Mindfulness) and Heart (Community, Charity, Partnership)!
Available at iChuze
Embossed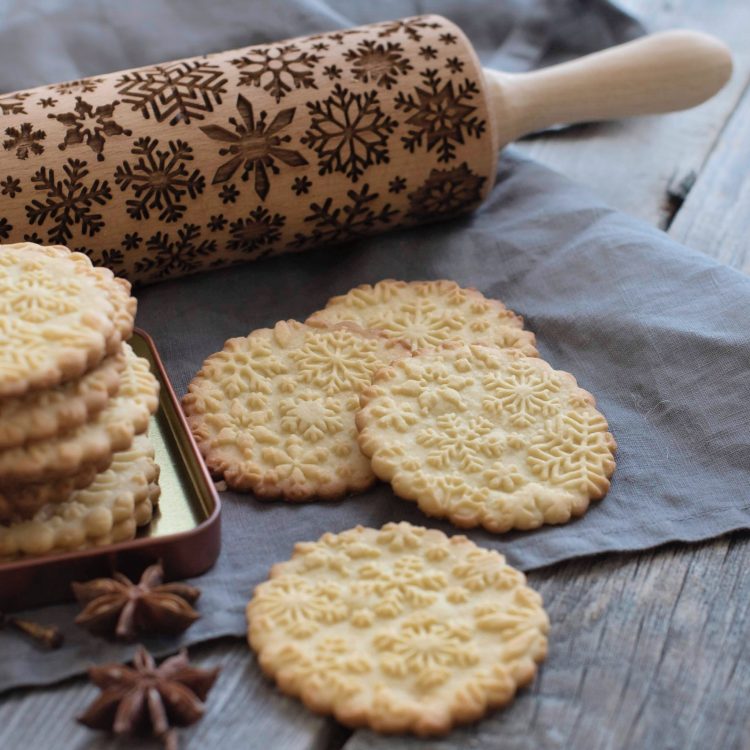 Want to bring some cheer to someone who loves baking and other creative activities? Send them one of these embossed rolling pins to help bring more joy to their home! Baking with these embossed rolling pins is fun, especially for kids! These beautiful rolling pins are also perfect for more than just cookies and pies. Use these new rolling pins for cakes and other sweets or for savory items like homemade noodles or pasta. You can also use our rolling pins to work with clay and other art mediums. Imagine being able to easily give your pottery a beautiful decorative texture in seconds. All of these rolling pins are made from 100% pure high-grade solid beech wood. They are also 100% food-safe and free of BPA or any other toxic substances. They are sold exclusively online and ship quickly from the United States to anywhere in the world.
Available at Embossed
Moscow Muled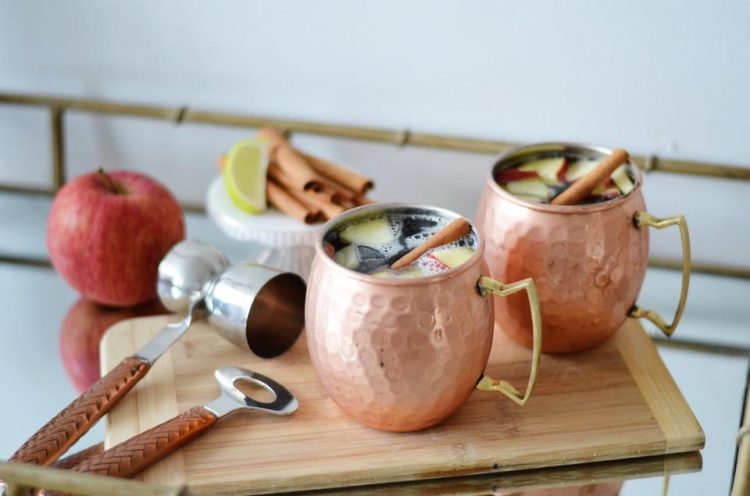 Our moscow mule cups are handcrafted with care using traditional methods and are painstakingly hammered by hand to create a gorgeous aesthetic. Our handles are also welded rather than riveted which ensures that your mug will be water-tight and leak free – guaranteed. We've worked hard to ensure that our mugs are of exceptional quality.
Available at Moscow Muled
Reindeer In Here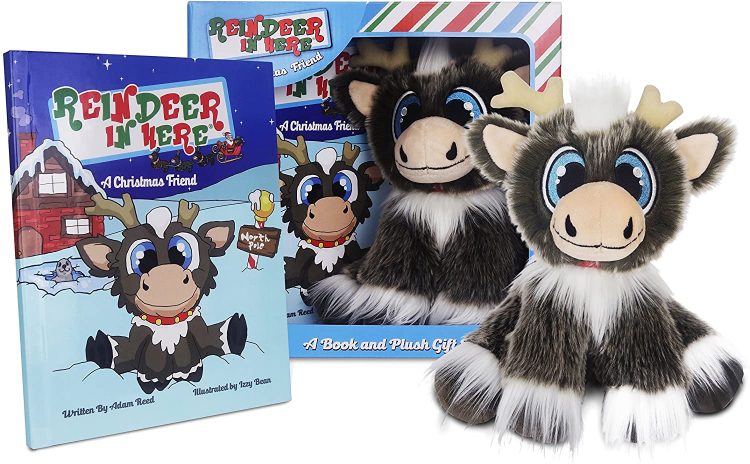 Reindeer In Here is a Christmas friend sent by Santa as the first gift of the Christmas season to get to know each individual child and celebrate that being different is normal. As daily adventures unfold between child and Reindeer, the Reindeer learn about each child and help Santa deliver their true Christmas wishes.
Available at Amazon