Mother Erth Artisan's Choice Handbag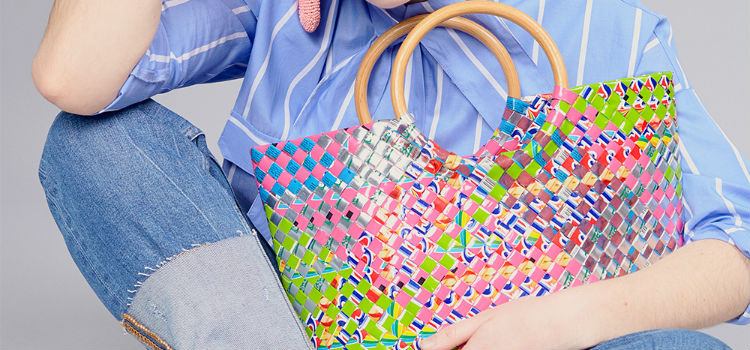 These innovative top handles are handmade from 100% upcycled materials and designed with 100% heart. From your very first impressions of the Mother Erth Artisan's Choice Multicolor Handbag, you will notice just how original and eye-catching they are. If you are looking for a gift for someone who cares about the environment and can pull off an original style then look no further.
Each bag's colors and pattern are one-of-a-kinds with a distribution of 4 – 8 colors in its weave. The colors are based on the materials that Mother Erth collects from manufacturers that discard them due to printing defects and can't be recycled any other way. These materials are a combination of aluminum and plastic which means they take hundreds of years to break down in nature.
The great thing about carrying this bag is you've not only protected the ocean from pollution but also helped mothers earn a livelihood at the same time. These bags are incredibly strong and have a smooth touch. They're a perfect match for your journeys and make a bold statement about who you are and what you care about.
You can click here to purchase via Amazon or check out Mother Erth's website to view or purchase their other products.

Jelts are strong, stretchy belts made from recycled water bottles.

These belts are unique with with a specially designed no-show, flat buckle

and a grippy inner gel that grips to pants with or without belt loops.

Jelt belts are so comfortable, you will forget you are wearing a belt.

Designed to be worn hiking, biking, skiing and with everyday jeans. Feel

good wearing your Jelt, knowing a portion of the profits support

 

Do members of your family have different needs at different times? One might be hot, the other cold, one 
is stuffy -- you know the drill. The Quilo 3-in-1 fan is the solution to creating an atmosphere that makes
 the whole family happy. With a fan, evaporative cooler and humidifier this tool can help adjust the air
 around you and is great for centering on the one person in the room who runs a bit hot even in the 
winter. This is a low-energy-use device, eco-friendly and runs quietly at night, so light sleepers 
can still get their zzz's. Get your Quilo 3-in-1 fan here.




A luxurious blend of rich Irish dairy cream, real chocolate, and aged Irish whiskey. From your very 
first sip of Kerrygold Irish Cream Liqueur, you will notice just how creamy it is. After this luxurious 
creaminess subsides, it is followed by a depth of indulgent flavors: aged Irish Whiskey and real0
chocolate. These flavors and intense creaminess subtly combine to deliver an intense and indulgent 
finish. Embrace its simplicity and serve on the rocks as an after dinner treat, or in a sizzling hot coffee 
to warm you up on a cold winters night. Winner of the World's Best Liqueur award 2016 – Kerrygold will 
not disappoint.

Stella Rosa Black Lux is fully sparkling with the same luscious flavors found in Stella Rosa 
Black- blueberry, raspberry and blueberry, enveloped in dark natural red grapes. The quality of the 
wine inside the bottle extends to the exterior with its alluring black and gold packaging creating a 
beautiful presentation, perfect for hosting and gifting this holiday season. The unique combination 
of semi-sweet wine and effervescence has made Stella Rosa a one-of-a-kind, leading brand in 
the wine industry. Available here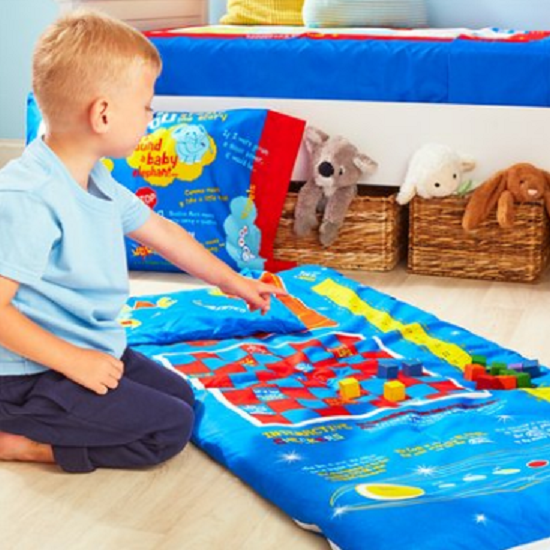 Your son or daughter will beg to have sleep-overs so they can show off their Playtime Reversible Slumber Bags to there friends. With over 25 interactive games Playtime Slumber Bags are perfect as a slumber bag, play mat or cozy cover! And best of all you can play all the playtime games with just coins or cut-out paper!
25 interactive games, fun facts, and positive affirmations
Features a zip-around closure
Machine wash in cold water.
Slumber Bag measures 52″ L x 30″ W (open); 26″ L x 30″ (closed)
Weighs 1.4 lb.
Click here to learn more about PlaytimeEdventures.com

Homever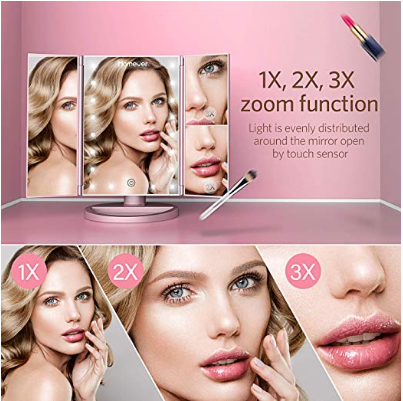 Homever makeup mirror built in 21pc LED lights, With 1x, 2x and 3x magnifying mirrors, 180-degree rotation, a collapsible frame, and USB or battery operated power supply. The design of Tri-fold enables you to view yourself at different angles and protect the mirror from getting dirty and being scratched.
The lights of the mirror are very bright and efficient and really give you an in-depth appearance from every angle so you know you are applying your makeup perfectly. 180° rotation allows you to adjust the mirror to any viewing angle to meet your personal preference. Most importantly, free 12- month warranty.
10% Coupon Code: XBBPR2YC ends on 31/10/2018

Vodool HUTbIT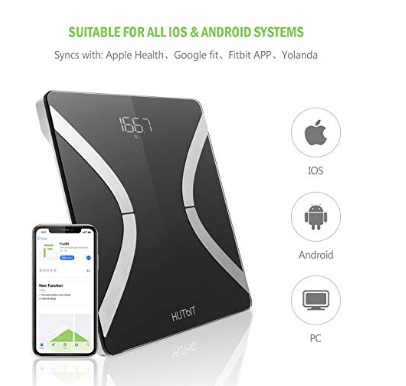 The Vodool HUTbIT Smart Scale not only measures weight, but displays 13 comprehensive metrics includes BMI, TWB, BIA, body fat percentage, subcutaneous fat, visceral fat, estimated water, skeletal muscle, muscle mass, bone mass, protein, basal metabolic rate and metabolic age which helps you to maximize your health goals in a smarter way. just download the feelfit app from App store or google play, set up and then get all your health data collected and analyzed automatically with a simple touch on your LCD screen.it can auto recognize and store the data for unlimited users. So Add your family members' profile or friends, get the data displayed on the app at a glance. If you are looking for the smart scale, HUTbIT is your right way. 20% Coupon Code: B4ZNKTDS ends on 31/10/2018
Available at Amazon

Homever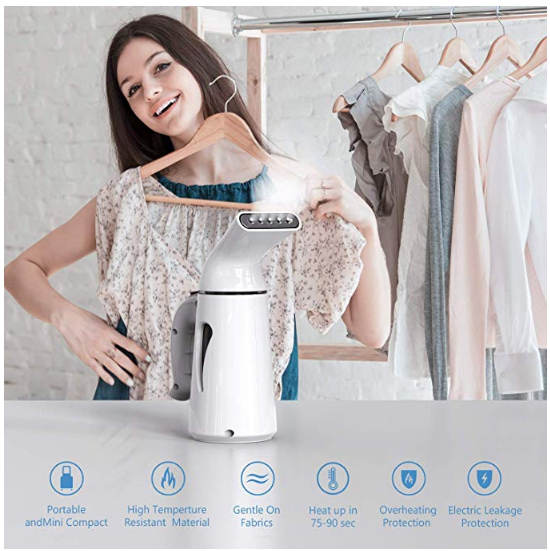 Upgraded Sterilization System- Kills bacteria and germs in minutes, keeping you healthy on the go
Lightweight and Compact- 528g only!! Keep your clothes looking fresh and wrinkle-free on the road, an essential investment no matter if you are traveling for business or pleasure 600-700W Powerful Steamer- Highly effective for all kinds of clothes, gently treating suits, wedding dress, shirts, also can use for household fabric like bedding, drapery and tablecloth,Ultrafast Heat Up- 75-90s and you are good to go, automatic shut-off for overheating prevents; 130ML water tank can continuous steaming for 8-10 minutes; 1.8M power cord helps to reach anywhere 12 Month Warranty- We value our reputation as an expert on clothes steamer. That's why we back all our travel steamer with 60 days free of charge money back warranty and a 1-year guarantee, please feel free to contact us if any issue occurred.
Available at Amazon

TAP Wearable Keyboard
Take gaming and work to a whole other level with the TAP Wearable Keyboard. It connects and works seamlessly with most Bluetooth enabled devices which makes it really easy to use. (PC compatibility requires Windows 8.1 and above and Bluetooth 4.0 or above.) Fits onto your fingers with ease and can help you control any device without any bulky wires, etc. The thumb section of the TAP Wearable Keyboard has an ultra-compact laser optic mouse that can be used with any type of computer or laptop that has mouse capability.
The TAP wearable keyboard is available for purchase directly through the company by clicking through to their website.

Give the Gift of Gorgeous Skin – Amazon Facial Mist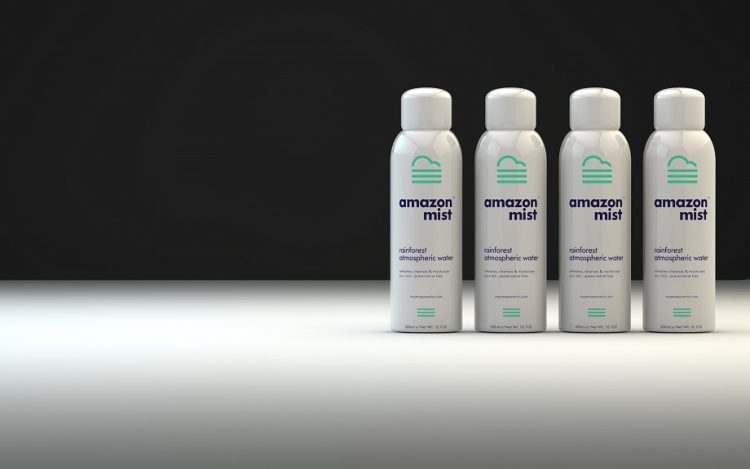 The cause-conscious beauty line, Amazource Skincare is made with premium components sourced from the Amazon rainforest, delivering a higher nourishing effect on the skin. This ancestral knowledge is available to everyone–—plus the products are cruelty and paraben-free and at a great price point.
Amazource partners with indigenous land-owning communities, with a portion of each sale helping finance and enable Amazonians to protect their territories from deforestation by illegal logging, oil extraction, and mining. Amazon Mist® is sourced from the tiny water droplets suspended in the air and mist in the most remote area of the planet. Amazon Mist® is naturally formed together with the pristine oxygen and the organic potassium released by the richest flora on earth. If it has maintained life in Amazonia for millions of years, imagine what it can do for your skin!
Refreshes cleanse and moisturize your skin and body
Relieves and preserves
For any skin type. Preservative-free
No chemicals, alcohol-free, odorless, non-sticky and no propylene glycol
You can order at Amazource

A Holiday Gift She Will Love by a Top German Skincare Company- Dr. med. Schrammek Kosmetik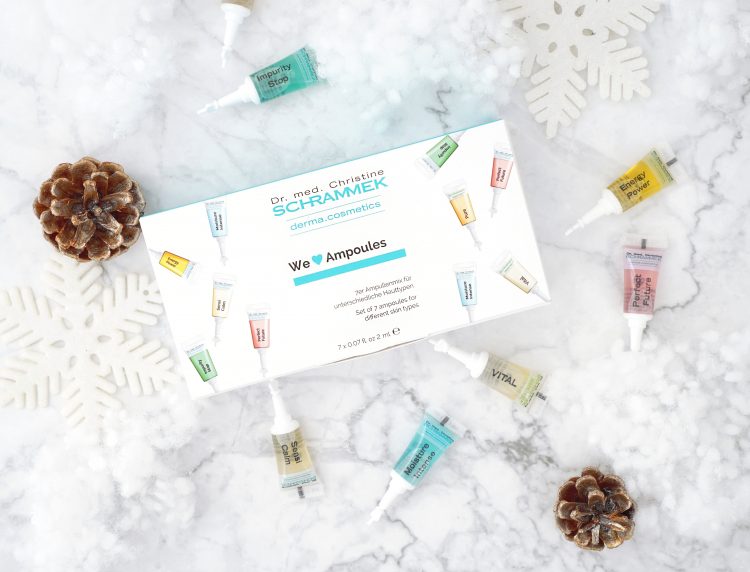 We Love Ampoules –Set of 7 Ampoules
Dr. med. Schrammek Kosmetik is a well -known and highly respected skincare company from Germany. All their products are medically-inspired and individually targeted to meet the needs of different skin types. Dr. Schrammek products are combined with innovative and proven ingredients and achieve excellent results. This amazing skincare is now available to women in the USA. A perfect gift for the woman in your life would be popular – We Love Ampoules -Set of 7 Ampoules.
The ampoules are in a convenient 7-ampoule box and are for different skin types. The following ampoules are included in this box: Energy Power Ampoule, Moisture Intense Ampoule, Perfect Future Ampoule, Sensi Calm Ampoule, Herbal Active Ampoule Vital, Herbal Active Ampoule Pure. Apply underneath your daily care skin creams.
Tip: All ampoules by Dr. med. Christine Schrammek Kosmetik is resealable, so perfect for multiple applications. To learn more about the Ampoule's and their other skincare products visit: Dr. med. Christine Schrammek Kosmetik

Owl Cam


An all-in-one car security camera, Owl Cam allows you to check in on your car from your smartphone no matter where you are in the world. As the number one is the smart security solution that puts car safety in your hands, literally, you can rest assured that your holiday is merry and bright. Owl recently added crash response – where if you are in a crash the team will contact you and the local authorities. So for all those going on road trips over the holidays, it is an extra safety feature.
It's a video when you need it, so whether you have:

Crashes: You've got the video on your phone – right away – so you can tell your side of the story.

Dents: Video Alerts for bumps, impacts – so you know what ding happens when.

Stops: Just say the words and Owl keeps recording – tends to keep everyone on their best behavior.

Break-ins: The blinking green beacon says keep away because caught on Owl means caught by the police.

OMG: The internet loves crazy, weird and unexpected moments. Share yours instantly.
Additional features include:
Dual-facing HD cameras

Instant video access from anywhere

4G LTE, Wi-Fi, Bluetooth, and GPS

14-day video loop

Voice capture and naming

Anti-theft floodlights

Companion app on iPhone and Android
Your video is 100% private. Only you can see, share, or delete your video.
Available at Owl Car Cam