Paw Patrol Gingerbread House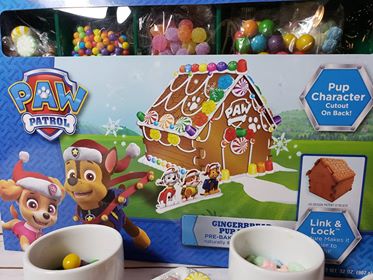 Tis the season for decorating a gingerbread house, and could this Paw Patrol Gingerbread house be any cuter? With the super easy and user-friendly link and lock precut pieces, you won't have any excuse to not decorate a gingerbread house this year! This kit literally includes everything that you need to make your dream gingerbread house become a reality!
Purchase directly from Amazon HERE.

Boujie Kidz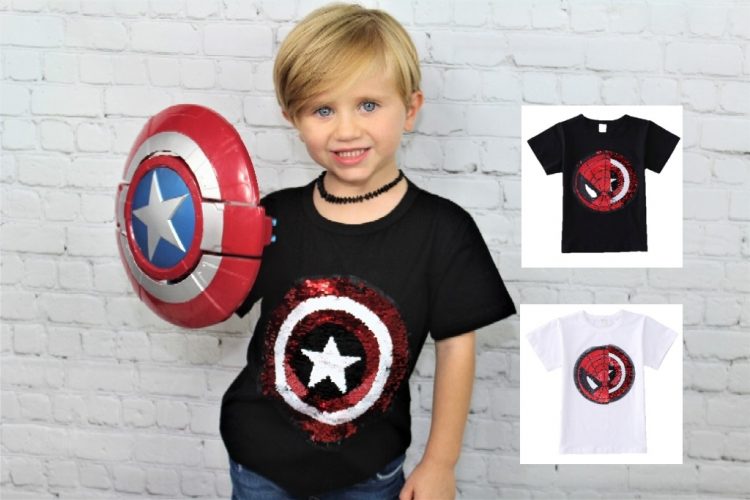 The Super Hero Switch Tee transforms from Captain America to Spiderman with the swipe of your hand. Sizes range from 2T-7 and is available in both black and white. Find unique and trendy designer kids clothes at Boujie Kidz. They offer affordable trendy toddler clothes that will make your kids look like they are about to walk the runway. Boujie Kidz was started by fashion-conscious parents who wanted to provide the coolest, hippest designer kids clothes for their children. If you are a super chic parent who is looking for trendy kids clothes or designer baby clothes for your little mini fashionistas, we encourage you to check out their collections for Little Divas and Little Gentlemen as well as their new Tween line. They also offer seasonal designer kids clothes, shoes, and custom orders to meet your needs and style!
Availabe at Boujie Kidz

The Perfect Gift For Any Toddler- Disney Junior Mickey Mouse Hot Diggity Dog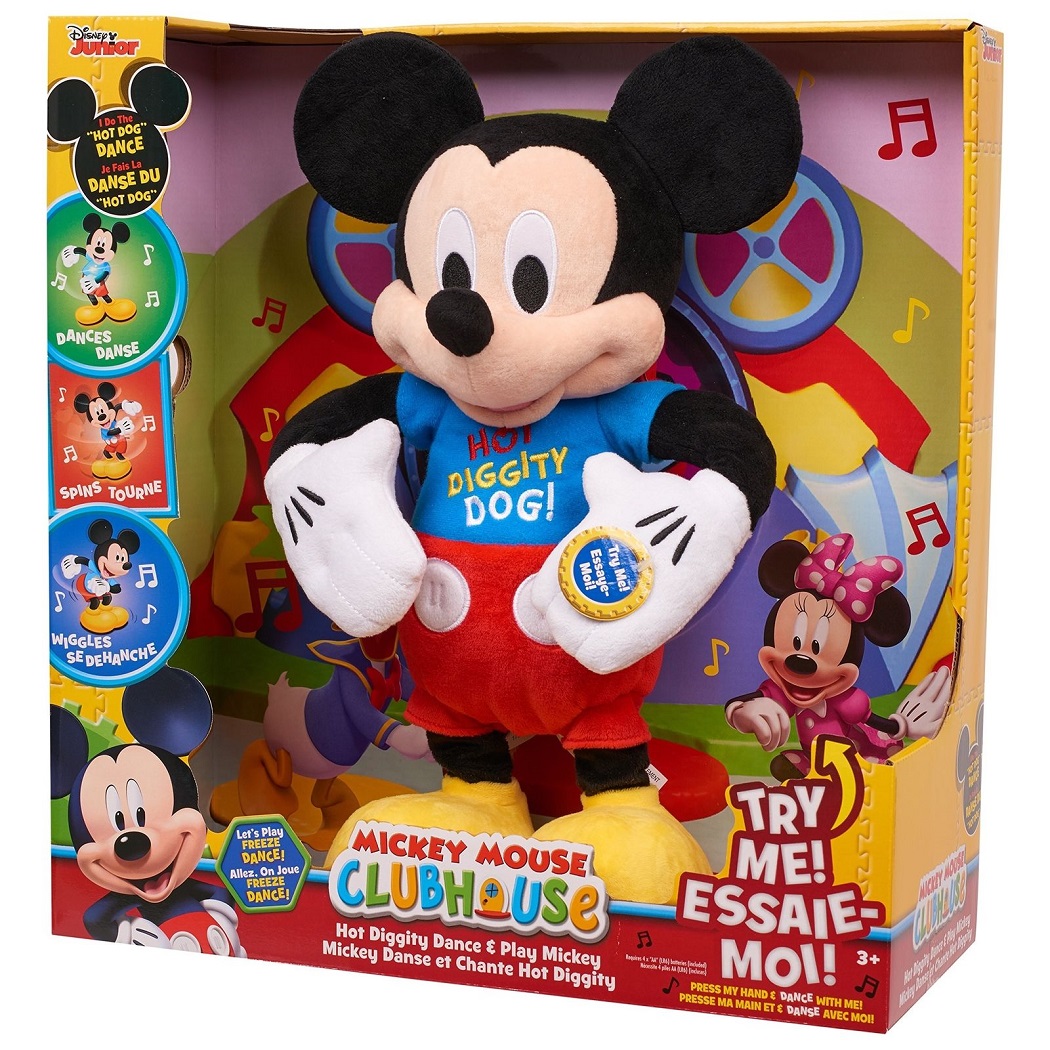 Disney Junior has done it again. They made Mickey Mouse the most beloved character for toddlers 3 and up. Mickey dances, sings, wiggles, and spins! The perfect entertainment for your little one. "Kids love the iconic Hot Dog Song as seen in every episode of the popular Disney Junior series, Mickey Mouse Clubhouse, and now they can sing and dance along with the Hot Diggity Dance and Play Mickey! This interactive feature plush is dressed in a cool light-up t-shirt and features some sweet dance moves! Not only does Mickey boogie to the Hot Dog Song, but he can also play Freeze Dance and What's that Sound?" Available at Walmart and other retail stores.

Vampirina Tour Van is adorable and perfect for kids 3 and up.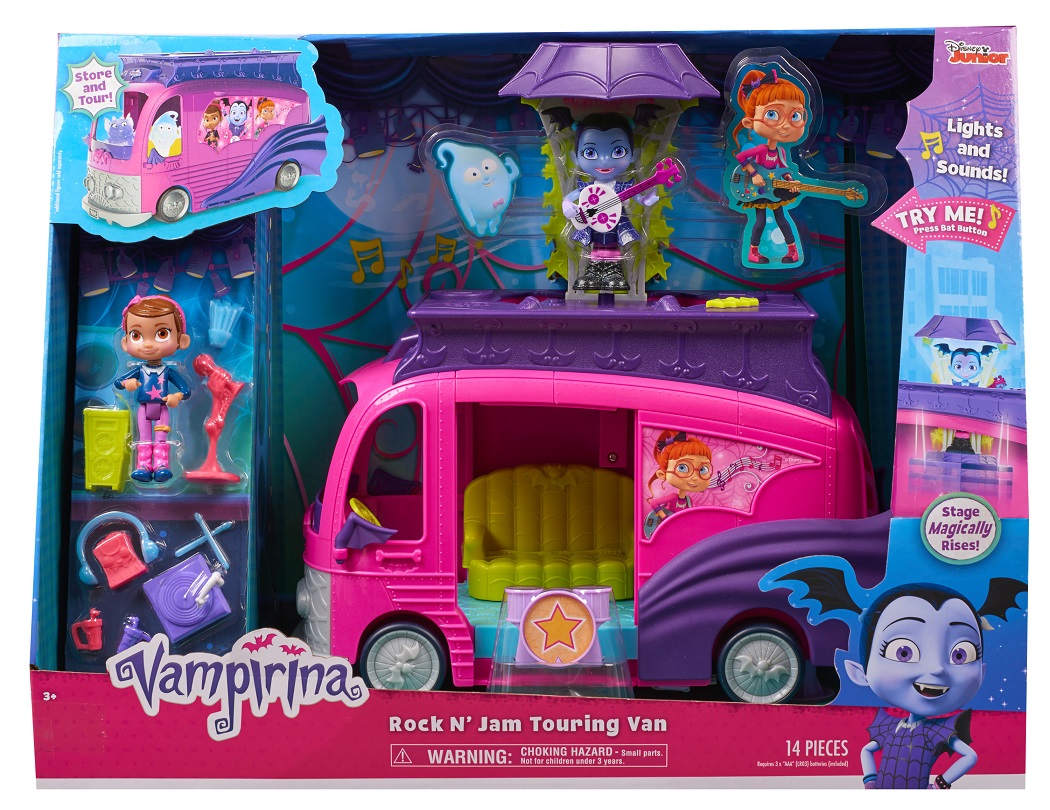 I know a certain little girl that would love to have this adorable Vampirina Rock N' Jam Touring Van! The set includes rock N' Jam touring van, Vampirina figure, Poppy figure, drum stand and drumsticks, record player, standing microphone, speaker, headphones, Vampirina spookylele, award, popcorn bag, and two cups. Van really rolls and opens to transform into rock Star lounge with driver's seat/couch, bunk beds and piano stairs. Perfect for any little girl. "Bring the world of Disney Junior's Vampirina to life with the new Vampirina rock N' Jam touring van! kids can rock out and go touring with Vampirina and her band, the ghoul girls – just like in the show! the van transforms into a spook-tabular stage and when Vampirina is ready to perform, she magically Rises on a light-up platform in true ghoul girl rock-star fashion! Vampirina and Poppy can rock out together on stage for their fans!" Available at Amazon and other retail stores.

For The Adventure In your life, K'NEX Thrill Rides Twisted Lizard Roller Coaster Building Set With K'NEX Ride It!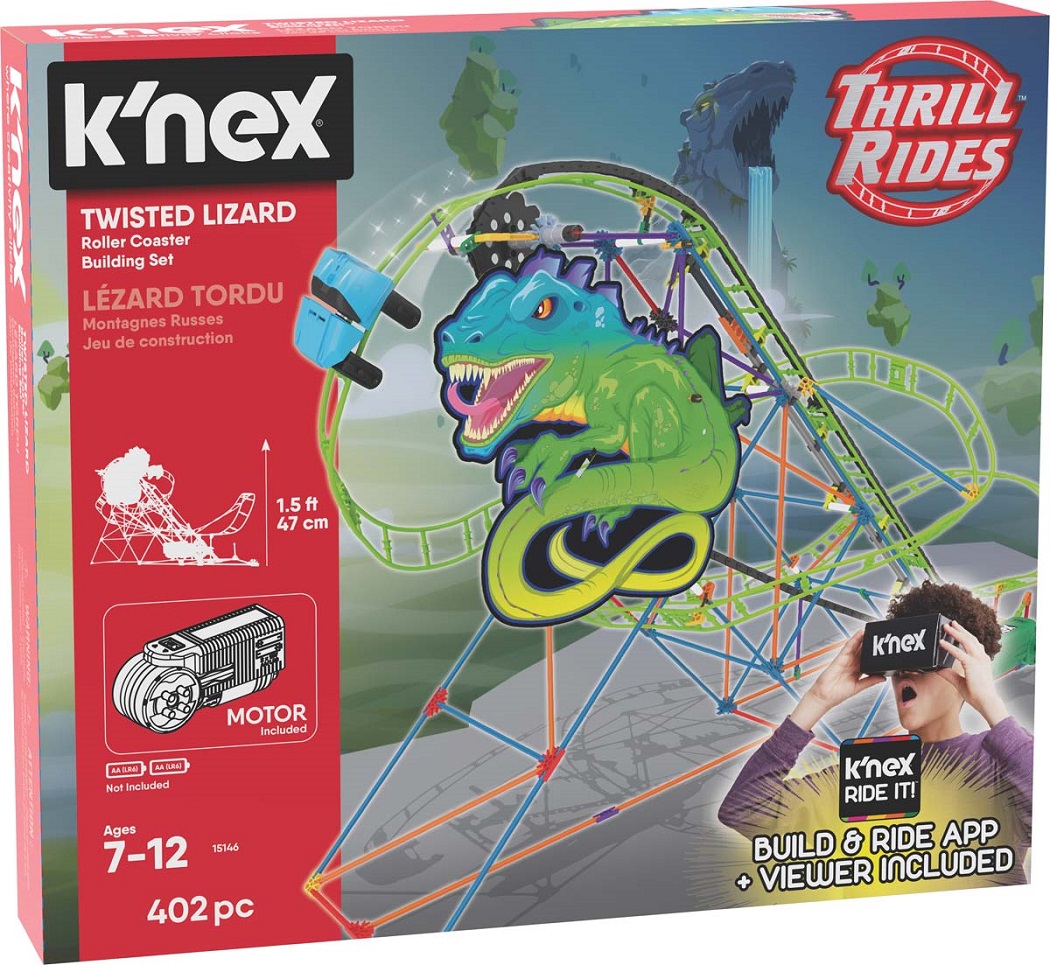 Using 403 K'NEX pieces and a motor your kiddo can build an awesome roller coaster! It even has an APP so they can experience the thrill of the ride! How cool is that? Set includes coaster track, coaster car, and lizard themed graphics. Ride It! by download the FREE K'NEX Ride It! app to experience your coaster like never before in virtual reality, or digitally build the roller coaster of your dreams! Ride Twisted Lizard in virtual reality with the included cardboard VR viewer.

Star Wars Science Xcavations Creature Crates!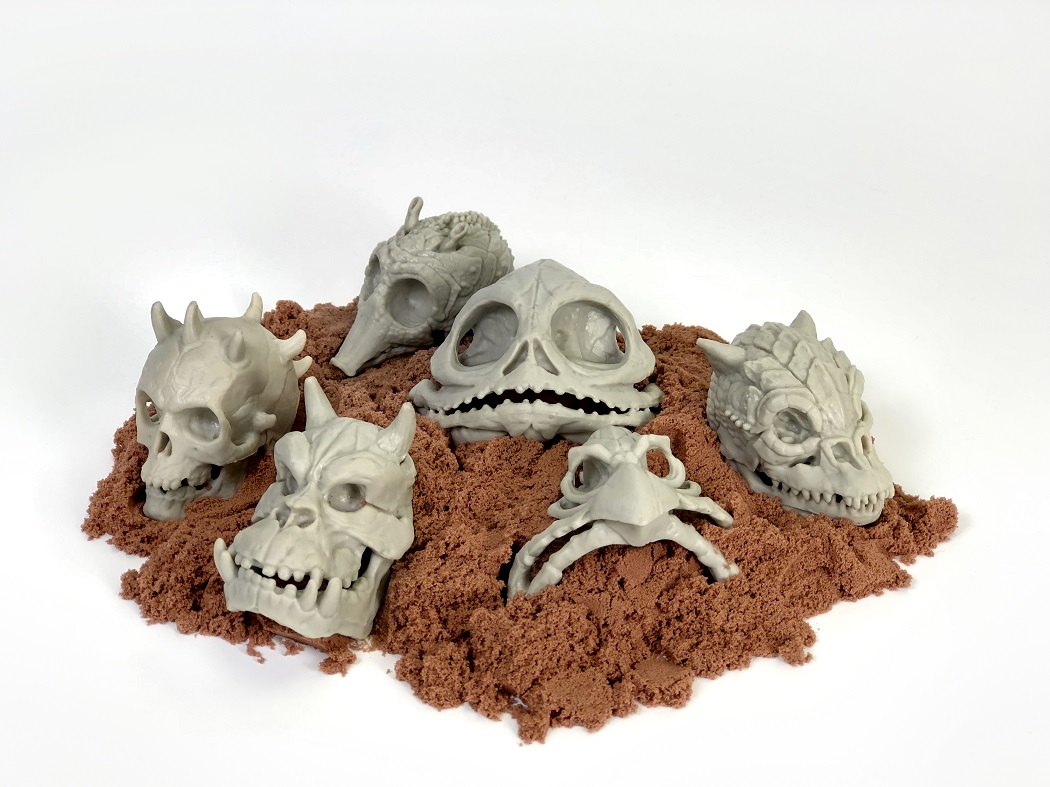 For the Star Wars fan in your life, nothing more than the mear mention of Star Wars and they are are
more than happy with any of the amazing gifts that are on the market. But, the Star Wars Science
Xcavations Creature Crates will have any fan going crazy for them! With each, they will dig through
the soil until they discover bones and skulls, until finally putting it together. There are six to
collect so far!
Available at Walmart and other retail stores.

Doc McStuffins Baby All in One Nursery Pet Rescue Mobile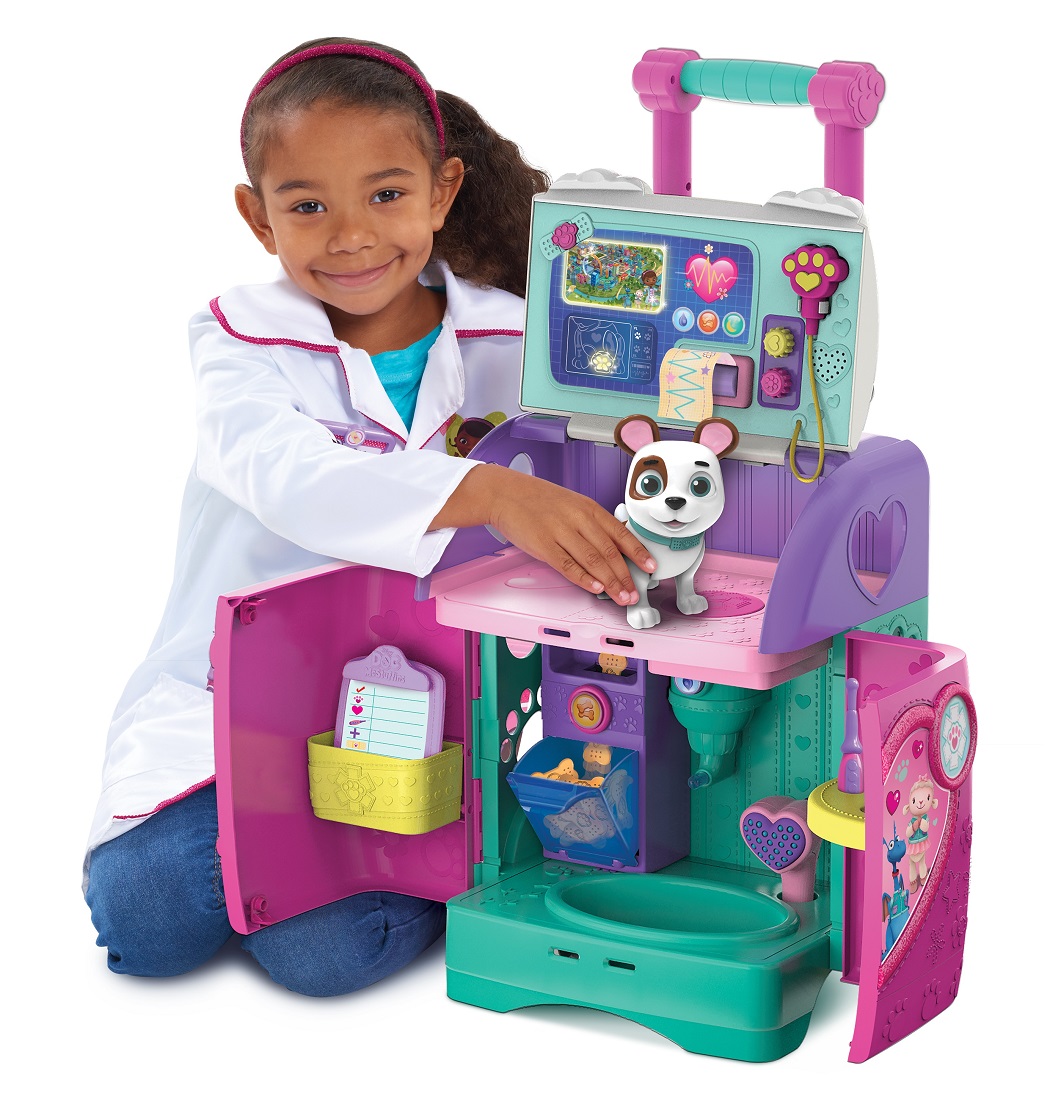 Every Doc McSuffins fan is in anticipation of this adorable Rescue Mobile. Just ask them! The newest theme on the Disney Junior series. Doc McStuffins rescue pets. Now kids can help her save them with the new Pet Rescue Mobile. It includes: The Pet rescue mobile comes with lights, sounds, music and play medical tools and accessories. Pet friend, Oliver. And has light and sounds control panel helps kids locate toy pets in need.
Available at Amazon and other retail stores.

JoJo Siwa Hold The Drama Doll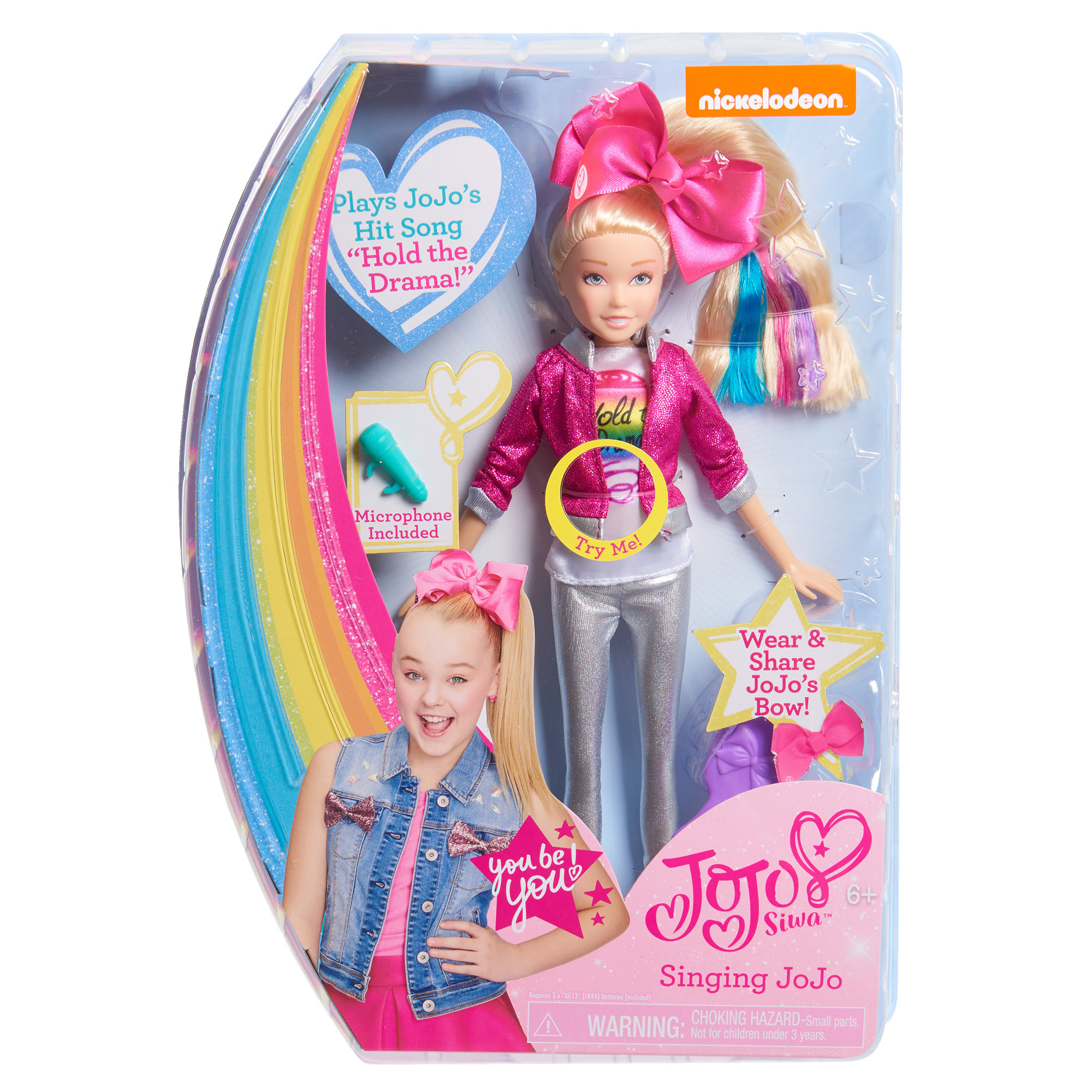 I'll never forget Jojo's first appearance on Dance Moms. She stole the hearts of all the viewer that night. Now, every little one wants a Jojo Siwa Hold the Drama Doll! "Hold the Drama!" JoJo features poseable arms and legs and comes dressed in an outfit inspired by the one she wears in her music video! JoJo comes with a teal microphone and a hairbrush. Siwanatorz will love to brush and style her flowing blonde locks!"
Available at Amazon and other retail stores.

Barbie Ice Cream Cart Playset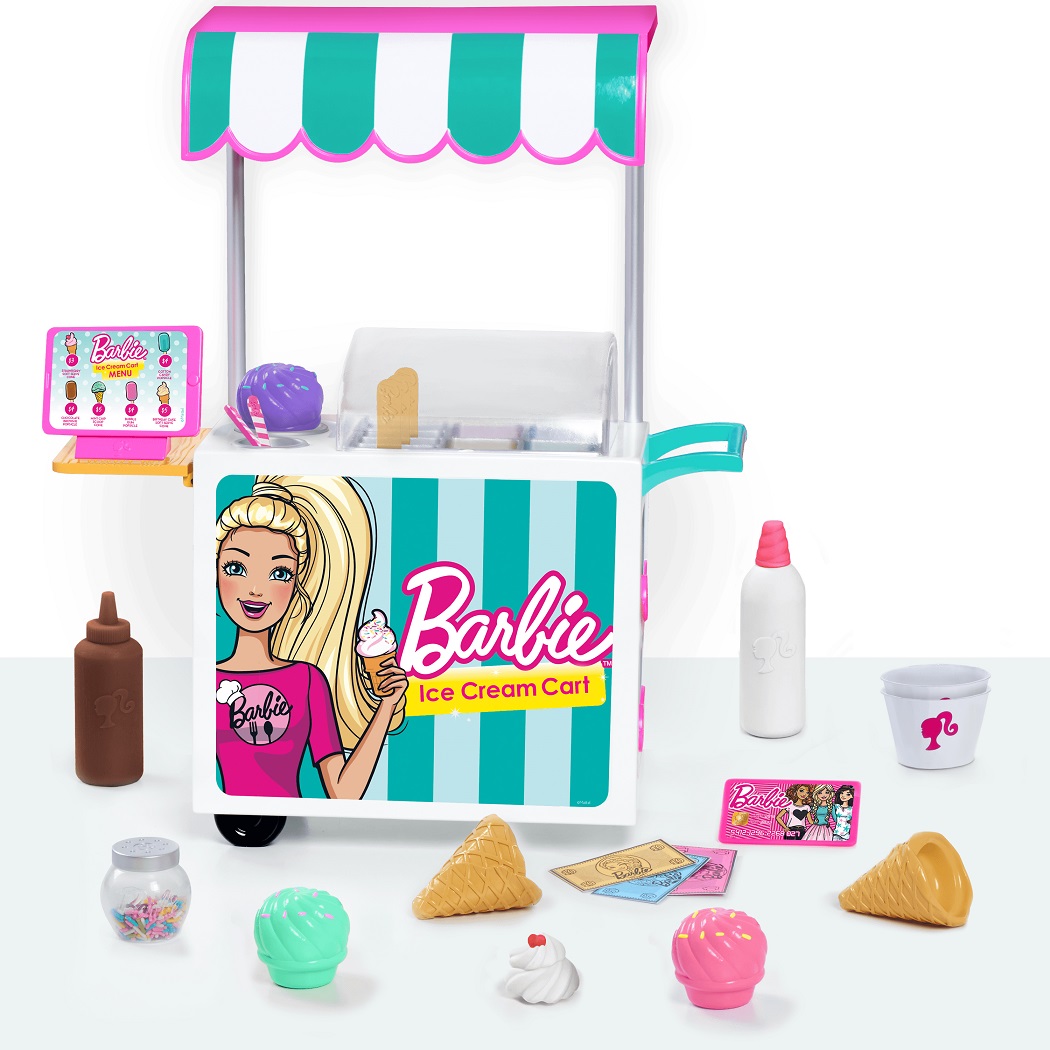 Just about every little girl request Barbie gifts for Christmas. And with this cute Barbie Ice Cream Cart she can play for hours dishing out all kinds of sweet ice cream teats. This delicious set comes with three ice cream scoops, two cones, two spoons, play whip cream, working scooper, play chocolate syrup bottle, cash register, play credit card, three play popsicles, and a sprinkle shaker! Letting their imagination run wild while they run their own ice cream store!
Available at Walmart and other retail stores.

4D Science Kit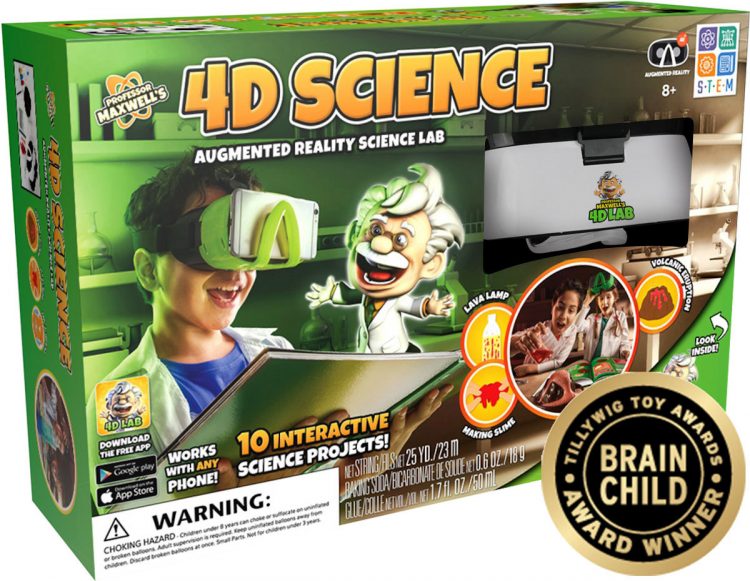 Are your kids inherently curious about science? Dr. Maxwell's 4D Science Lab from Spicebox Books brings together science and technology in a fun and unique way that kids will love! Learn science fundamentals from Dr. Maxwell through the Augmented Reality textbook, then perform fun experiments with static electricity, carbon dioxide, and so much more. Your little scientist will be thrilled to open this gift!
Available at Spicebox Books

Teach My Yoga Mat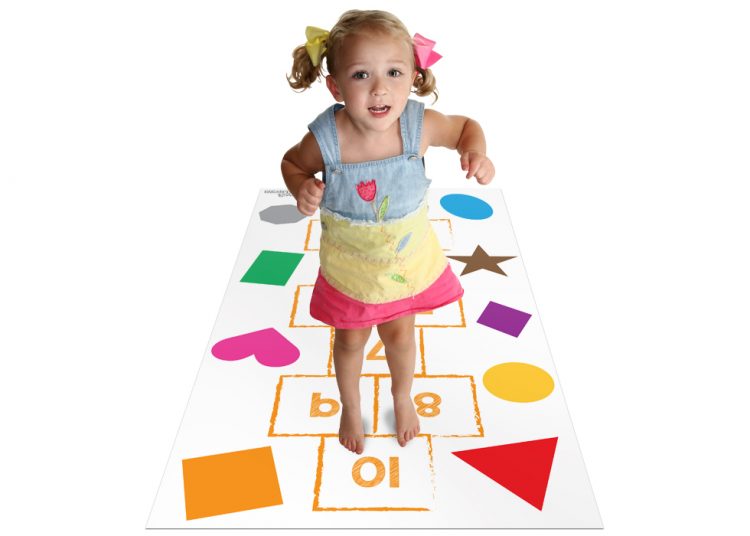 When you're chasing around an active toddler, teaching them is the last thing on your mind. But research has shown that many kids learn better when they are moving! The Teach My Yoga Mat Set – Hop and Learn allows kids to learn hopscotch and yoga, while teaching them letters, numbers, and colors. Add this to the gift list for the busiest little body in your life! They'll love it!
Available at Teach My

Dc Super Friends hero drive
My nephew has been asking since his birthday for the Dc Super Friends hero drive, which happened to come out right after his birthday. So, I decided to grab one and wrap it up for Christmas. "The HERODRIVE Batman Racer is the ultimate Batman vehicle for little hands. This exciting motorized vehicle features lights, engine sounds, and music that bring the action to life! Transform the vehicle into race mode by pushing the windshield forward to make the wings pop out. Push the logo on the hood for unique Batman sounds, then push it again to send the Batman Racer racing forward with its cape flying behind Appropriate for ages 3 years and up. Batteries included."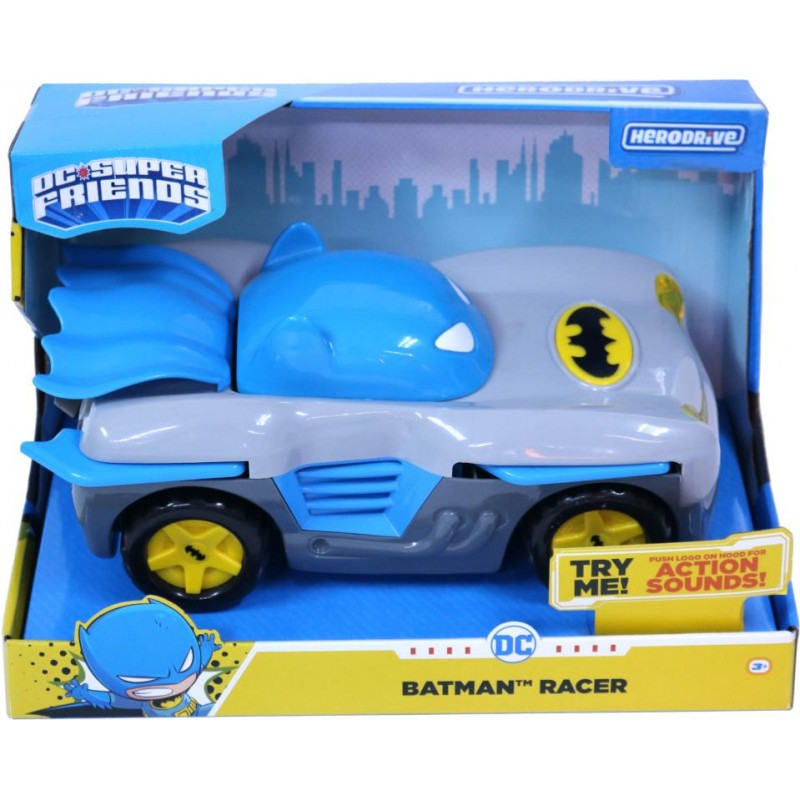 Available at Mr. Toys Toyworld

Tonka Tinys Cityscape Carrying Case Playset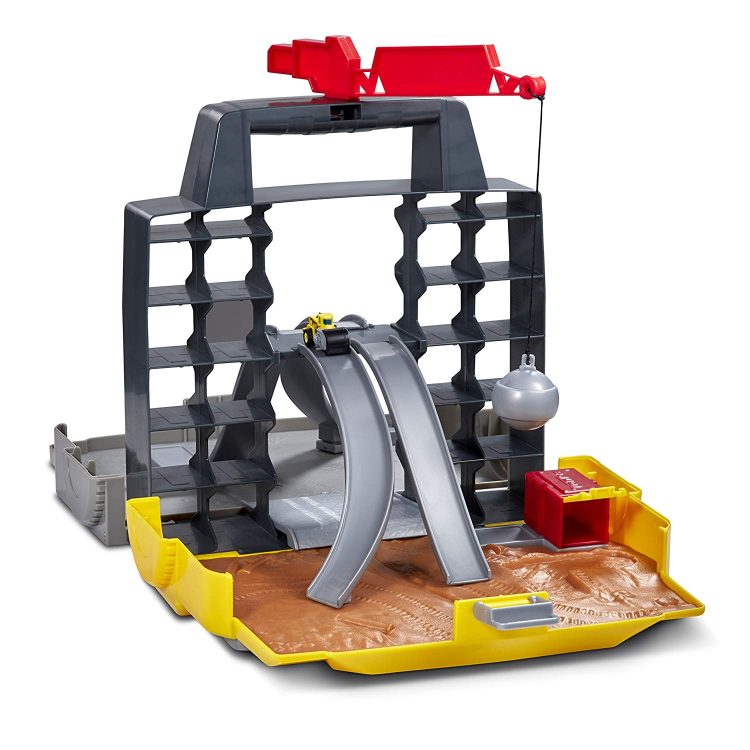 Great for the little construction foreman in any home. The convenient carry set also allows them to take it on the go anywhere they wanna take the job."Stow and go with the Tonka tinys carrying case playset! this handy carrying case holds 20 tinys vehicles and doubles as a fun, construction-themed playset that can be taken anywhere. Stow your tinys, fold up the case, and use the easy-carry handle to transport your tinys wherever you go. Open up the case to unfold the construction playset that includes 1 exclusive tinys vehicle, 1 garage, 2 slides, 2 bridges, and a wrecking ball so you can build up your tinys garages and then knock them down to rebuild. Great for travel, the tinys carrying case playset provides hours of fun! appropriate for ages 5 years and up. Collect them all!"
Available at Amazon

Tonka Power Movers Dump Truck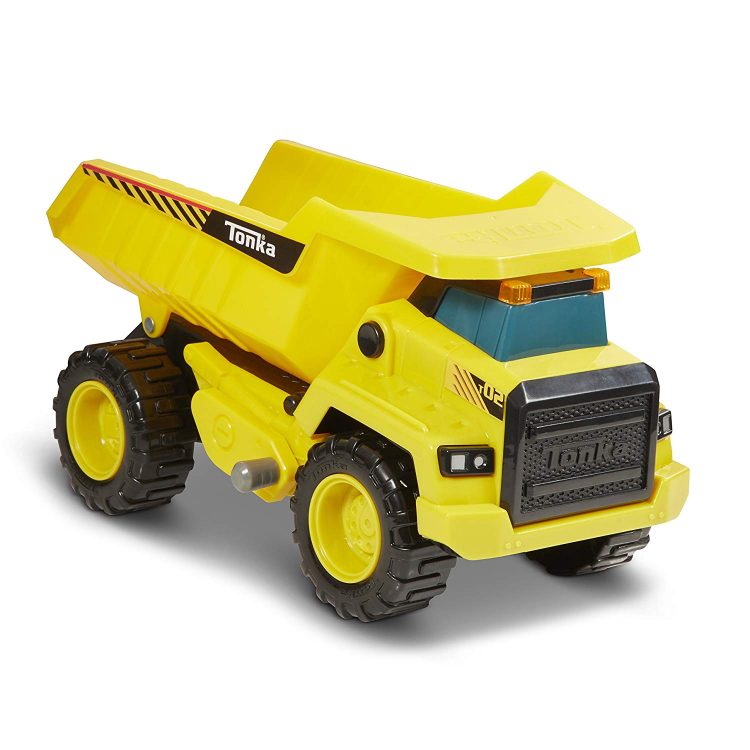 This rig is brought to life with the new motion drive technology. Bringing the construction experience home with you onto the family floor or backyard. "With Tonka power movers, you take control! this rugged dump truck features new motion drive technology allowing for fun and intuitive play that brings the action to life! with motion drive technology, push the vehicle forward to make the engine rev and activate the lights; push the vehicle backward to hear backup sounds; work the dump bed to hear hydraulic sounds and flash the lights. The features activated by the child's interaction with the vehicle create an engaging and realistic, Tonka tough experience every time they play. Appropriate for ages 3 years and up. Batteries included. Collect them all!"
Available at Amazon

Sunny Bunnies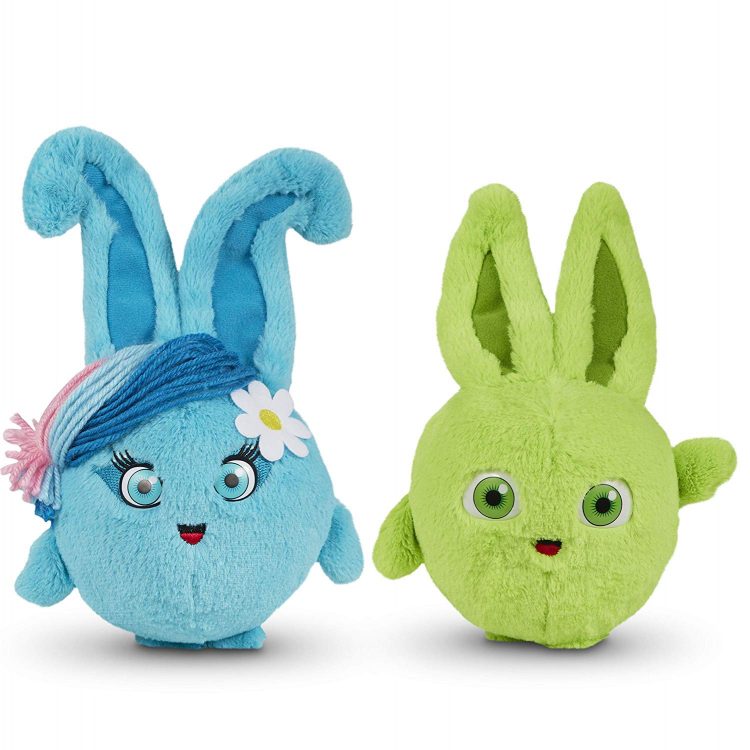 Sunny Bunny blabbers all the joy and fluff you could want. With the bunny blabber pack, you can knock out two birds with one stone. Securing a gift for both you're nephew and niece all at once. "Based on the Youtube sensation with over 400 million views, you can now bring home your very own Sunny Bunnies! The Sunny Bunnies are five fluffy balls of light named Turbo, Big Boo, Shiny, Iris and Hopper, who can appear anywhere there is light. The Bunnies always bring joy and happiness, beaming down to explore new and exciting locations and finding fun and mischievous games to enjoy.
Fast-paced and funny, these five friends (including two sisters) all have distinct characteristics which children can easily recognize and grow to love. Sunny Bunnies are all about friendship, loyalty, working together and of course, having a good giggle!
The funny Sunny Bunnies are now available as talkative plush characters! This awesome 2 pack includes characters Hopper and Shiny. Press the bunny bellies to hear them make unique and silly sounds. These chatterboxes are ready for fun and excitement! Collect them all to have the biggest bunny blabber party! Appropriate for ages 3 and up. Batteries included."
Available at Amazon

Enchantmints Ballerina Musical Treasure box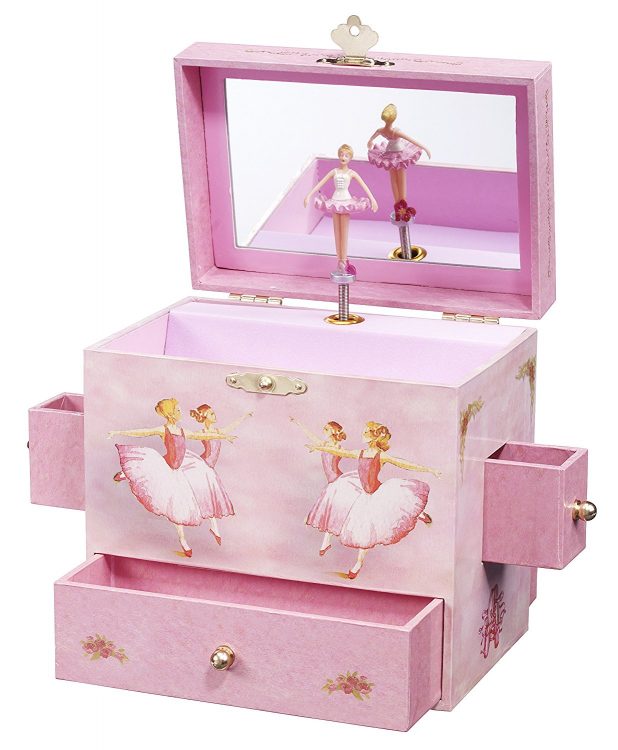 Along with this elegant ballerina musical box offered by Enchantmints, they also offer a variety of beautiful boxes, such as the unicorn, ladybug, and much more. Great for keeping precious mementos and treasures with some eye appeal and musical tunes. "Decorated with beautiful ballerina artwork, this musical treasure box is perfect for the dance lover! Box has a hinged top with interior mirror, inside the compartment, twirling ballerina figurine, and a lovely velvet-flocked paper lining. Earrings, bracelets, charms, and sachets are all safe and comfortable inside any of the four drawers: one on the front, one on the back, and two on the sides. Wind it up to hear it play "Swan Lake."
Available at Amazon

The Noodley LED Light Up Rainbow Teddy Bear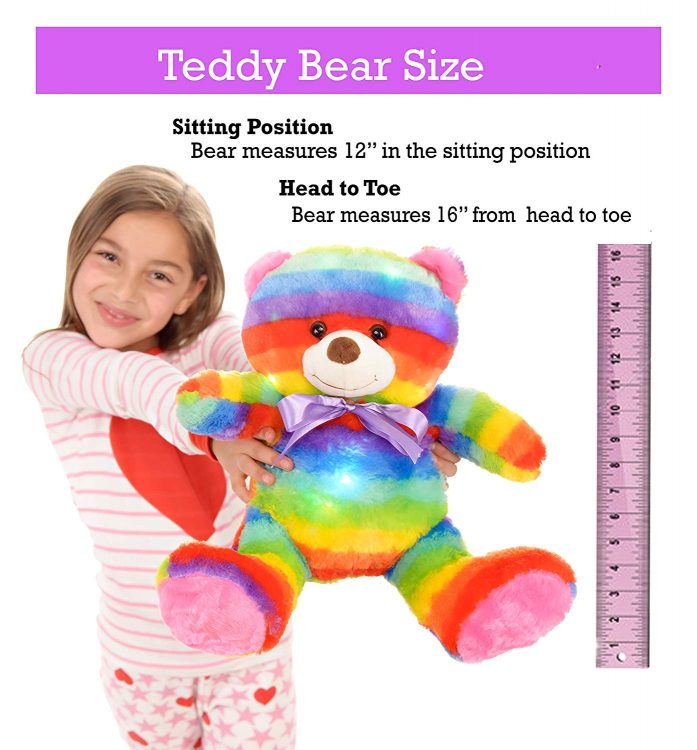 Enjoy multiple uses with this LED light up teddy bear, Give it as a gift to you're girlfriend showing how much she lights up your life or give one to the little ones to help light up the nightly trips to the bathroom. Works great as a nightlight and comes with a built-in timer. The LED lights do not emit heat so you don't have to worry about your kiddos getting burnt from a hot bulb."The Noodley's LED light up multi-color bear makes a great gift for kids of all ages. Use it as a night light next to the bed or on your lap to read by. Kids will love to have a soft teddy bear friend that they can easily use as a flashlight if they get scared of the dark. Perfect for trips or the sleepovers. Give the gift of a light up teddy bear and see their eyes light up!"
available at Amazon

Smooshy Mushy Bento Box Collectible Figures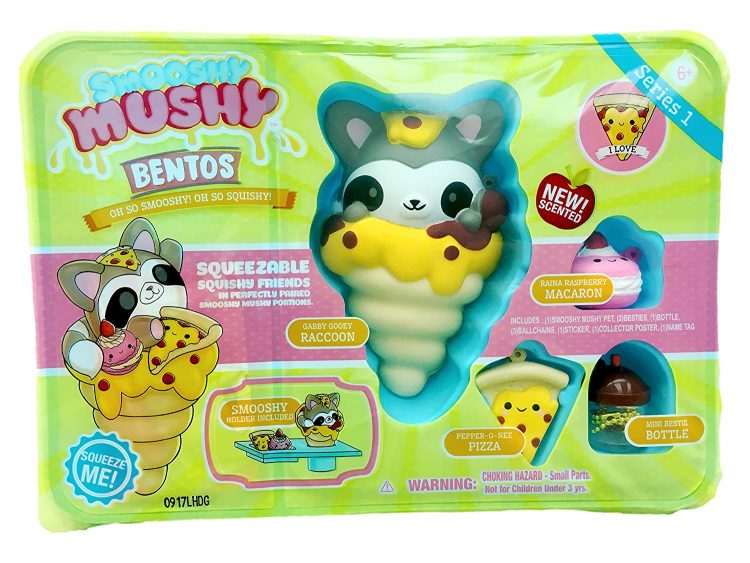 Combine fun and nutrition at snack time with a smoochy box set. Sure to bring some fun! It also comes with a scented smooshy pet! What's not to love? "Snacktime has never been smooshier! Each Smooshy Mushy Bento Box comes with an exclusive, scented Smooshy pet, collector stickers, two mini scented "besties" and a super cute display tray. Comes with a try-me package so you can "feel the smoosh"! Also includes a collector poster with a hilarious "find your Smooshy name" game. Let the smooshing begin!"
Available at Amazon

Yulu Pacemaker Extrem Game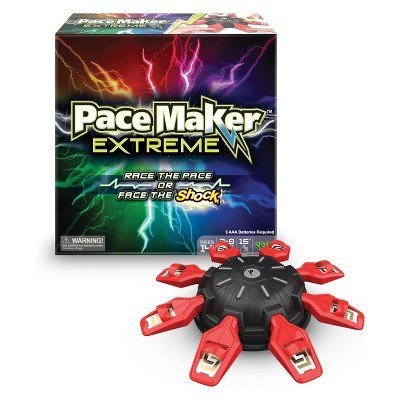 Tired of boring get-togethers? Why not try and see how the Pace Pace Maker Extreme game and set the scene for an exciting event! This fun-filled game is sure to bring some shock to game night and test your awareness at the same time."Get ready to race the pace with PaceMaker Extreme, new from YULU! In this adult party game, players race the pace or face the shock. Players need to pay close attention to how many times the other players are tapping their paddles since that will set the pace of the pulse. Tap your paddle once and the pulse moves to the next player, tap twice to reverse the pulse, and tap 3 times to skip the next player! Be careful – if you tap when it's not your turn, you get shocked and you're out!"
Available at Amazon

Cut The Wire An Spy Code Hackathon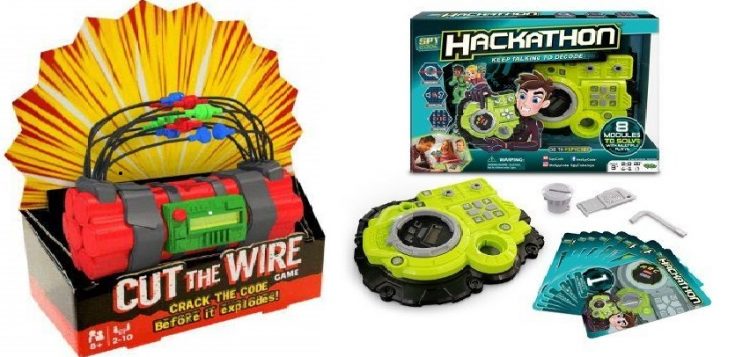 Have an intense night with family and friends in Cut The Wire or enjoy a less intense game night an discover who stole your identity in Spy Code Hackathon. In cut the wire you work against the clock to figure which wire to cut and defuse the situation cut the wrong one though and you lose. When it comes to Spy Code Hackathon you and you're squad work together to decode the console and retrieve the secret information. "A device is ticking and it's about to go off! In this nerve-wracking family game by Yulu, players take turns using secret clues to figure out what wires to avoid while they try to cut the right wire, diffuse the device and save the day. Cut The Wire is the ultimate race to see who can Defuse or Lose…before it's too late."
"Your identity has been stolen by a group of villains and is saved inside a super-advanced console. You are in possession of the console and your Spy Code Squad has instruction to hack and retrieve the secret information. However, only one person can look at and work on the console at a time. That player can only hear the directions from the other players or advisors. Hackathon is a game that challenges players to work together, keep talking and start decoding the console. Players have a limited amount of time and there is no room for mistakes. What are you waiting for? Get hacking, quick!"
Available at Amazon

American Plastic Toys My Very Own Nursery Fc Baby Nurser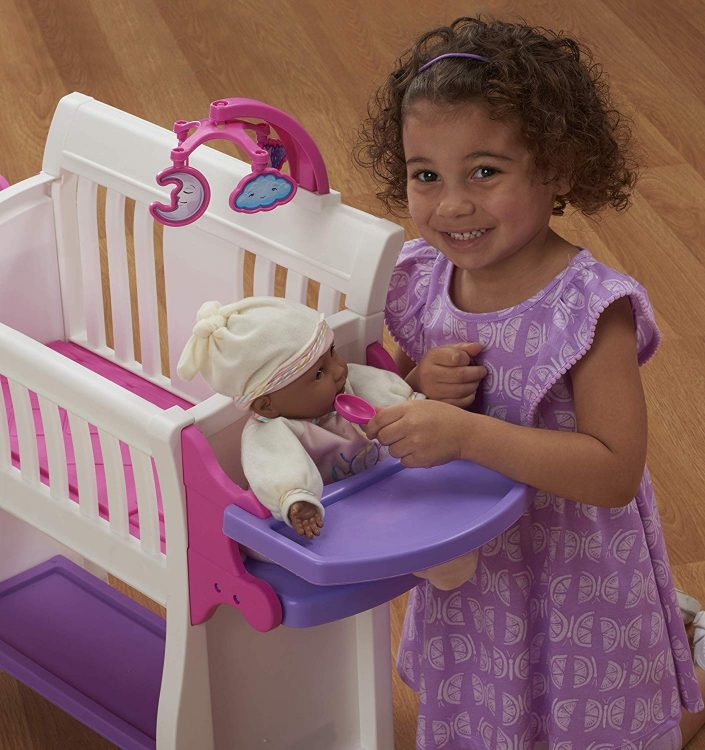 I have watched my niece play for hours with her "My Very Own Nursery" playset. She spends hours pretending she's the mommy and taking care of her little one, she loves to mimic her own mother. She also loves the little storage shelf and cupboard where she stores all the goodies needed to take care of little babu. "This nursery has everything you need including a crib, storage shelf and cupboard, a feeding chair and even a sink. The set also includes a mobile with colorfully, a fork, spoon, plate, sippy cup and play baby powder dispenser."
Available at Amazon

Gigantic Recycling Truck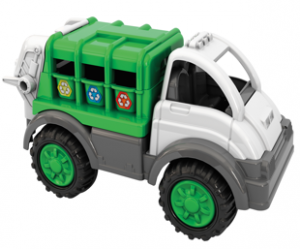 Nothing better than encouraging your child to recycle while improving gross motor skills, and fine motor skills. This dump truck will help kids learn the process of sorting bottles, cans and paper, through recycling. "This Giant Recycling Truck from American Plastic Toys, features a swivel back bin for pick-ups, sorting side bins, and a tilting dump bed for emptying." Furthermore, American Plastic Toys takes pride in manufacturing toys with without BPA, PVC, or phthalates, making it safe for your child as well as being eco-friendly. Encourage environmentally safe products made from milk plastic containers will helping to reduce greenhouse gas and save energy." Purchase your Gigantic Recycling Truck today at:

Thames & Kosmos Pepper Mint In The Fantastic Underwater Science Voyage Experiment kit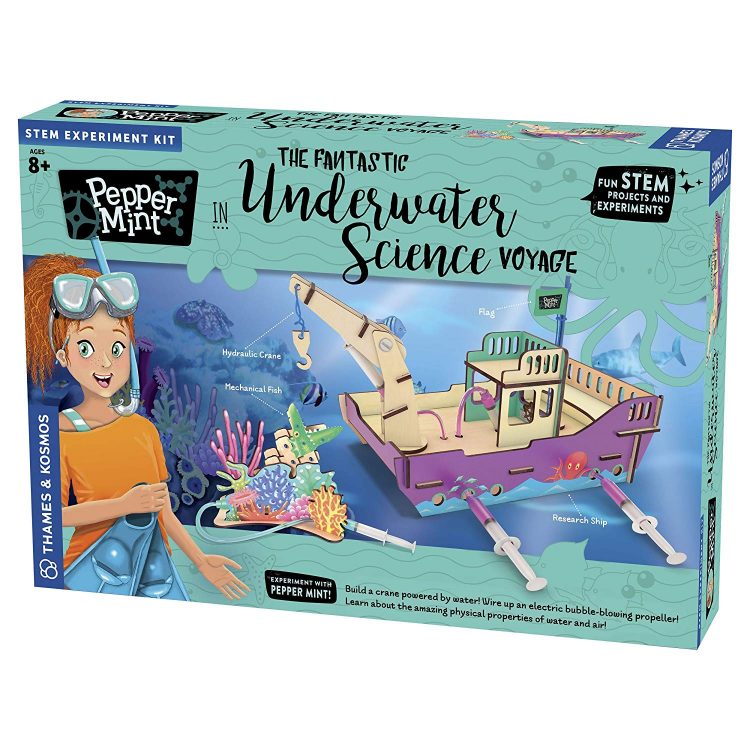 With this set you can build, learn and have fun all at once. Follow Pepper MInt as she explores the hidden secrets of the Bermuda Triangle. Learn how to harness air and water to power your hydraulic machines to uncover the what the Bermuda Triangle has to hide."In this story-based STEM kit, pepper mint accompanies an expedition to the Bermuda triangle. Soon she discovers that the ocean water there behaves in strange and unexpected ways. When the onboard systems of the research vessel fail, pepper mint figures out how to use water to make simple hydraulic machines and conduct experiments with pressure and density. The accompanying story takes the characters from experiment to experiment and shows them how to power small machines with the help of water. Pepper mint constructs a rig to raise and lower the ship's flag and a series of hydraulic devices including a ship's crane. A deep-sea fish with big snapping jaws is modeled using a scissors mechanism. Finally, pepper mint fixes the ship's propeller and discovers it produces a lot of tiny air bubbles, which inspires the creation of an electric bubble-blowing machine with a propeller. The experiments teach lessons in mechanical physics, electric circuits, and physical science principles related to water and air. The kit includes materials to build the boat and do the projects, a full-color illustrated storybook and step-by-step instruction manual, as well as a scale pepper mint figurine."
Available at Amazon

Alex DIY Swirl Station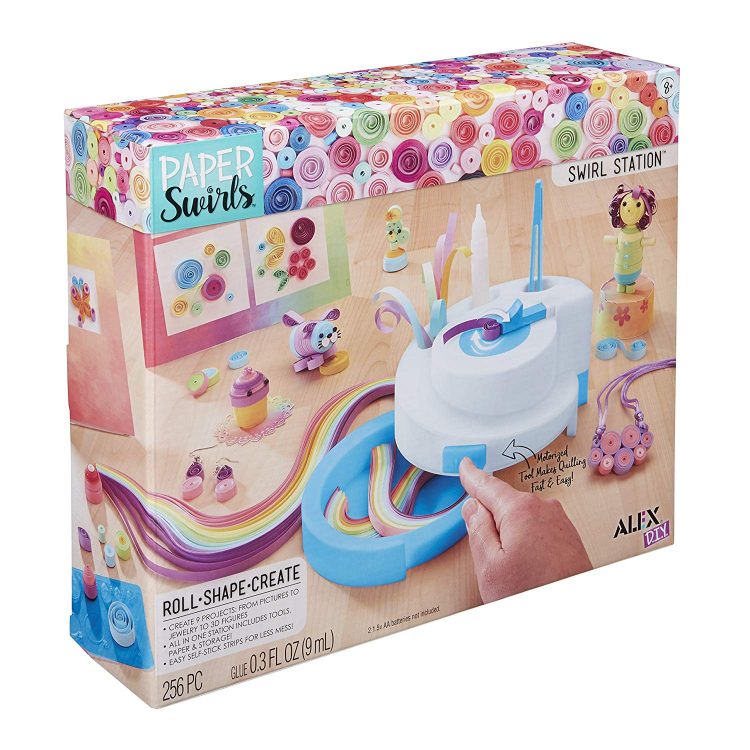 Make arts and craft time a cinch with this easy to use paper swirl station. Create paper characters, cards, jewelry and more with the swirl station. This would make a great gift for any little craft enthusiast."ALEX DIY PAPER SWIRLS Swirl Station introduces young craft enthusiasts to the world of quilling; making art with rolled paper strips. Make art, cards, toys, jewelry and more with 200 colorful strips of paper. The Swirl Station makes quilling easy by rolling the strips in seconds, with the push of a button. The instruction booklet teaches you how to make lots of suggested shapes, or you can swirl around body forms to make bigger creations. The creative possibilities are endless. Requires 2 "AA" batteries (not included). Includes a "Swirl Station" Motorized Quilling Machine, 200 Self-Adhesive Paper Strips (0.28in/7mm wide), Quilling Board, 12 Body Forms, Tweezers, White Glue (0.3oz/9ml), 20 Beads, 6 Jewelry Findings, Polyester Satin Cord (40in/101.6cm), 8 White Cards, Envelopes, 4 Preprinted Cards and Papers and an Easy Instruction Booklet. Recommended for children 8 years of age and older."
Available at Amazon

Buckle Me Baby Coat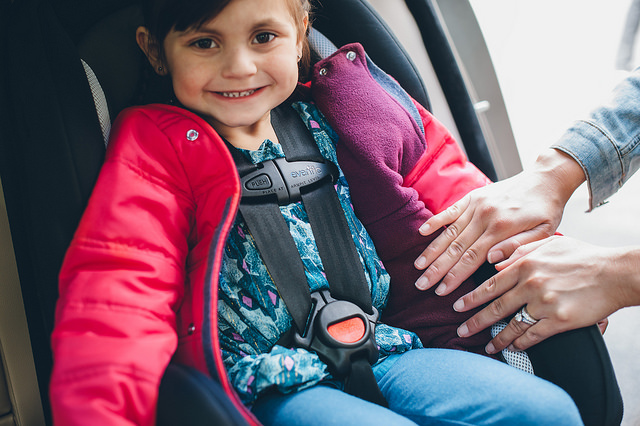 Winter is here in the Northeast! Every year I put extra food, water, blankets ect in my vehicle for emergencies. I always worry this time of year! Just thinking about getting into a wreck and my son is freezing in his car seat frightens me! I have to admit, I'm one of them moms that gives dirty looks to other parents, as I watch them put their child in the car seat with their coat on. I really just want to shout out as loud as I can….
Buckle Me Baby has eased my anxiety! I've researched many different coats for my son, and needless to say I'm not putting my son in ponchos! Buckle Me Baby, created a coat that children can wear safely while traveling. The front panel of the coat opens at the side and shoulder seams leaving the shoulders and chest area bare allowing the harness to lie flat and snug against the chest and shoulder. Genius idea!
"Yes, your little one (or grand-little one) can be safely buckled AND warm – without all the struggle! Bright, adorable colors with the softest winter fleece keep little trend setters toasty warm all winter long. Fall in love with the charming kangaroo pocket – perfect for hiding little treasures or giving cold hands a warm place to snuggle."
Harness safely snug on chest & shoulders
Quick in & out of the car seat
Easy to use snaps and velcro closures
Wind & Water Resistant
Machine Washable
30 Day Worry Free Return Policy
Crash Tested/Child Passenger Safety Technician (CPST) Approved
Consumer Product Safety Commission (CPSC) Approved
Cheers to warm safe travels in the Northeast!
Get yours today at Buckle Me Baby

The True Tot Tower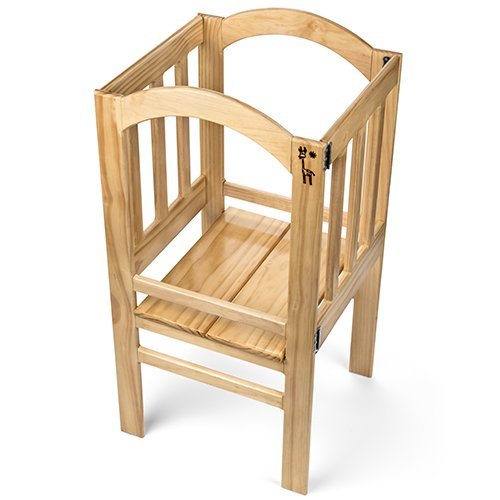 The True Tot Tower, gives your child a safe and secure space for helping with dinner or doing the dishes. Kids love to be involved and independent from each task to the next! From the kitchen to the bathroom, the True Tot Tower provides comfort knowing my son will be safe while being involved. Independence, exploring, and participating is so hard to deal with as it is with a toddler, let alone having to worry if the stool they are standing on is going to tip over.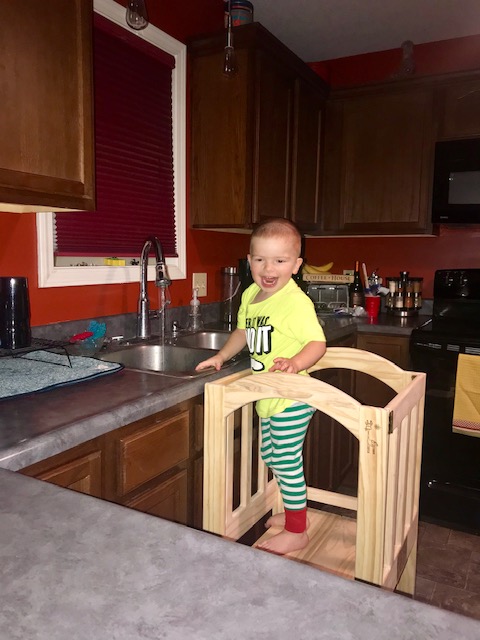 The height adjustable platform allows you to adapt to your child's height. The enclosed sides make for a safer place for your child to stand. Help your child play, learn, grow and explore everyday activities alongside you. The beautiful New Zealand Pine is handmade craftsmanship featuring a giraffe on the side that is just too adorable! The True Tot Tower is 38″ tall, with an 18″ x 18″ platform for your child to stand on, when assembled. The tower also folds flat, and is approximately 40″ wide and 2″ deep when flat, so it will fit quite easily beside a refrigerator, or under a bed.
Get yours today at AMAZON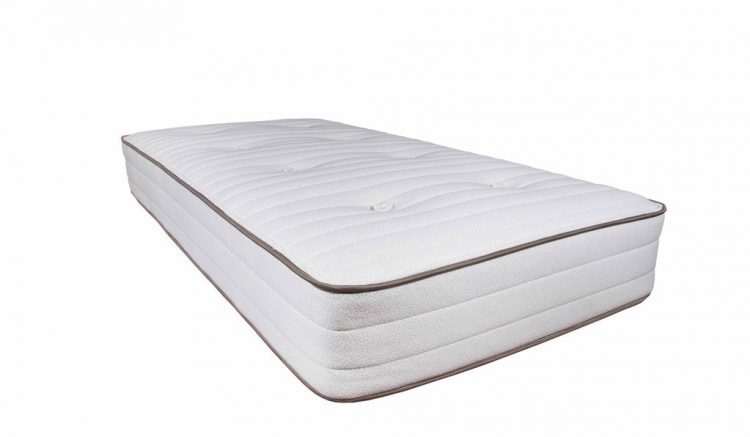 When it's time to switch to a toddler bed, or twin bed from a crib, we as parents tend to overthink everything! What bi-particles compound within the mattress? Are toxic fire retardants within the mattress? Will an organic mattress still give my child allergies? Not, to mention do I really want to spend that much on a mattress for a toddler. After all we all know that accidents happen at night! The My Green Mattress Pure Echo is just that! Green! Check out the Pure Echo product description below: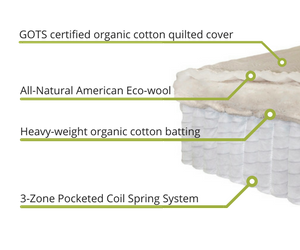 1074 L&P 3-zone pocketed coil spring system. 15.5 gauge coils at the head and foot, 14.5 gauge, nested coils across the center third of the mattress for lumbar support.

Heavy 13.5 gauge perimeter coils for a firmer seating edge.

Heavyweight organic cotton batting.

All-natural needle punched cotton insulator pads.

Soft, GOTS certified organic cotton and Oeko-Tex certified natural wool quilted cover.

The wool acts as a natural flame barrier, therefore our mattresses pass flame testing required by law without the use of dangerous flame retardant chemicals.

Offered as a double-sided mattress, particularly helpful for parents buying for their children as a reverse side can offer piece of mind in instances of spills or accidents not caught by the mattress protector.

Mattress may be placed on the floor, on a box spring foundation, platform bed (with slats under 3 inches apart) or adjustable bed base. Button-Tufted design secures layers together without use of adhesives

Firmness level = 8 (+/-) 1=softest 10=firmest"

The all natural, green, Pure Echo Mattress is made of: 100% natural wool sourced from a company in California. The wool batting is 100% natural, is not treated with any flame-retardants, and contains no polyester fibers. Our wool is cleaned with an alcohol based cleaner that is GOTS compliant.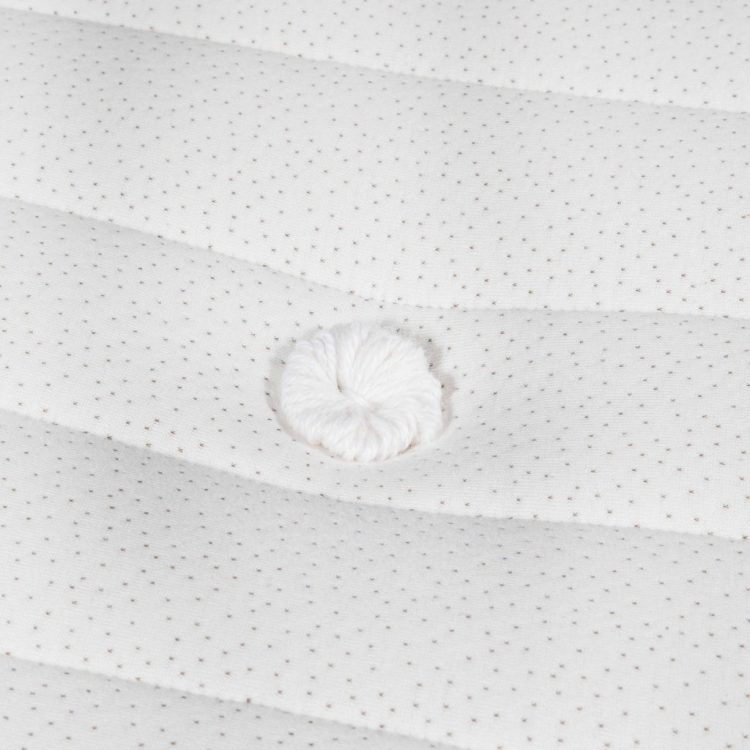 After doing my research on mattress, the Pure Echo was by far the safest mattress for our little guy. Did you know, today most widely used products in mattress are hazardous. The chemical element "bromine" is found in almost every mattress that is not classified as "GREEN. " Young children are acceptable to inhaling these toxic chemicals, which release carbon monoxide and hydrogen cyanide during fires. No polyester fibers!! Natural wool throughout! As that's not enough to sell you on this mattress! Yes, as you would suspect wool does have an Earthy smell to it. However, I'm personally willing to over look that part as long as I'm assured our little red headed ginger, is sleeping chemical free, allergic free throughout the night!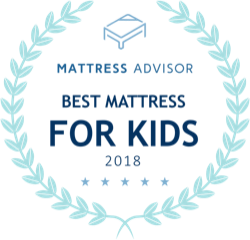 Check out today at My Green Mattress, sleep healthier tomorrow!

PAGE 1 2 3 4 5 6 7 8 9 10