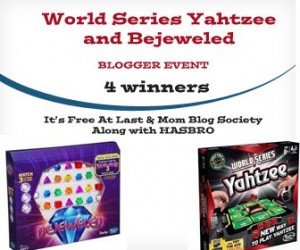 Thanks to our Sponsor: Hasbro
Thanks to our Co-Hosts: Mom Blog Society & It's Free At Last
My Family loves HASBRO AND FAMILY GAME NIGHT! HERE IS YOUR CHANCE TO WIN TOO!
Game time is one of the best times ever. Spending time with family and friends, laughing and enjoying each other's company is so fun and rewarding.
Two great new games to add to your game collection are World Series Yahtzee & Bejeweled!!!! 4 fans will win either World Series Yahtzee or Bejeweled to add to their own collection!!!
World Series of YAHTZEE Game:
Age: 8+; Players: 2-4; Available: March 2013; Approximate Retail Price: $19.99
Rock the roll with the new World Series of YAHTZEE game. It's a fast-paced, casino-inspired face-to-face dice showdown where everyone rolls together and tries to match their dice to the YAHTZEE combination cards on the board. Roll fast to try and get the highest score and be the first to lock-in and start the electronic timer. When everyone has stopped rolling, grab your card for points. Highest score at the end of the game wins! Starting in late spring 2013, World Series of Yahtzee will include a digital value offer for a High Roller App pack for use in the World Series of YAHTZEE mobile app. Do you have what it takes to win World Series of YAHTZEE?
Features Include:
Play the game of Yahtzee like never before
Race to roll big
The supercharged dice race is on
Everyone rolls together
Rock the roll with the World Series of Yahtzee game
Includes 20 dice, 22 game cards, 1 electronic unit, 1 gameboard, 4 barriers and game guide.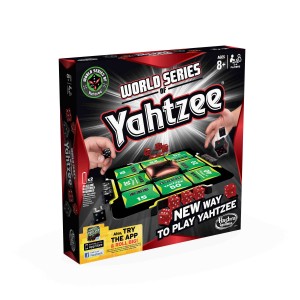 BEJEWELED:
Age: 8+; Players: 2-4; Available: Spring 2013; Approximate Retail Price: $19.99
BEJEWELED has never shined brighter! With 91 three-dimensional gems, Hasbro's BEJEWELED game brings PopCap's incredibly populardigital game to life. Players will sparkle and shine as they swap gems to create matches of three or more to collect coins and win! The game also comes with a download of the Bejeweled 3 online game. Additional terms and conditions apply to digital download offer.
Includes 84 gems, 7 power gems, 70 scoring coins, bag, game base and instructions.
For your chance to win, simply enter via the Rafflecopter below. 4 Winners will be chosen and notified via email. Giveaway is open to U.S. Residents, ages 18+ years of age. GOOD LUCK!
a Rafflecopter giveaway