The world has gone digital as a lot of things are done in IT way now and the trend will continue that way because IT offers speed, convenience, and accuracy. Unfortunately, digitalization comes with its challenges and one of them is accidental loss of file.
It can be annoying, frustrating, and demoralizing when you mistakenly lose a very important file. You can't be too careful because there are several ways by which you can lose a file. Files can be lost through accidental deletion, hard disk crash, OS crash, upgrade failure, accidental formatting, malware attack, and many other ways.
Imagine a professional photographer who accidentally deleted some of his best works with which he pitches potential clients. What if it takes you several weeks to prepare a report only to lose the report to failed OS upgrade a few days to the day you will present the report? The list is endless.
It is actually heartwarming that there is a file recovery software that will help you recover all your lost files from any device. EaseUS Data Recovery Wizard is one of the most effective data recovery application that you will come across and it stands head and shoulders above many others in many ways.
First of all, the EaseUS Data Recovery Wizard is free. Although it has paid versions too but with the free version, you will be able to recover up to 2GB of lost data. Ease of use is another reason to try this software. There is no point purchasing a sophisticated application that you will struggle to understand. There is no way you can make the best of what you don't really understand. This is why simplicity is a top priority for a lot of people. So, the wizard in review is really commendable for being very easy to use.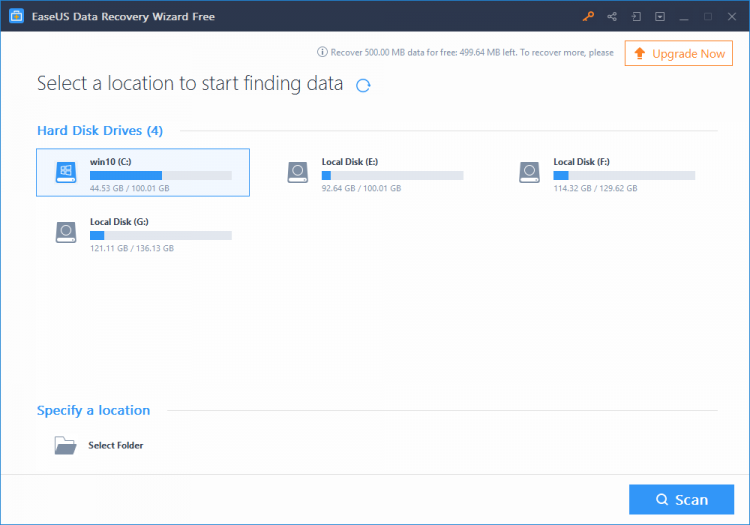 In fact, it takes just three steps to recover your lost files after installing the application. Just launch, scan, and recover. The EaseUS Data Recovery Wizard offers two scanning modes – Quick scan or deep scan. Even if you mistakenly empty your recycle bin, this application will restore the lost data.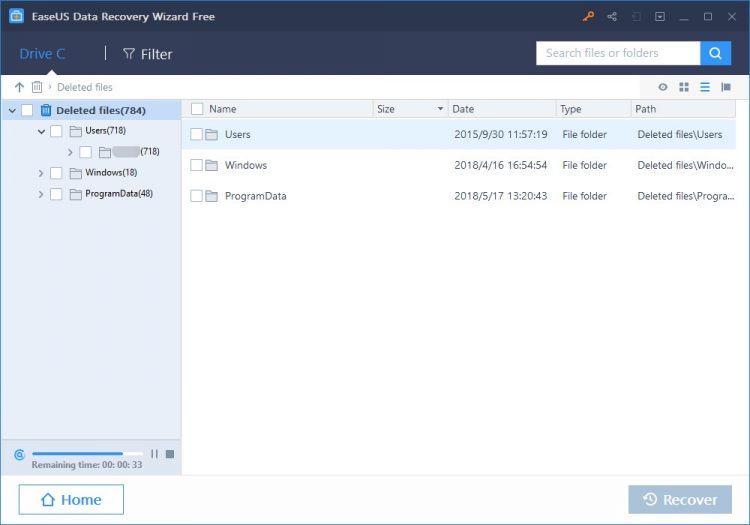 The fact that the software currently has more than 72 million happy users speaks volumes about the effectiveness of the application. This review will not be complete without mentioning that the software is very versatile. Its versatility comes in two ways. First, there is no type of file that it can recover. In fact, it has the ability to recover more than 1,000 files. Whether it is a PDF file, a PPT file, digital images (JPEG and GIF), sound files, or movies (MP4, HD-MOV & MXF ), this free file recovery software will help recover the software in no time.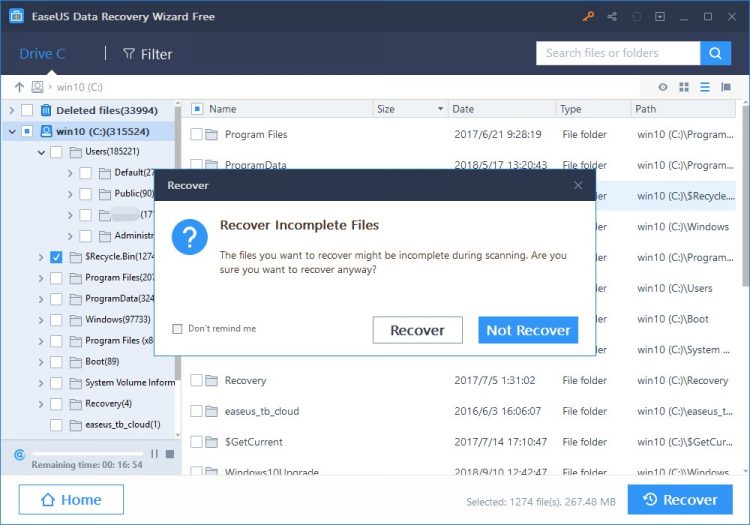 The second way by which it displays its versatility is that it can recover files lost from any device like the digital camera, external hard disk, flash drive, and even a memory card. Even if you lose your data from your smartphone, this software will retrieve it for you.
It also restores deleted pictures with their original file names and timestamp. Many of the file-recovery applications in the market today will recover most of your lost files in an unusable state while EaseUS Data Recovery Wizard will restore all your files to their original usable form.
The software also supports RAW file formats of many popular cameras like Sony, Nikon, Kodak, and Canon. There are very many brands of HDD and this software supports all of them. Whether it is WD, Seagate, Samsung, Kingston, SanDisk, or any other one, the application will recover files lost in them.
It is also compatible with all action and drone cameras. Some of these cameras are Inspire, Phantom, Garmin, and GoPro. When you lose any file or image on any of these cameras, this application will scan them and recover all the lost files.
It also supports Unicode file recovery. The review will not be complete without mentioning that it comes in more than 16 international languages apart from English and they include Spanish, Italian, French, German, Mandarin, Portuguese, Dutch, and others. It also gives you the opportunity to preview and select all the files you want to restore before it begins to restore them.
If for some reasons, you had to pause the data recovery process, you don't have to bother about restarting the process. This software allows you to resume from exactly where you stopped. It is so easy to use that you don't need any prior experience to use it. You don't have to be an IT guru before you can use it.
As effective as it is, the file recovery software requires only 32MB of your total disk space because it is compact. In addition, it requires only 128MB of RAM to run perfectly. There is a version for Mac computers and there is another version for Windows computers.
Since it is free, why don't you try it out today? After all, you've got nothing to lose. You may eventually upgrade to a premium (paid version) if you like it.