What is Fringe you are probably asking yourself?
It is the newest, fastest way to schedule your next dinner date. Whether that's with a friend, spouse, co-worker, or group of friends, Fringe privately compiles you and your friend's calendars and shows you 3 dates that everyone is free for dinner. Then everyone votes on their favorite date, the majority vote wins. The dinner plans then sync automatically to your calendar. On the day of the dinner, we'll send you a notification to remind you of your plans. (Fringe can schedule brunch, lunch, and happy hour. There is a custom button for playdate scheduling and conference calls for my mom friends who run their own Rodans & Fields, Mary Kay, Advocare, etc… businesses. Fringe accounts for time zones).
It's really simple.
Fringe is mobile-only because most people plan their social plans while on the go. So now you can now do it from an app. Everything is in one place. You no longer have to toggle between your calendar, email, text, etc. (When someone sends you an invite, you can see the suggested date, and then your day in your calendar. It'll show you what you are doing before and after those plans…)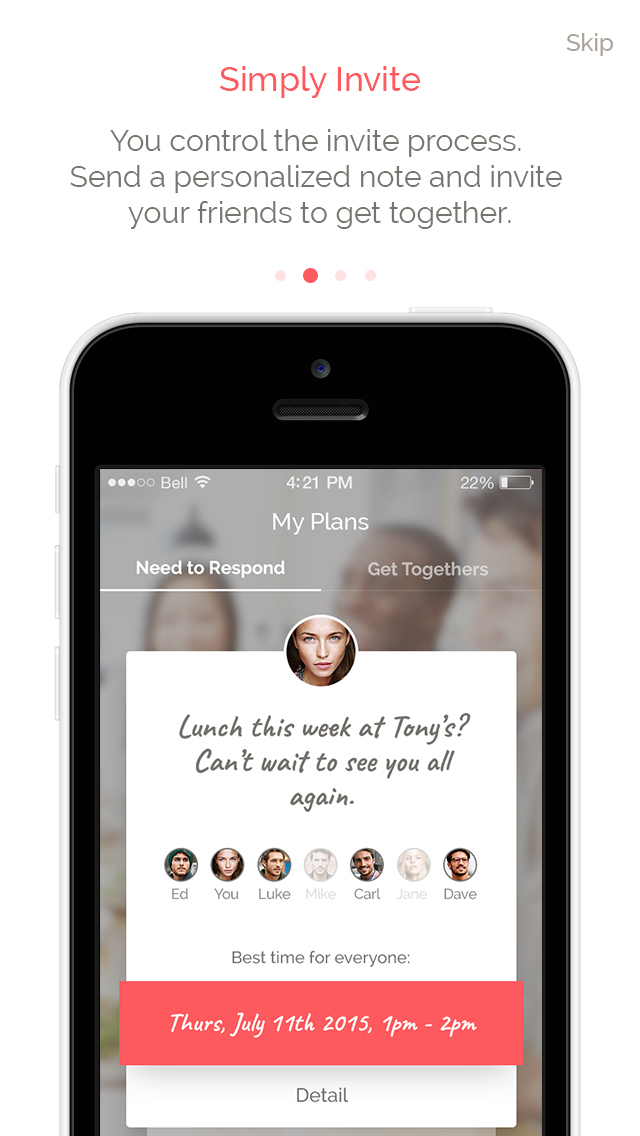 Currently Fringe is only on iOS. Fringe plans to launch an Android Version in late 2017. Fringe is compatible with iCal, Google Microsoft exchange. You can upload multiple calendars.
Problem/ Solution:
Scheduling social plans is very time-consuming. Surveys have shown for a group of 3, it takes 30-50 text messages to plan a night out. And over 60% of all plans fall through. One of the reasons we believe scheduling takes so long is we believe we're asking the wrong question when we schedule. Asking "When are you free?" it's open-ended and can yield an unlimited number of responses. We believe the right question to ask is "Here are three dates we are both free, what do you prefer?" It alleviates the back and forth to find free times. We try to eliminate the game of scheduling.
Why the name Fringe?
Visualize a calendar, the bulk of our day, 9-5pm, is work (for my momma's…you still run a full schedule…). It's only on the borders or on the Fringe of that "work" schedule do we get to see the people closest to us. We've coined the term "FringeTime, and that's the time you hang out with your friends and family, which is only 15% of our time in a week. We are trying to help people maximize their friend or Fringe Time.
About the Founder/idea of Fringe
I'm Jenn Diffendal. I'm a mom of 2 little girls. We're a Denver-based startup. As a stay-at- home mom of 2 cute, unpredictable toddlers, I realized my social life had become, basically, non-existent. (With the exception of a few play dates here and there). Planning a night out with girlfriends always seemed exhausting. From the planning to finding a non-puked-on outfit, I felt overwhelmed. And, to be honest, I felt lonely as a stay-at-home mom. It can be really isolating, especially when you see your other mom friends on Facebook, and Instagram having their best hair day ever.
I always wished I just knew when my friends were free for dinner. Instead of going back and forth with them for weeks to find a date that inevitably someone would back out at the last minute anyways. I searched for scheduling apps, and none did what I needed. So I created Fringe, we tell you when your friends are free for just that small, snippet of time for a meal, a drink, or a playdate. All calendars are private and are never shared.
Our Mission
Our mission at Fringe is to help people get together in real life. To help deepen people's bonds with their closest friends that only can happen with a face-to-face interaction.
#100kmilegiveaway
We are officially launching May 15, 2017, and wanted to celebrate by giving away 100,000 American Airlines Miles to a lucky winner.
Dates: May 15, 2017 7amEST – June 2, 2017 5pm.
**Name will be announced via our social Media pages Friday, June 2nd @7pm**
Ways to enter:
Use Fringe to schedule your next dinner date with a friend. (the initiator of the plans gets 5 entries into the giveaway.. ***up to the 15 entry max.) . –can schedule 3 get togethers for a total of 15 entries into the giveaway.

Download Fringe on iOS-

https://itunes.apple.com/us/app/fringe-simply-get-together/id1093362316?ls=1&mt=8

Invite Friends to join Fringe – each friend added on Fringe = 1 entry (up to the 15 entry max)

Follow/Like us on Fb @FringeApp, Insta: @Fringe_App; Twitter: @Fringe_App

For android users- go to giveaway website

www.fringe100kgiveaway.squarespace.com

to sign up for our BETA android version (coming late 2017). (1entry for signing up)
Every day we'll be posting new ways to enter. Sharing or commenting on a post are just two examples.
Our website is www.Fringetime.com
Our giveaway website is www.fringe100kgiveaway.squarespace.com
Social Media pages:
Facebook: www.facebook/fringeapp/
Instagram: www.instagram/Fringe_app/
Twitter: www.Twitter.com/Fringe_app/