VSN Mobil has dropped the price of the V.ALRT from $59.99 to $19.99 (still with no monthly fees whatsoever). You may be wondering what exactly is V.ALRT.
What is V.Alrt?
With V.Alrt help is just the press of a button away! You have probably heard of other help systems, but those have monthly costs associated with them, or they only work in your home. V.Alrt is wonderful for the people you love and gives you peace of mind knowing it is protecting them. It is also helpful for joggers, cyclists, as well as kids on the go. You can wear it on your wrist like a watch (included) and as a pendant. If you want to wear it around your neck you will need to purchase that separately. At the press of a button, you can trigger your cell phone to call help and send your GPS location.
When using your V.ALRT it must be within the range of your smartphone to operate. It has a wireless range of up to 75′ indoor or up to 300′ outdoor using Bluetooth 4.0. This is a great advantage if you are at the park, at a sporting event or outside doing yard work. We never know when a loved one will need help. For $19.99 (previously $59.99) and with no monthly fees, I do not see how you could find a less expensive way to feel better keeping your loved one safe.
This device is also waterproof so it can be worn in the shower or the bathtub. I love this idea, especially having a Grandma that fell and broke her hip a few years ago. She laid there for 12 hours and although she had another form of a help button it had fallen off of her necklace when she fell and she could reach it.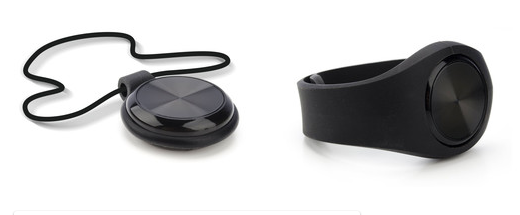 Other helpful information on the V.Alrt as taken from their website:
The V.ALRT has up to one year of battery life and powered by a standard CR2032 watch battery. The battery is removable and replaceable by the user.
The V.ALRT works with iPhone 4S/iOS 7 or newer and any smartphone using Android 4.3 or newer with Bluetooth 4.0.
The user can turn on Fall Detection to enable the alert to be sent automatically after a 60-second countdown.
If the V.ALRT device travels out-of-range from the smartphone, both devices will receive an audio notification.
You can find them on their social media:
Twitter | Facebook | Pinterest | g+ | YouTube | Instagram | Website
Disclosure: I was not compensated for this post. However, I did receive a product from the company below and the opinions expressed in this post are 100% my own. I am disclosing this in accordance with the FTC guidelines.